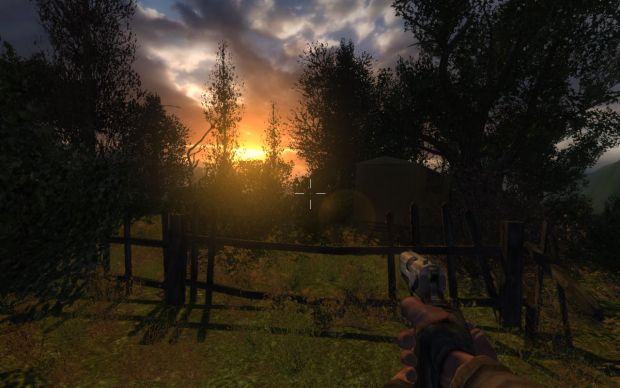 Q: Hello guys, introduce yourself to the public please :)

A: Hello, we are the dez0wave team. We formed in early 2007 to make total conversion mods for
S.T.A.L.K.E.R. - Shadow Of Chernobyl by GSC Gameworld. Our first mod was returning the blowouts to the game. Later we presented a free play mod for the game that allowed us to visit the last levels any time. Later we started our first total conversion addon for the game. It was called Priboi Story. It was the first and as we know still the only total conversion for S.T.A.L.K.E.R.. We had lots of members, but
currently we only have 4 active ones.

Q: Sounds interesting. It seems you did many things for this brilliant game. Before talking about the
new project, just introduce Priboi Story in some words.

A: Sure. Priboi Story addon is a story of Lieutenant Priboi Slipchenko. He is an UN soldier, works at
military defence office in Kiev. One day the commander pays a visit in his office, and tells him about
his new task. He needs to go to the Zone, and find important (lost) documents of a secret organization that worked in secret labs in the zone. They are responsible for mutation reports and strange happenings in the area. Also some military squad was lost and we need to investigate the site, and escort the survivors if there are any. The game plays one year later the shoc storyline (strelok or gunslinger story) and we will meet strelok, doc and other shoc storyline members too in the zone. In our theory, they also worked for that secret organization, and we need to track them down to gain more info. The documents and pen drives/devices are well hidden in the levels, and we will need to interact with npcs, read the PDA a lot to find clues about the tasks. We would call it an action-adventure game, where action covers 30-40% of the gameplay, and the rest is adventure. We need to
combine, solve puzzles and collect codes to gain access to the old locked areas. Many people like this style, but Priboi is that kind of mod, that people really love or hate (those who prefer pumping
braindead shooting situations) :) (For more info, check our main site.)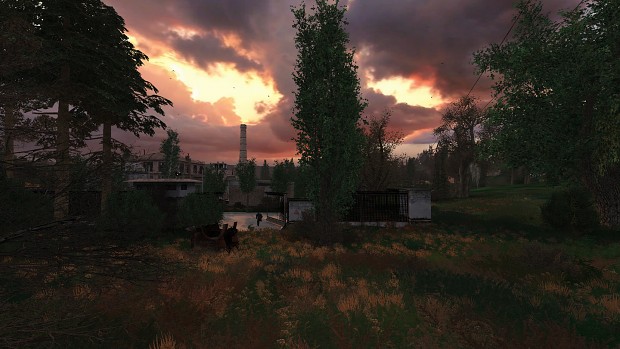 Q: This looks interesting. Now lets talk about your next project, the Lost Alpha! What? When? Why? Who? :) Tell us everything!

A: Yep. I will talk about Oblivion Lost first. Stalker was first called simply Oblivion Lost. At that
time it was totally different. We don't know much about it, but according to the old reviews it was a
"Serious Sam" feeling game (no i don't mean the fights but the era) where you could time-travel between galaxies, and you could go back in time also, like to the Aztec or Maya empire, or somewhere in the space and fight against mutants and robots mostly. Later GSC changed concept, since they live near a mysterious locked down area, they decided to switch to Stalker - Oblivion Lost title, and redesign the Exclusion Zone of Chernobyl. They visited the area, took photos, and mostly what
we see in stalker now is real life image from buildings and so. Later in 2004 they changed title to Stalker - Shadow of Chernobyl to give more clue about their work. Now this is the point we (dez0wave) come in the story, but we will talk about it later. :)
In 2003 they mostly finished all levels, the graphics, but the AI was not perfect, and also they needed
to make monsters, and other creatures, factions. That took them some months, then the ai testing began. As we heard from old talks and interviews, that was the most hardest part of the game development. First, it was unscripted, and they were testing and watching for alife. How it works, what the npcs are doing, what the monsters doing in the area. It was surely pretty cool, and interesting to see them wandering around without scripted, and they did their daily routines, like sleep, feed, play, run-hide, attack, or just wander. Stalkers who didn't have script, did almost the same thing. The military patrols were scripted, they followed waypoints etc. And there were the loners and other factions. Each faction had a base, like now. Bandits and monoliths had Dark Valley level. Agroprom had stalker and military base. Cordon had military and bandit and loner camps. Garbage had duty patrols and bandit and loner camps. Bar had the duty base, and bar for loners. Army warehouse had the mercenaries base. Deadcity had freedom base. And so on... we could talk ages about the old concept. Stalkers made their living from collecting artifacts and doing jobs. Its almost the same now in final stalker, but simplified due to storyline issues. First, stalkers visited traders like we do now. They picked up a task, carried out, and returned for reward. They could enter almost every level without restrictions. Later that became inconvenient, since storyline was developed, and wandering npcs often ruined it. They needed restrictions. So smart-terrains and other restrictions were developed to the code. Ok, too much details about this. Let's talk about design. In my opinion the old levels were more atmospheric, but of course I understand, that if they put too much junk on the terrains, it will be hard to navigate through for alife. It's easy for players, but AI can easily stuck into the debris, and then they are doomed. I'm talking about especially the old garbage. That's my all time favorite level. Many levels remained the same, like army warehouses, and agroprom etc, only little changes with fences and other small things. We like the current stalker too, but the old design fit much better to the atmosphere of the game in our opinion.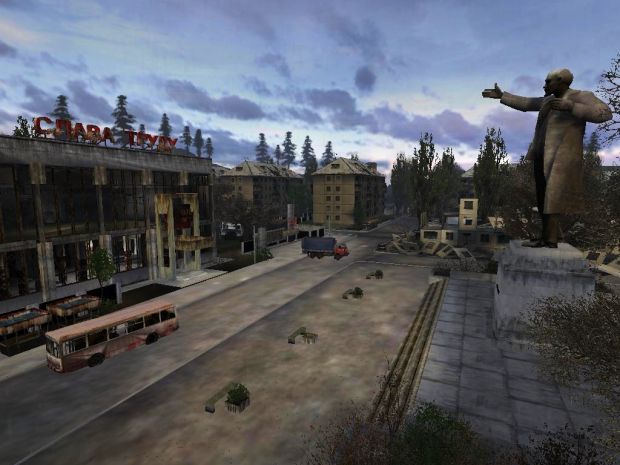 Q: Why did you choose to remake it?

A: We always wanted to play with the old stalker. At that time when it was presented we were kids or lets say, younger than now :)) (i was 19 back then) and we grew up with those screenshots, videos. When we saw the first zone images in 2002 we fell in love with the game. During the development the level design was changed, probably the old designers left the company, and the new designers made new ones. The game still looks good, but... we expected to see the old areas too. Those were spoiled a bit. I'm talking about the cutout deadcity, swamp, generators, and the redesigned levels like cordon, garbage, army warehouse, Pripyat and npp. But mostly we hoped to see the cutout ones. After release we completed the game many times, and it was cool, and still atmospheric, but in the same time, we missed those old areas. We opened forums on English and Russian sites too, talked about removed content, and hoped some addon or some free or not free beta release of those levels. Of course nothing happened, slowly we realized, that we will never see them if we don't remake them. Of course our version wont be 100% copy, we don't want that, since we have our own ideas too, but
the most known parts would be the same or very similar. Later in 2007, GSC released an SDK.

Q: And then I guess you started to develop maps asap? :)
A: Yes. On the same day it was released, I already downloaded it, and started to experiment with it. We were happy, since finally we could make our dream come true. You know, it was just dreaming without tools, and now it was possible, it was cool. Later some professionals developed single player creation tools for the SDK, and we can say, nothing is impossible now.

Q: Nice. What are your goals?
A: Return the old atmosphere, the old level design. We have everything for this. Nice galleries, and
draft images, arts, and our imagination and willingness. When we finish the levels, we would like to
return some parts of the old AI. Like when stalkers picked up quests at traders, and they did the same
as us. We will develop a non restricted storyline, like we did in Priboi Story, so it won't cause problems if our dear NPC's will interrupt some scenes before we could arrive there. We would like to
remove the trash from level entrances, so it would be convenient to drive through with vehicles. Until
then, we have several level changers, accessible with vehicles too. We already returned artifact merger, fuel, trunk and maintenance for vehicles, old weather, old HUD and inventory. The factory level is also ready, and we are finishing deadcity now, so there are still many things to do, but progress goes well. (just check the screens)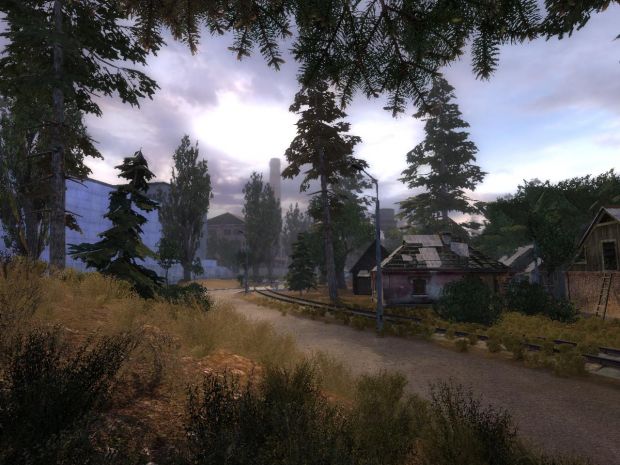 Q: When?

A: Huh... hard to say. Probably in 2009. I would say Q3-4 2009. You know, we need to test a lot.

Q: We will wait, what else can we do? By the way, what did GSC say about your work?

A: Well we haven't contacted them yet. We will, in the near future, but first we would like to put
together a playable version for internal reviewing. We are a bit afraid, maybe they won't like our idea, well... we will see!

Q: Thanks for the interview. We are glad when we
see such teams like yours. Good luck with developing, and also good luck with GSC too :)
A: Thanks!