When news comes into this site, its my job to sift, edit and place all of it so it is safe to say that I see everything that you guys make. This year during phase one of our respective MOTY/IOTY event the amount of news flowing into ModDB and IndieDB has seen a huge increase, I barely have enough time to spend on my other "end of year" projects, however like last year there are a few teams of people doing some interesting promotions to get extra votes, I would like to go over my personal favorites.
This is something I have not seen before, the mod Dawn of Victory has created a very interesting news post slandering every other mod and accusing them of killing a few monarchs or two (to be honest who here hasn't?). Don't worry its all in good taste it made me giggle especially the video. It takes a certain kind of classy to bring political humor to a mod.
Well done good sirs.
In the past there has been a few mods and indies who have stepped up and created something cool in response to winning the players or editors choice awards. Though none quite like Minecrafts promise of cake that seems to be driving the Internet bonkers. As a result the news for a spongy new virtual treat has been spread across the Internet, if that isn't good promotion then I don't know what is.

Keeping with the idea of developers promising things, the guys over at Party of Sin have decided to go out on a limb with Alex one of the developers saying that if Party of Sin makes the top 50 he will put on a Bikini while sipping a martini and post it on IndieDB as a way of saying thanks. Not sure if its a good thing but they have my vote. Now its just up to the community to make it happen!
This is also something I have never seen, a community challenge to go melee bear hunting (no one is a man until they have knifed themselves a grizzly right?), while its not actually a bear you're hunting but a developer who has bear in his name. The idea is something fresh, cool and entertaining. The developers of Forgotten Hope 2 have also stated that if they place in the top 10 for players choice they will announce something very exciting. I would love to see a video of the community event if they have one.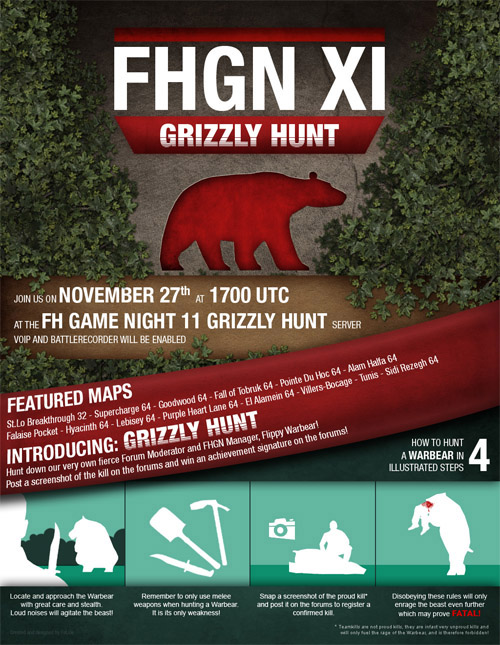 Here are a few other good ones that I think have done some great stuff with the MOTY and IOTY logos, not to mention a few more promises of adding extra stuff to their games.
Survivors of Ragnarök - Building a tower to the top 50
Halo: Out with a Whimper - Campaign Update
C&C The Vortex - Vortex needs your Vote
There is just a little more then a day left for to vote on Phase one, so make sure you have voted all you needed to. Not long now the top 100 and top 50 are just around the corner! Good luck everyone!
I have thought about it and I still have no idea what is going on here but I thought I should post it because of how weird and wonderful this entire post is.