South Sudan, 2041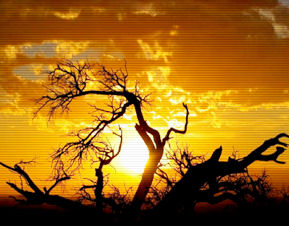 Undetected by the attackers, only half a dozen soldiers had made it into the Shelter alongside General Orlov. Meanwhile, the GLA fighters were too busy looting the camp for their private possessions and celebrating the bloodbath they had committed. The inside of the container was cooking hot, the air heavy with the stench of sweat and foul breath. Hours passed; they could tell by the movement of a lone spot of sunlight that wandered across the floor as it fell through the air pipe. General Orlov was sitting in a corner of the container with his jacket and shirt taken off, but his cap still on. Sasha squatted in the opposite corner, his hands clutching desperately at the small, golden Orthodox cross dangling from his necklace as he whimpered the Lord's Prayer, waiting for the heat to overtake him. Orlov pittied the boy for his suffering but admired his faith, for he himself no longer had any. The haunting memories of countless black operations had taken that away from him. But as always, he had to keep his composure, for if he lost it, so would his men.
He tried to assess the situation: At this point, the GLA would likely expand into the surrounding villages to loot and pillage, forcing anyone old enough to hold a rifle into their ranks while murdering those who refuse. He wondered about Wolfgang, how long it would take for his tanks to arrive; whether they would arrive at all. He never counted on the European high command to take the initiative, but deep down, he hoped for an exception, a soldierly gesture of camaraderie: The Ukrainian civil war of 2036, which subsequently split the country into two, was the first sign that things were going awry between the up-and-coming Federation and the reinvigorated nations of Europe, as was the sudden break of long-standing fossil fuel treaties after the Continental Alliance established its famed Solaris energy project three years later. But for as long as a balance of military power and economic development on both sides could be maintained, so could peace. Suddenly, Orlov was shaken out of his increasingly delirious thoughts by the sounds of an attack on the surface.
"Is this the reinforcements?", the tired soldiers wondered with weak voices. "Possibly", Orlov replied. "But let's not rush out too soon. Ready yourselves!" With their last breath, everyone picked up their rifles and assumed firing positions towards the hatch. Suddenly, it swung open and a deep, mechanic-sounding voice bellowed down - in Russian: "Is there anybody in here? The situation is clear, you can come out!" Orlov scouted ahead and was greeted by a towering man in heavy combat gear and a gasmask. "Major Yakov Pushkin of the 1st Shock Division, Sir! Our General is over there!", the brute reported while Orlov was still blinded by the setting sun, trying to make out just what exactly was going on. The camp was razed and there was nothing left of the GLA while several Russian attack helicopters patrolled the surroundings, occassionally firing salvos at targets in the countryside. Platoons of other peculiar men much like the Major controlled the area while one operated an odd-looking support weapon that looked like a miniature version of these so-called 'Tesla Coils' that Orlov had read classified reports of.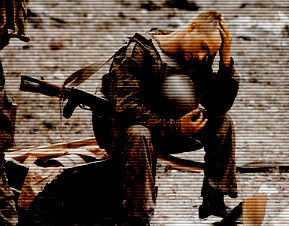 Next to the Trooper stood another gasmasked man with a PDA in his hand and a fine necktie sticking ouf of his noticeably less filled jumpsuit, taking careful notes of the weapon's performance as it was tested on a group of terrified GLA combatants that made the grave mistake of surrendering. "Orlov?" he wondered as the General doused himself with a bottle of water and approached him. "Excuse my impoliteness, but I didn't recognise you at first. I am General Nikita Ivanovich Aleksandr of the Advanced Weapons Research & Development Corps", he introduced himself while handing over his PDA to Major Pushkin to carry on with the testing as another prisoner was pushed in front of the Tesla weapon. Orlov was irritated by the complete absurdity of the situation and promptly refused to shake his hand. "What's happening here? I was expecting Wolfga...General von Kuerten; the 10th Panzers; the Germans!" Aleksandr sighed: "Germans? Comrade, I am sorry, let me give you an update: Our forces have been hit hard across the entire theatre and are retreating towards their regional headquarters. The Germans you've been expecting turned tail and ran like cowards halfway through the border region." Orlov was shocked: "I cannot imagine Wolfgang just running away like that! He seemed like a man of integrity". Aleksandr let out an inappropriate chuckle: "Never trust someone's outside appearance, Orlov. Quite honestly, I too would have expected more from the famed Tula Division, let alone the Spetsnaz. Anyway, we are done testing and it's time to pack up. Get yourself and your remaining men on one of my BMPs; we're falling back to Juba!"
Germany, 2042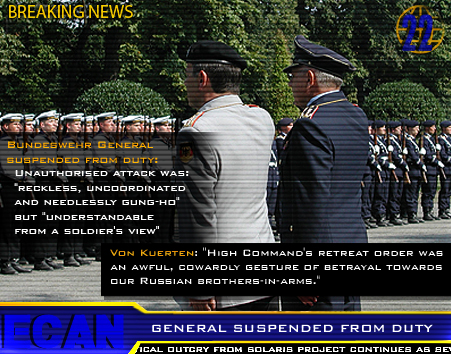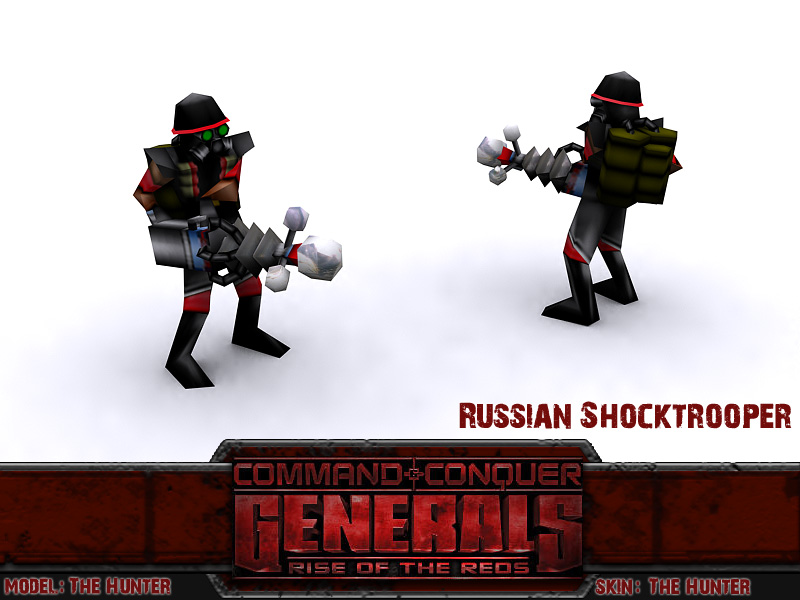 n the next version, Shock Troopers will no longer be able to switch between two types of ammunition. Instead, their electro-rounds will be completely replaced by an entirely new weapon to complement their rocket rifles:
The Advanced Weapons R&D Corps' Handheld Tesla Device is a miniature Tesla Coil capable of projecting deadly bolts of lightning that disintegrate infantry and short-out the systems of enemy vehicles.
We are also proud to present you with the first in a new series of Meet The Generals updates. In addition to revealing the generals that are presently unknown, we will also also release updated, more elaborate profiles for the ones that have already been shown, starting with General Orlov.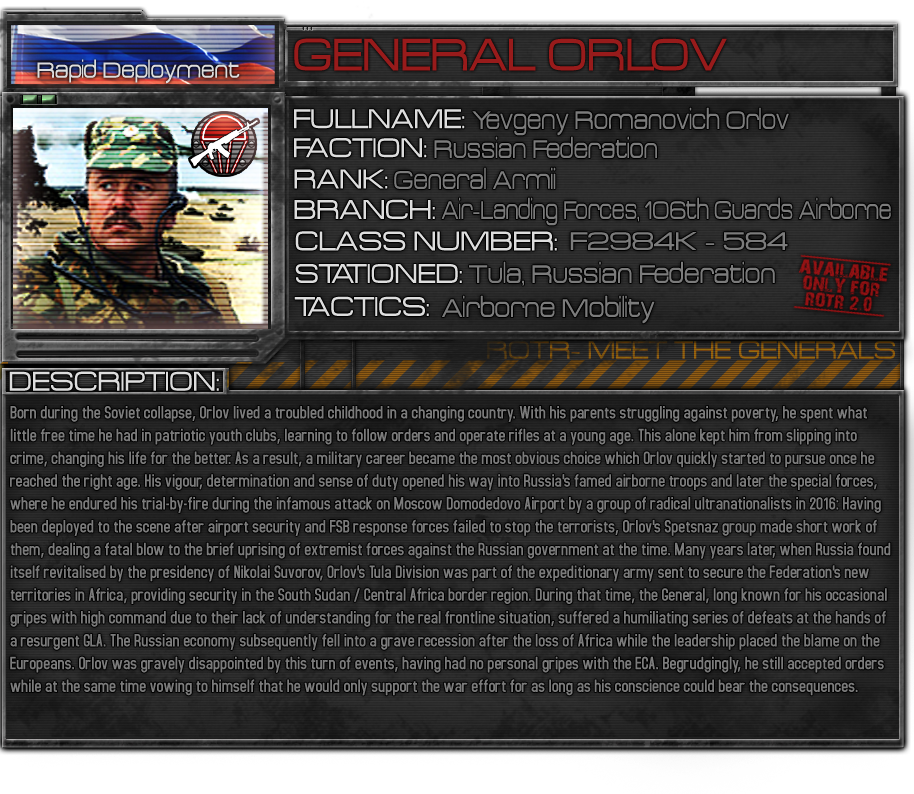 This concludes our little "Orlov in Africa" mini-series. If you want to read it all again in one go, feel free to follow these links:
Part I - Part II - Part III - Part IV - Part V - Part VI - Part VII
In addition, we'd like to use this opportunity to present some artwork by our concept artist ImperialGerar (AKA JihadCodex). You can find many of his other works over at DeviantArt.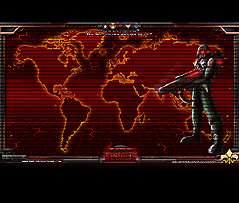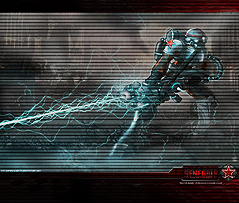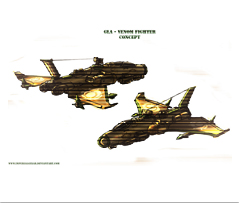 (click for larger image)
That's all for now. Be sure to check out our other pages on the web where you can find exclusive information, up-to-date news on the mod's progress and more. This is SWR, signing out.