We have released our first concept art to show that the mod has gone public. Rabbit Deathmatch is a deathmatch mod for Half-Life 2, that has various rabbit based weapons. Here is some concept art for the mod:
These pieces of concept art are the original rabbit cannon concept art, by mikeh269. which shows what we hope the final model to look like, and the concept art for the rabbit, which will be the ammo of most of the weapons in the game. This picture is by grudgE.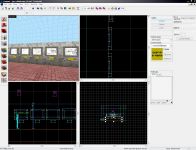 This is the Hammer picture of the "wall of concept art" on the test map that will ship with the mod. The map is mostly made up of custom textures, as will follow with the rest of the maps, as the game will be nearly totally custom. It will be based off the HL2DM code.