Hello everyone, it's about time for another update, just so people don't assume I got kidnapped or that my computer blew up. Or something.
Anyway. Work has been a bit slow lately due to academic pursuits of yours truly, but the pace is starting to pick up slowly but surely. On the technical side of things, I finally upgraded my gear with a brand new digital tablet and Zbrush! This makes it so much easier to paint those organic components, and machinery turns out pretty good as well. Hopefully because of my new toys you will get to command even prettier ships than I hoped for. ;)
On to the update. In this issue, I bring you several new screenshots and just one new item, and that is the Xin Graviton Uplink - or the Frigate Factory if you are not one to mince words. But, the Xin build their ships with a twist!
Unlike the generally accepted practice of slapping your ships together in orbit, these aliens actually grow them in subterranean caverns filled with water, deep within the crust of the planets below. When the organic beings which will make the core of the ship are fully grown, they are transformed via addition of armored plates and mechanical subsystems into the silvery devils which will sow terror amongst the stars above.
But before they can do that, they first need to be inserted into orbit. Because the caverns are completely sealed from the outside world, there is no viable way of physically traveling to and from the caverns, so the Xin use the - Graviton Uplink.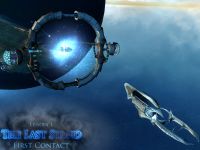 Basically a huge wormhole generator, the Graviton Uplink uses its tremendous gravity generators to form an incredibly thin but long funnel of seriously bent space-time continuum, extending all the way down to the planet. Down in the caves, a similar device acts as a twin to the one in orbit, except that the subterranean end uses its generators to literally pull apart incoming objects one subatomic particle at a time, pack them all neatly together with a construction stabilization matrix impulse and send the whole lot up the Uplink to the waiting portal in orbit, where they are assembled in reverse order and a finished ship emerges from the swirling maelstrom of tortured particles.
And the best thing is, you can actually see this happening. Well, not the caves and everything, but the Uplink funnel, the matrix packets and the assemblage all unfold before your eyes in an effort to glue your attention to the process of ship assembly to the point of making you lose the game because you didn't see that huge fleet coming in.
Once the Second Generation Genome Elite Drone and the Attack Cruiser are done, I will make sure to display them and the Uplink in a nice video because screenshots really don't do justice to this.
This much from me for now, a new update will be hopefully coming soon!