Hello everyone, time for another small update.
This time I bring you the latest addition to the Xin capital fleet, a ship no self-respecting galactic conqueror can do without - the Overlord.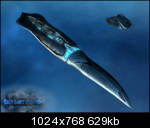 Yes, it's that big.
Where the Tyrant is built to hunt down the toughest of the tough, the Overlord is built to hunt down everything else. Sporting no less than eight hangars full of combat drones, it can quickly assert its power over any given sector, provided it does not have to deal with overwhelming enemy capital ship presence. While durable in its own right, it is no battleship in that regard.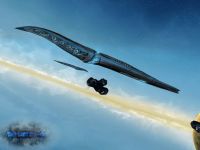 The Overlord is built to dominate gravity wells.
However, those who think it easy prey due to the lacking of armor are in for a rude surprise. For the hosts of minuscule combat drones are not the only ace up this behemoth's sleeve. It also boasts an impressive array of side-mounted plasma guns capable of dealing swift death to any fighters or bombers unwary enough to come too close. And for the larger targets there are the infamous Slicer Plasmids launched from the apertures on its beak, capable of latching onto enemy ships and literally cutting them to pieces with powerful energy beams.
And as if that were not enough, for the most prideful of enemies there is a weapon to humiliate them to no end - the Mass Energy Cannon. Fed directly from the ships massive Singularity Engines, the nose mounted MEC can sometimes rend a smaller ship asunder in just one hit - a truly fearsome weapon to face. And when all else fails, the Overlord can use its armored beak to ram its enemies, dealing massive damage to them and to itself.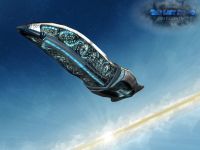 The heavily armored beak is a fearsome
weapon in on itself.
To put it simply, this giant, like its cousin the Tyrant Battleship, is built for war. But where the battleship is meant to outlast its enemies, the Overlord is simply built to kill them as quickly as possible.
And for the end, as a sort of a belated Christmas present from me, here is a little piece of wallpaper art I've put together.