Today we bring you a small update to remind people that we're very much still alive!
As we don't have many interesting things to show right now (most of the things we're working on right now are very unglamorous bug fixes), we'll talk about an aspect unmentioned so far: skin variations. We also wanted to talk about how we implemented gas warfare, but to avoid cluttering we'll do a full update on the subject later.
B.E.F. Infantry skin variations:
When we started planning this faction two years ago we decided to go for a nation-neutral design. The historical BEF had a number of non-British contingents in its ranks and to avoid alienating any of those we kept away from referencing specific nations. If you want your army to portray Welsh, Canadians or South Africans, you're free to imagine so.
Unfortunately while most contingents had adopted the standard British Service Dress by 1918, a few didn't. So we had to go through the efforts of making specific skins for them.
Highlanders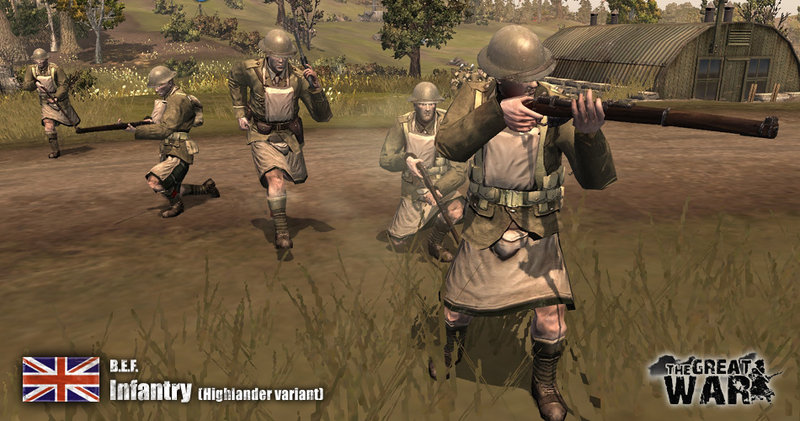 Scottish and Canadian highlander units wore their traditional uniform in combat, although the kilt was covered with a tan apron to comply with camouflage requirements.
Australian Imperial Force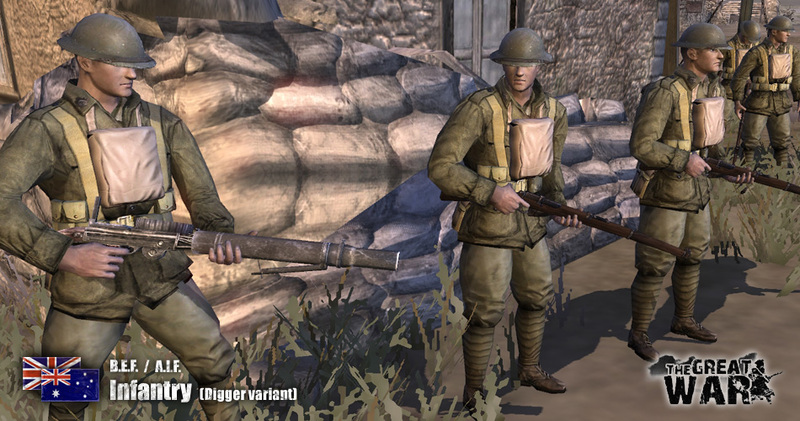 In November 1917 the ANZAC was disbanded and the five Australian divisions grouped in their own national corps on the Western Front.
The Diggers' stubborn choice of keeping their national uniform in Europe wasn't just motivated by pride: The loose jacket was more comfortable, and up to eight grenades could be stuffed in its wide pockets!
Portuguese Expeditionary Corps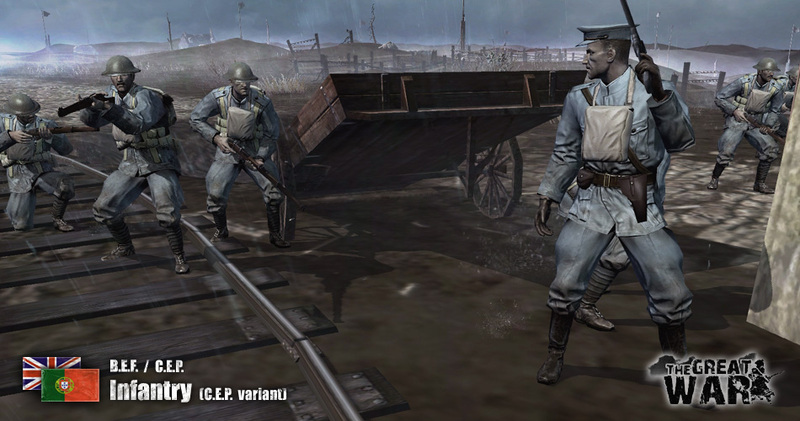 The soldiers of the two Portuguese divisions sent to the Western front were fully reequipped and organised in the British Army fashion. The sole exception was their distinctive blue-grey uniform.
The variations are purely cosmetic. We did not want petty stat exploitation to get in the way of players' selection of skin. The skins are activated through the reward list. Only one skin choice will work at a time. If multiple choices are selected, the game will use the default skins instead.
Note: we will not do any additional skins. If a particular nation isn't in the list, it's because they wore British SD and as such are already portrayed by the default models.
Original soldier models by Relic
Models by Rataconfusca
Textures by don_Durandal