HELLO! Just stopping in to give an update on a bunch of stuff... but before i do, THANKS!!!!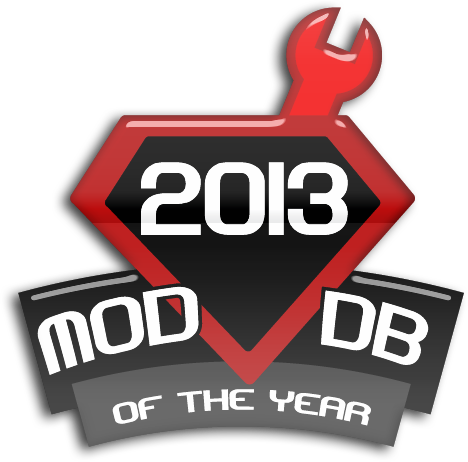 I'm a tad late in saying this, but thanks to all you guys, we won 4th place for players choice in the best upcoming mod of the year category! That's rad as hell and we're all super happy about it. As we continue to put the finishing touches on our closed beta and begin to get organized for the final release, we definitely appreciate being reminded how many people out there are as excited for this mod as we are! NOW THEN, on to some more content:
WEAPONS
FIRST OFF will be the Double Barrel Shotgun:
Left click to fire one barrel, and right click to... Well, we're not sure yet. It'll either be to fire both barrels at once, or to do the iron sights that HL2JKS did.
Next is the dual Berettas:
Left click to fire the left pistol, right click to fire the right pistol
Third is the Dual Golden Colts:
You just mash left click to alternate firing the left and right gun.
And then there's the Patriot:
As seen in the MGS series, as well as the original Jaykin' Bacon, this infinite ammo machine gun requires no reloading, but has extreme recoil and is tons of fun to use.
And lastly, the Dubstep Gun:
This was one of the very first guns we added to the game, long before Saints Row 4 was even announced. But it took us awhile to really nail down how to do this and then get it designed just perfectly. It's basically a flame thrower. Anyone killed by it has their head explode (NO DANCING).
MAPS
We've gotten a bunch more contributors to the mapping department, here's some of what they've been working on:
By: Junior
Lich consists of various jump pads, player controlled trapdoors, and a very large tower in the center.
By: Pretty Boy
Jaykintown is a ridiculous map that's all about exploration. There's tons of places to hide in, and lots of secret paths. It may look small, but with all the stuff going on in the map, it actually works rather well even on a full sever.
By: Junior
Inspired by hangemhigh from Halo, this is our latest map which is still heavily WIP. We should begin playtesting this monday.
There's almost a dozen other maps currently being worked on right now, at varying stages of development. Once they get further along, I'll be sure to share them here for you guys.
THAT'S IT FOR THIS UPDATE
As always, we're forever on the look-out for more mappers, player modelers, and very skilled texture artists to join our team. if you think you fit the bill, send me a message on here with examples of your work and we'll see if we can make things work. THANKS FOR READING.
If you want to be cool and support us, you can do so here as well as check out more cool stuff about the mod:
For more frequent updates, you can follow us on twitter, facebook, or our main development page on facepunch studios (requires gold membership to view)
Twitter.com
Facebook.com
Facepunch.com ~requires gold membership to view~