Age of Chivalry Preview Thursday #6 - Devastation and Brutality
This Week's Question of the Week: How big of a role does teamwork play in Age of Chivalry compared to other games?
The medieval times was an era of destruction, devastation and brutality, a time of cruelty and despair. Any seasoned veteran of battle will tell you that killing a man who is only inches from you is an entirely different feeling and atmosphere than shooting someone whose face you never have to see, whose eyes you never have to look into and whose last gasp you do not have to hear. This is why killing in a melee oriented or close combat oriented game must feel completely different from a gun game, and today we have an interview with Age of Chivalry Programmer "Wraiyth" on how we intend to bring this level of immersion to the game through visuals.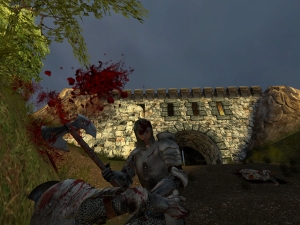 In CR1, Age of Chivalry aims to provide the player with visuals that are much much more accurate to the melee aspects of the game. Currently in the public version of Age of Chivalry(1.2) you can see the blood sprays are really just bigger gunshot wound effects, and this is painfully obvious to the player when he swings his sword at the enemy and sees his blade deliver what appears to be a gunshot wound to a section of his enemy. In CR1 we have taken this aspect of combat to a whole new level by truly making the blood spray, the particles, the decals, the effects and every other aspect of the game feel more like it would if you were in the medieval era. Your player, encased in a heavy suit of armour will tire and weaken from lack of stamina and your vision will blur as your player heaves in his breathing to inform you that you must rest. When you are struck heavily from an opponent your vision will throb red and when you are on your last bit of health, your heart will pound in your skull and your world will dim. In Age of Chivalry CR1 you are ON the battlefield.
------------------
Developer Blog
Without further delay, here is the interview between myself (Tibberius) and Wraiyth (programmer) on some of the visual effects coming to the game in CR1 and beyond.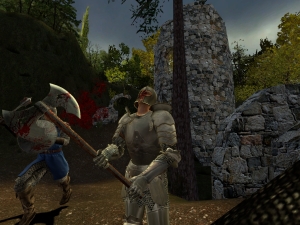 Tibberius: In the current public version of Age of Chivalry(1.2), some players occasionally feel confused as to whether or not they have successfully struck their opponent, or were struck themselves, how will the visuals of CR1 improve this issue?
Wraiyth: We've been working on several things in CR1 to try and improve feedback on combat. We've taken some suggestions from the fans and we've also looked at effects in various games and movies to try and bring the game some more flavour. New particle effects (everything from blood spray to sparks), screenspace effects and even improved flinches when players are hit will hopefully go a long way to helping. Coupled with the new impact sounds that Sir Loin talked about last week, the player will experience much more immersion than any past versions of Age of Chivalry.

Tibberius: Just how sick and twisted are some of the new features coming to CR1?
Wraiyth: Well where do I start!?
As I said previously, we used a lot of other game and movie references for many of our effects in CR1. We've got brand new blood splatter effects, inspired by 300. Blood splatter is now directional - for a left swing, blood will spurt left, and for a right swing, blood will spurt right. We've also got vastly improved blood decals which are painted far more often, so when you come across a former battlefield you'll know exactly where battles have been fought.
Decapitations have a new effect, inspired by Fallout 3 and FEAR. Blood will pour out of a decapitated head, leaving bloody marks as it bounces along the ground. Vast amounts of blood will pump out of severed arteries, smothering the ground under a corpse.
Also, have you ever hit someone in the head with a hammer in real life? Well then you're missing out, its quite spectacular. CR1 will now simulate that effect with what I like to call 'Head Explodies'. There is now a chance that a well delivered strike to a players head with a blunt weapon will cause it to explode in a rain of blood and gore.
Additionally, I've always found that hitting someone with a flying, flaming boulder was much more satisfying in real life than Age of Chivalry. So in CR1 you'll be able to experience that feeling of blowing someone literally to pieces, sending various bloody and mangled body parts flying tens of feet. Minus the criminal conviction, of course.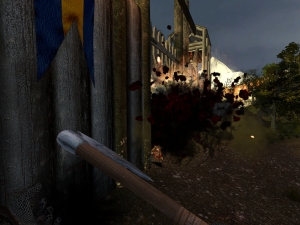 Tibberius: Given that its a Medieval based game, how much gore would you say is too much?
Wraiyth: Its a tough call. As modders, I believe we have an obligation to keep things reasonable compared to the game that we're modding. As we've seen with some games (Oblivion, GTA) there is always a small risk that the content may have unintended consequences, especially if its way over the top.
On the other hand, the medieval battlefield was a pretty gruesome place. So we definitely have to strike a balance between capturing the feel of medieval combat and staying within the limitations of whats reasonable for the game we're modding. Even with these new effects, I think there's still a lot of room for us to work on the not only the visual 'gore' elements, but also any audio that can contribute to the atmosphere. We're not crossing the line just yet.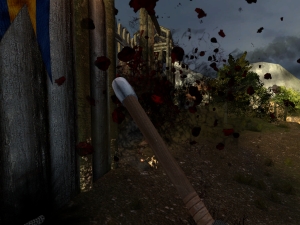 Tibberius: Will your future children ever forgive you for what you have done?
Wraiyth: If the federal police let me out of my padded cell.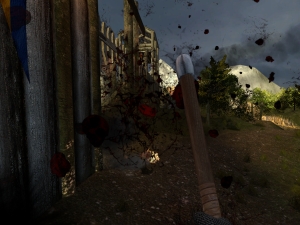 Tibberius: As far as immersion and visuals go, what else can we expect (apart from gore) in CR1?
Wraiyth: Well, visuals and audio really go hand in hand when you talk about immersion. One of these things alone can't get the job done for you. It's no secret that from the beginning, AOC has lacked good and reliable combat feedback, meaning any kind of visual or aural indication to convey whats going on around you. Getting hit didn't really bring the impact or feel of taking a blow in real life. Running low on stamina didn't feel like you were tired. Being close to death didn't feel like you were on your life hung in the balance and we feel this lost a lot of potential intensity to the game so these are the sorts of things we're hoping to work on in CR1.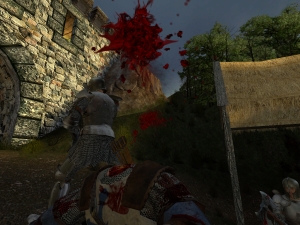 Tibberius: If you were an 85 year old gypsy woman, what would you predict might be coming to us in future versions in terms of visual effects?
Wraiyth: Is fluid dynamics too hopeful? Who wouldn't want to see blood running down a hill? I think that everyone - from the public to the individuals on the team - have alot of ideas for how to make Age of Chivalry a great mod. Given that killing people is integral to the game, one of my aims is to try to make this experience as unique and satisfying as possible. Being able to slice a players neck and see blood splurting out of it, or seeing your foe writhing on the ground grasping their neck after being hit with an arrow would be quite entertaining. Better use of blood decals would be fantastic as well.
Right now, its sometimes hard to tell whether a player has been in battle or not. Seeing players more obviously covered in blood and wounded would be cool, but also serve to identify any players that are potentially weakened from previous fights. Often its the small things that can make or break a game, and particle effects are a huge part of this overall feeling. FEAR and L4D have been a massive inspiration for me while I've been working on effects, some of the effects were quite spectacular. Upgraded impact effects for different surfaces is definitely on the radar for for me.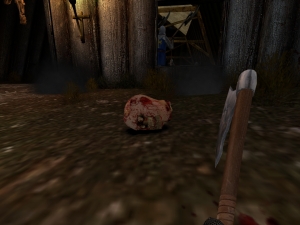 Tibberius: This stuff all seems like a big step above the previous system, how did you manage to make the new effects and what technical aspects went into making the effects?
Wraiyth: There were a fair few hurdles to overcome to get this stuff working properly. Firstly, all the effects that we had in the mod were from before we moved to the Orange Box engine. For those of you unfamiliar with Source, Orange Box included a brand new particle system that really helped us to produce these great effects. The next challenge after we got the effects working was to get them looking decent in-game and during combat.
Blood splatter is boring if its always the same size and going in the same direction, so we've worked on a directional blood splatter system, which takes an approximation of the direction of the current swing with some simple vector math using the endpoint of the start of the swing and the endpoint of the end of the swing. Obviously this won't be 100% accurate 100% of the time, but it does provide a pretty nice and much more realistic effect than our previous "bullet wound" effect seen in most FPS games. We've had to work on a system to scale these effects - a dagger won't produce as much splatter as a sword, for instance. This system has some limitations but I believe we've managed to produce a fairly good overall system and I truly can't wait to smash some heads and burst some blood vessels in CR1.
----------------
Stay tuned next week when I will interview myself about the new hit detection system and just how much more accurate and reliable this is going to make combat in general!
Additionally, please note that we have released a Survey for you guys to fill in and help us in the development of the game!
Tibberius Bane - Age of Chivalry Marketing Coordinator