I tried to do quite a lot today, ended up adding quite a few new things but not as much as I wanted (but those things will be added very, very soon).
First of all, I've added Carpets, Fireplaces and Beds as well as fixed the house generation significantly (things should no longer spawn outside the house interior, etc):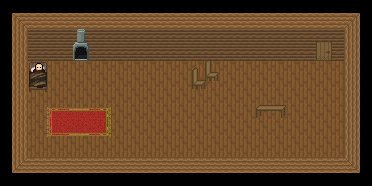 I've also made houses slightly smaller: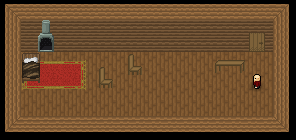 Finally I've completely revamped the tutorial, it is now in pages and is more clean and informative: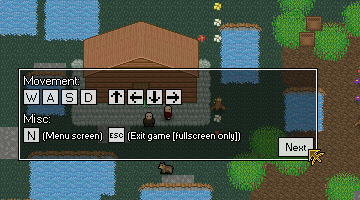 Apart from that there's only been a few fixes and changes but here's the changelog for the patch so far:
0.3.1a --> 0.4.0
# GRAPHICAL CHANGES
- Updated the disease graphic.
- Fixed up the item description box.
- Completely new and revamped house interior graphics.
- New sandstone edges.
- New tree types: willows and dead trees.
# FIXES
- Hitting no in the esc menu in fullscreen mode should no longer quit the game.
- You can no longer create new worlds if you already have 3 worlds.
- World data folders should now properly be cleared.
- Various optmisations.
- Fixed random teleportation to dungeons (non-existant holes).
- Fixed the random tree leaves without stumps.
- The enter key should no longer break textboxes.
- Fixed some NPCs not having names.
- Fixed the wrong amount of chairs and tables spawning in houses.
- Fixed and improved house generation.
- Fixed combat sounds being cut off.
- Fixed chests giving EXP instead of items.
- Hitting 'N' to go back to the menu should now properly save the world.
# CHANGES
- You can no longer press the delete button if you have no worlds to delete.
- You can now only press the play button if you're in "delete mode".
- Holes now need Ladders in order for you to not die.
- You have a 1 in 50 chance of dieing whilst going down a Hole with a Ladder.
- Removed the binary language.
# ADDITIONS
- The ability to name your world!
- Worlds can now be password-locked.
- House exits.
- New dungeon theme.
- Varied tree heights.
- Cleaner and generally better looking world generation.
- 20 new NPC names!
- NPC interaction (click to talk).
- Ladders can now be added to Holes.
- Carpets.
- Fireplaces.
In other news, I've also made a little portal-like thing for Crawle!
Sleepystudios.com
- Beds.