Hello everyone, just a small news update. Recently Torque 1.2 was released and since the development on Alpha we've been planning to upgrade to 1.2 as soon as it was released. We've currently in the process of porting our Alpha work over to the newer version of the engine and its just mainly taking time, at the moment I (Packer) have just finished school and have been to busy to work on for the past couple of weeks. With that said I'd like to welcome Bad Fur Day Remake's newest member Jozor who is doing the scripting & coding for the game, he is also currently finishing his school work with holidays coming up. So I'm hoping to get a lot of work done in the coming weeks.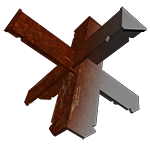 Bad Fur Day Remake is looking for a 2D Artist!
Moddb.com
We're in need of a 2D artist to work on textures, graphic interfaces and other various required 2D art! Details are listed on the job page as linked above.
---
...