First of all, you need the following:
1. Yuri's Revenge 1.001 patch installed (English version can be downloaded HERE)
2. Mental Omega 2.0psi main executable
3. NPSE #0022 (included with 2.0psi download above)
4. 2.0psi Patch 2 (included with 2.0psi download above)
And that's all! You don't need any Rock Patches, you don't need any other version of NPatch, you don't need Launchbase, you don't need Ares.
---
TO ACTIVATE THE MOD:
1. Make sure your Red Alert 2 is patched to version 1.006.
2. Make sure your Yuri's Revenge is patched to version 1.001 - if not, then patch it!
3. The final "make sure": make sure no other mods or mod files are present in your RA2YR directory. You can use Marshall's CleanUp program to remove redundant files.
4. Place Mental Omega 2.0psi executable and the patch file (XMLF thing) in RA2YR directory.
5. Install NPSE #0022.
6. Run the mod launcher (exe) and "Activate the mod".
If you did everything correctly, you should see this in the bottom-right corner of the menu: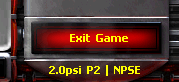 ---
TO REMOVE THE MOD:
1. After you're done playing, quit the game. Make sure (yeah) that the mod launcher is still on when you close the game. If it is, all mod files will be removed automatically.
2. Uninstall NPSE #0022.
---
TO PLAY MENTAL OMEGA 2.0PSI ONLINE:
Just make sure that all players are using the same version of the mod and NPSE, however I cannot guarantee 100% online stability for version 2.0psi. You can play the mod on both XWIS and LAN. You can also try VPN software like Tunngle - check this video for instructions.
---
TO PLAY ASSAULT MODE:
Well, this is a different thing, because I made a mistake and 2.0psi doesn't load Assault Mappacks properly. You'd have to download those mappacks, install them and then rename MIX files with those maps to expandmdXX.mix where XX is an index higher than the one used for Mental Omega mix files.
Assault mode will be fixed and fully supported in version 3.0.
---
FREQUENTLY ASKED QUESTIONS:
Q: Why can't I play as Yuri/Epsilon?
A: You did not install NPSE#0022.
Q: Why does AI do nothing but spam Police Vans?
A: You did not install NPSE#0022.
Q: Does Mental Omega 2.0 work with The Ultimate Collection version of YR?
A: No and it will not be fixed. However, 3.0 will work with it.