Hello, ladies and gentlemen! Today I would like to share with you various images of the update we have been working on since before the new year! As you are aware, it's been quite a busy period for us, we have been very productive recently even though the new year has been problematic thus far for me, but in Twisted Insurrection's case, there is a lot of good news to share!
Most of you will have already seen previews of the new Twisted Insurrection client that is in progress, whether it be on our ModDB page, our Facebook page or if you're just familiar with The Dawn of the Tiberium Age, in this article, I will be showing you a good handful of what is to come!
First of all, the new Skirmish Menu. Along with an obvious and much-needed graphical overhaul, the client has now been fitted with a ton of new features.
Loads of options that were not possible before are now available, which will enhance your skirmish and multiplayer experience greatly, allowing you to play the style of match you are looking for, be it a quick relentless war or a long-winded battle with unlimited funds at your disposal. Some of these new options include Build Off Ally, Start Without Shroud, Tiberium-Resistant Infantry, Disable Tiberium Lifeforms, Berzerk Cyborgs, Unlimited Tiberium and Enable Ion Storms (again, a thank you to The Dawn of the Tiberium Age for that option idea) to name a few. There may be more options available in the future, but these are the ones that will definitely be available in PB5.039.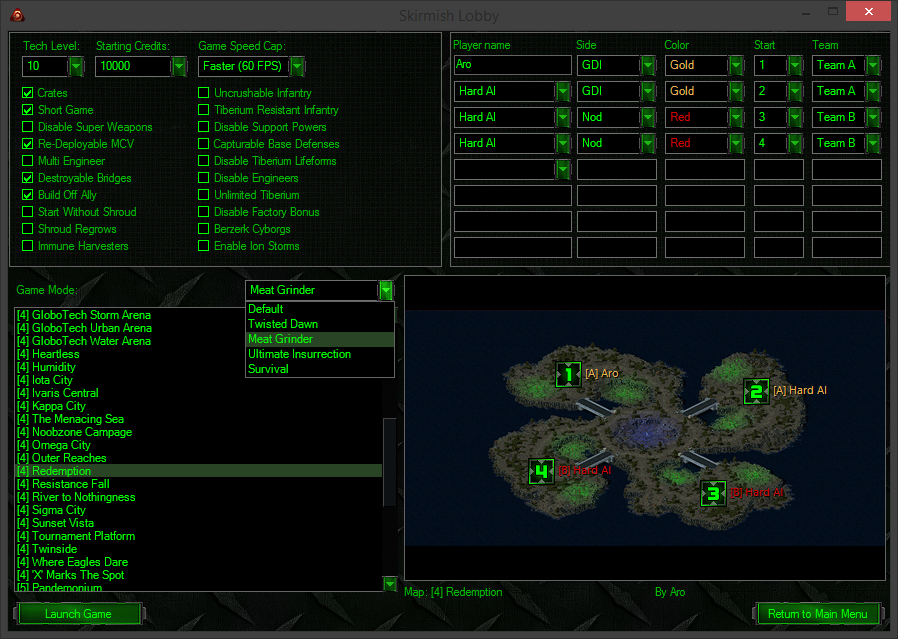 Note in the screenshot above that there are currently a total of five game-modes available, three of which are already available in the current Twisted Insurrection release (Default, Twisted Dawn and Survival), but will have many major improvements and fixes in the upcoming PB5.039 Update.
Default - The standard and classic Command & Conquer deathmatch style of game. Play however you want by playing around with the new options against human or AI opponents or both.
Twisted Dawn - The same style of play as the Default game mode, but rather than using units and structures from the Twisted Insurrection era, you have units from the Twisted Dawn era at your disposal!
Survival - A fast-paced and chaotic game-mode for those of you that like a little bit of insanity. Defend your Mobile HQ at all costs and collect crates to rally an army to smash your opponents.
Meat Grinder - Otherwise known as "Infantry War", you only have Infantry units at your disposal. There are no armoured vehicles this time around, only soldiers and cyborgs.
Unholy Alliance - The infamous Unholy Alliance mode enables you to build both Nod and GDI structures and units regardless of the faction you start with. No limits here, mix and match technology!
Ultimate Insurrection - A Game mode purely developed for those of you cray-cray people that asked for it, Ultimate Insurrection is a deathmatch mode where you can build units from both the Twisted Insurrection and the Twisted Dawn eras. If you like having a ton of units available at once, this mode is for you, but if you're like me and prefer less clutter, stick with the other game modes!
Co-Op Mode - Play with your friends in some challenging, fully-functional co-operative campaign missions! Pretty self-explanatory, right? Unfortunately there won't be any maps ready in time for the release, but Co-Op mode is already implemented and ready to go. Once we create some missions unique to Co-Op mode, we will release another update ASAP!
There will be more game modes to come as time progresses and testing has occurred. If you have any ideas for game modes, please feel free to share, we are always open to more ideas!
The client has a built-in feature to force certain options to be either checked or unchecked depending on the game mode you chose, see this image of Survival Mode for example, being as crates are pretty important here! Also note how more than one player can spawn at the same location on certain maps.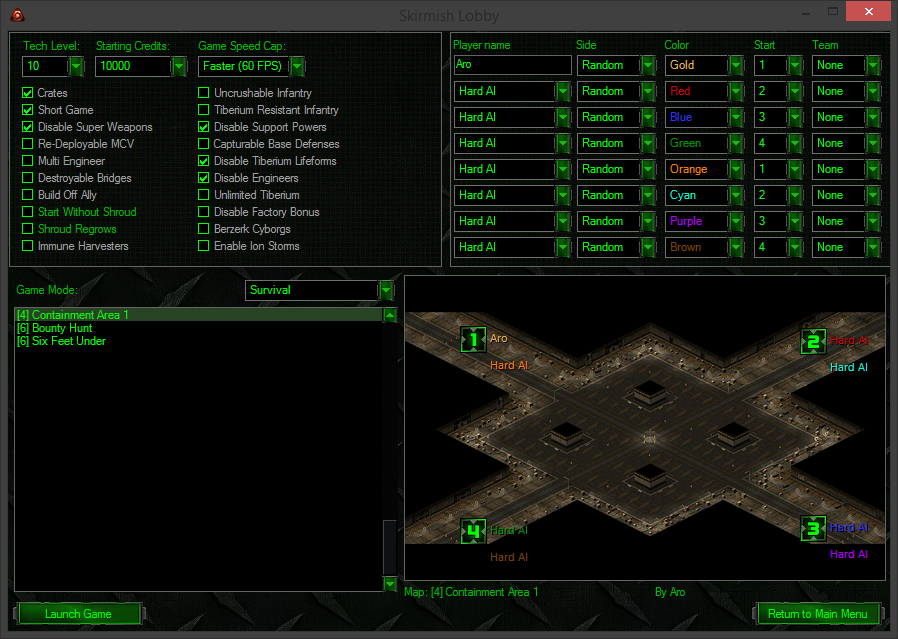 We really need to make some more Survival maps! Anyway, moving along, PB5.039 will include a custom Twisted Insurrection CNCNet Lobby, as opposed to the confusing shared one in the current release. From here you have the choice of viewing players, hosted games and chat rooms on all of the available games hosted on CNCNet. Customize the lobby to how you desire, see Twisted Insurrection only players or see the entirety of CNCNet, it's your call.
This will also include a feature allowing you to launch Dawn of the Tiberium Age from the Twisted Insurrection Client and vice-versa if you decide you would like to join one of their hosted games instead.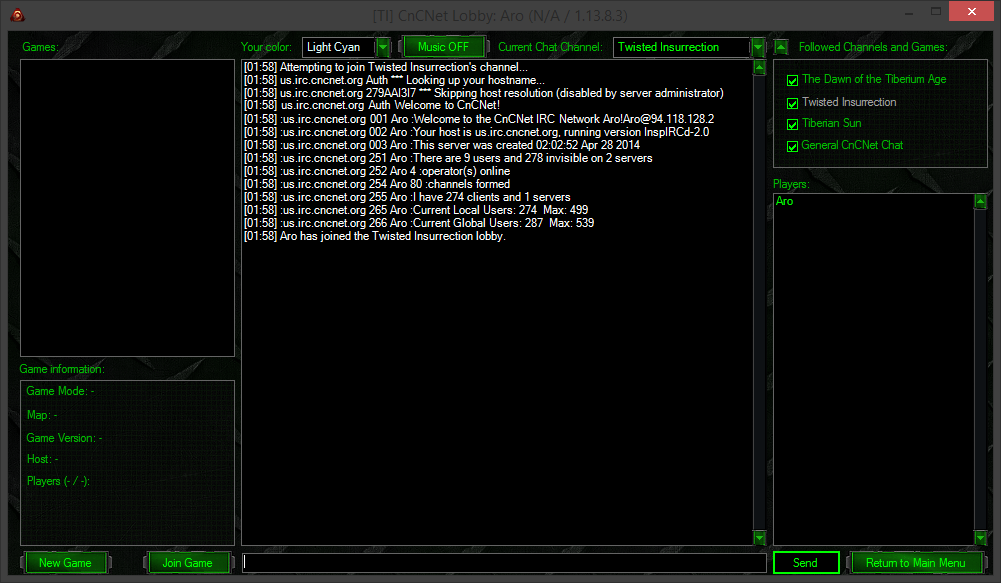 The CNCNet lobby has also had some major improvements done to it since the last version, bringing many much-needed features to the table, namely fully functioning kick and ban functions, Private Messaging, menu music etc.
Due-to a chat box being required in the CNCNet game set-up menu, that has also had a redesign to match all of the new changes.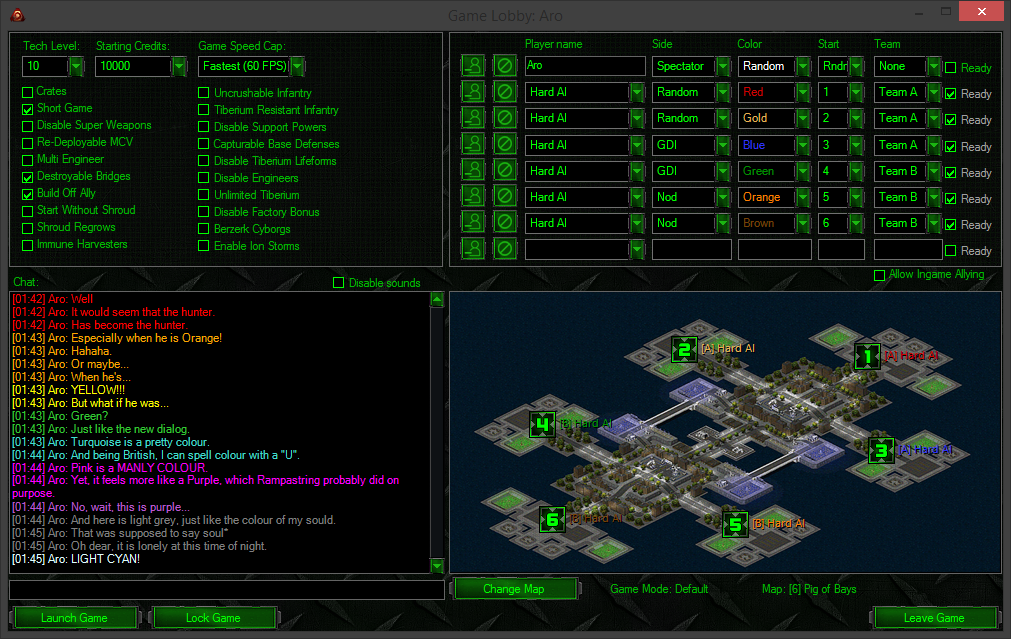 One more note regarding the new and improved client, it is not limited to a fixed size, the menu can be minimised, maximised or stretched to any size you desire. Map previews have all been remade in higher-resolution so that you can have a better look at the battlefield before jumping into the fray blind.
Note that this window is the one you will see from the CNCNet game menu, in Skirmish mode, the map selection screen is where the chat-box is in the image above (or you could just scroll to the top and see the Skirmish window again!).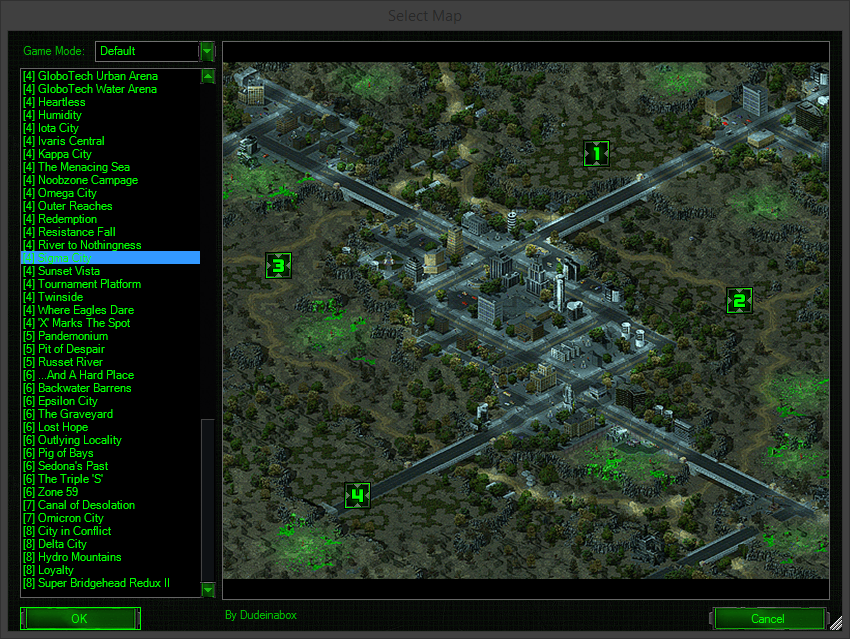 I hope this clears up any concerns some of you had about Twisted Insurrection's recent silence and I hope you all enjoyed the news. There isn't a set date for the release of PB5.039 yet, but it will definitely be released before the end of this month!
We are looking forward to the release of the next update and hope it will bring a few more players into Twisted Insurrection online! And last, but not least, a big hand to Rampastring for all of his hard-work on the latest version of the client!