Update
Demo has been released!
---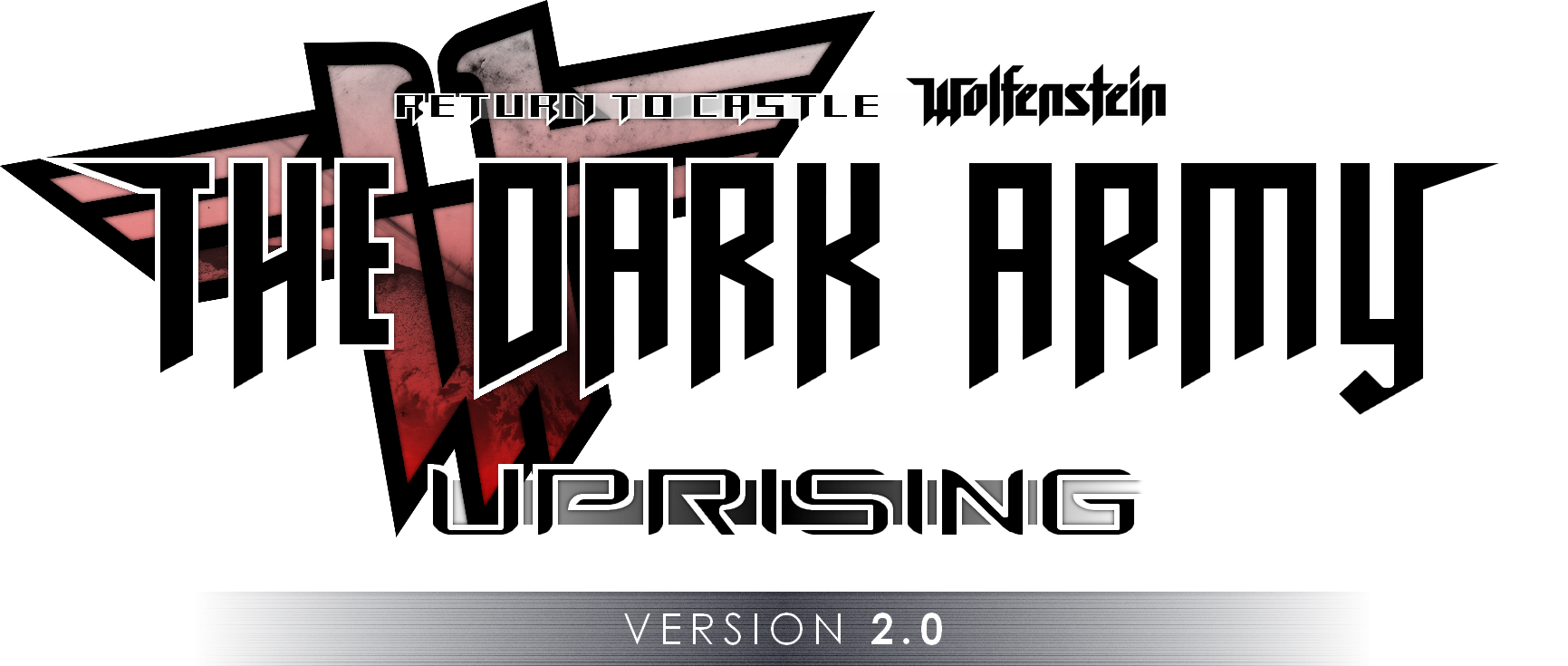 It's almost been a year since the release of The Dark Army: Uprising and the release of its latest patch. It came back after many hardships following its failed initial release almost two years ago, and received a lot of acclaim here on Mod DB, to the point it ended in the Top 100 Best Mods of 2016 during the 2016 Mod of the Year Awards which were held at this time, thus becoming the first Return To Castle Wolfenstein mod to ever achieve this feat. However, truth be told, we were never truly satisfied with what we had accomplished, and we were left with many regrets. Many other great, better Return To Castle Wolfenstein single-player (but also multiplayer, coop...) maps and mods, would have deserved to receive such praise. So we decided to put the development of the sequel, The Dark Army: Downfall, on-hold, and focus on the development of a new version of The Dark Army: Uprising, secretly, in order to make the mod truly worthy of its success, but also for the love we received from the players on Mod DB as well as other websites and communities all around the world.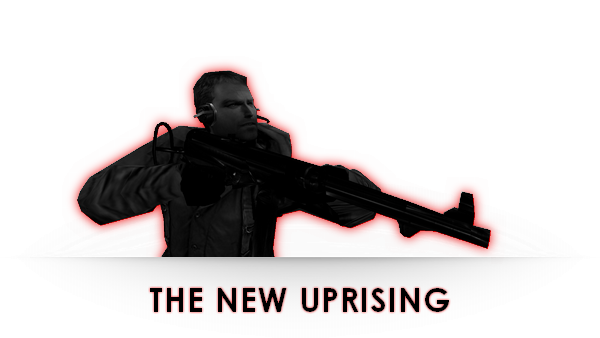 Two days ago, we started teasing something, as you probably noticed, both here on Mod DB and through social networks. Earlier today we have revealed what it was: the aforementioned new version of The Dark Army: Uprising! Baptized 2.0, this new version will be halfway between a remaster and remake: we have re-imagined the story, the environments, the ambience... all according to the feedback you were all so kind to provide. We are itching to create the most appropriate experience possible, using your reviews, comments and thoughts as guides. But more feedback will be necessary to improve the newly cooked formula we ended up with... with the help of a public demo!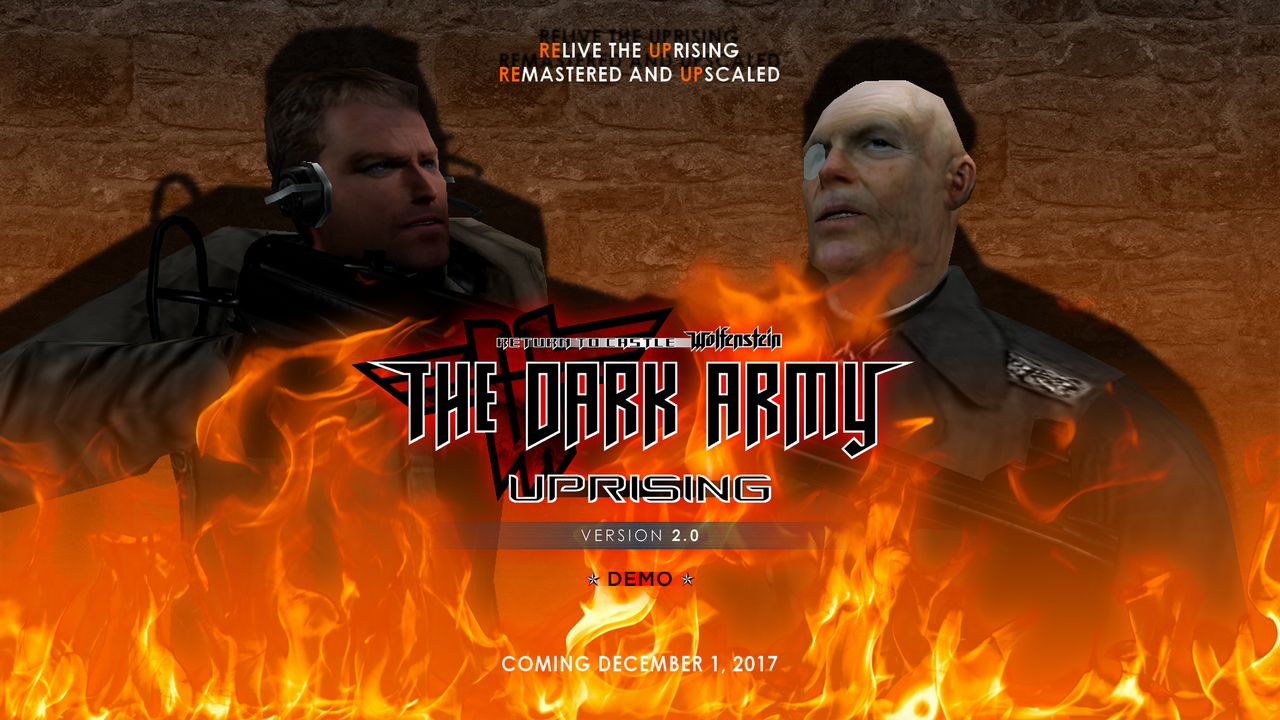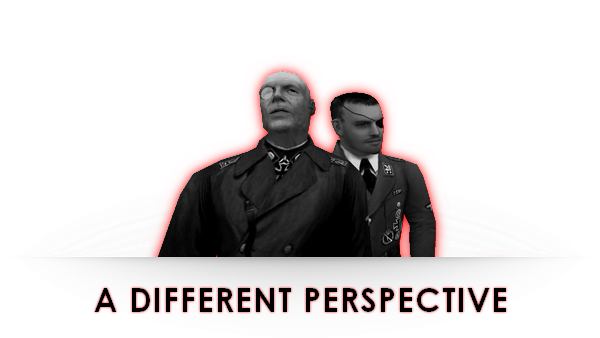 This new version is not coming now. We're not sure when it will release, but it's on the way. We take all the time necessary to rebuild most of the environments, reshape our ideas, improve the level-design... to create the ultimate single-player adventure. We're not in a rush, we've been working on this new version the whole year. However, it would be a lie to pretend that it's not close to completion. It will not release before 2018, at least. However, we would like to have as much feedback as possible for the new Uprising to be as close to perfect before release. That's why we decided to release a public demo tomorrow, for testing purposes. It will feature the introduction (briefing) cutscene as well as the first playable mission (which will be playable by either day or night, through four different difficulty modes).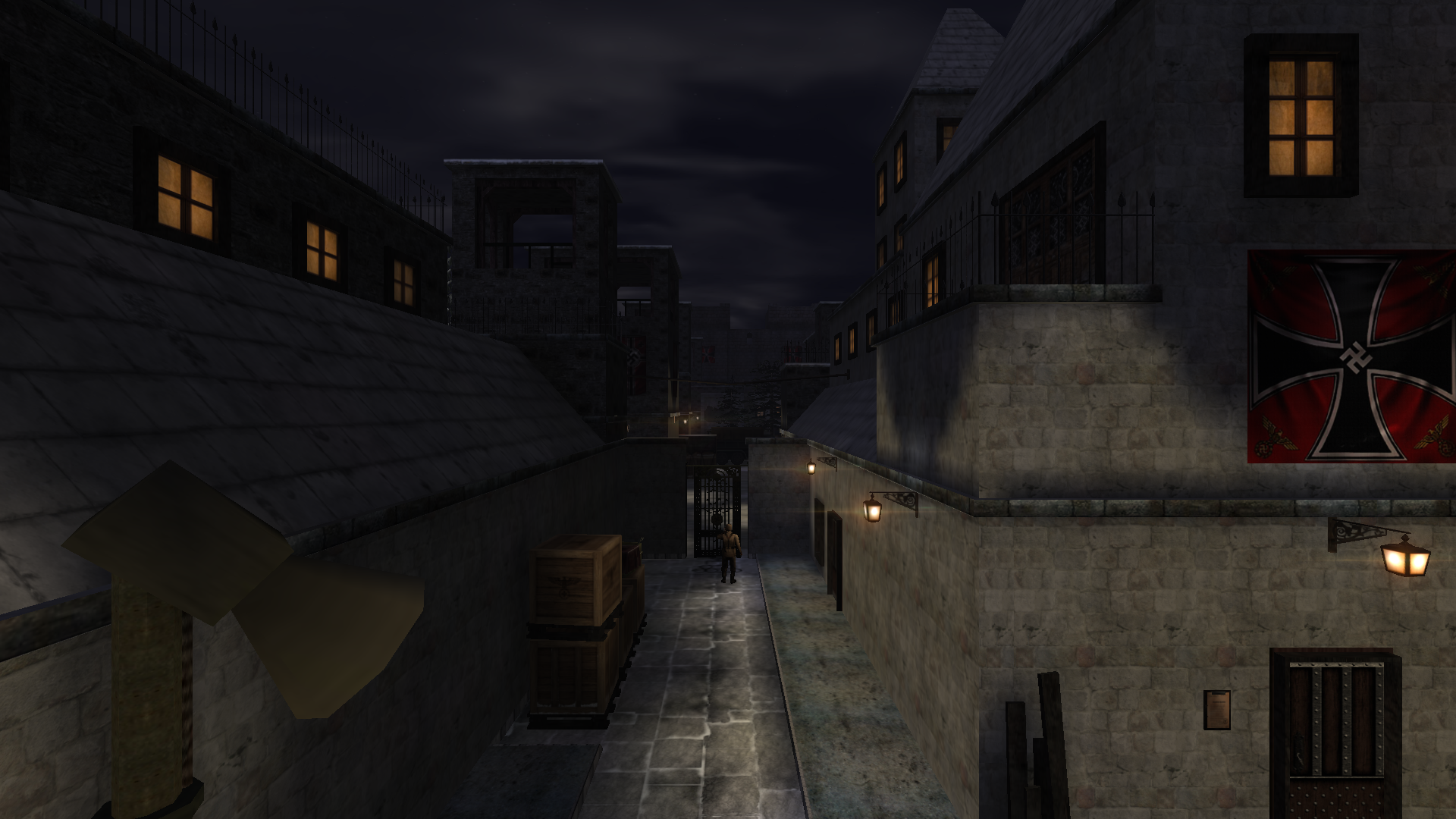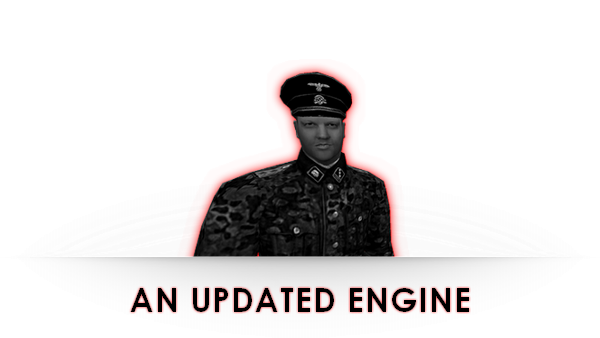 This upcoming new build will be the last version of The Dark Army: Uprising. It's been the aim all along, so we can finally focus on the development of the sequel, The Dark Army: Downfall, without any regret. The first stable version of The Dark Army: Uprising was powered by WolfETPlayer's RealRTCW 2.0. This new version will run under RealRTCW 2.1 (possibly RealRTCW 2.2 if it comes out in time). It will have:
Re-imagined gameplay, deeper storytelling (new dialogues included)
Revamped maps, improved and coherent/realistic level-design
New, larger areas of operations (high-detailed)
Brand new dynamic user-interface
Movie-like camera angles during cutscenes
New weapons (thanks to RealRTCW)
New items, treasures (and secret-areas)
More Easter-eggs (30+) to find
Two additional difficulty modes
Three New Game+ modes (with exclusive enemies)
Now be aware that this new version of The Dark Army: Uprising is running under RealRTCW 2.1, which unlike RealRTCW 2.0 doesn't use Knightmare's unofficial 1.42d version of Return To Castle Wolfenstein as base, but Donny Springer's iortcw instead. And what's maybe the most important thing to know when it comes to iortcw is that it requires original Return To Castle Wolfenstein files to launch. Basically, if you want to run iortcw or any mod powered by iortcw or its alterations, like RealRTCW 2.1, you need to have the latest official version (1.41) of Return To Castle Wolfenstein installed on your computer. What if you don't? Then you will run into an error which will tell you that some "checksum is incorrect". It's because iortcw checks the files in your Return To Castle Wolfenstein directory to know if you truly have the latest version of the game installed. Not to mention that, sadly, if you don't own the US (or Steam) version of Return To Castle Wolfenstein, the game won't run, because the expected checksum has to match the precise one of the aforementioned versions of the game. RealRTCW 2.1 is an alteration of iortcw, and thus has this checksum verification feature implemented, which means it works just the same way.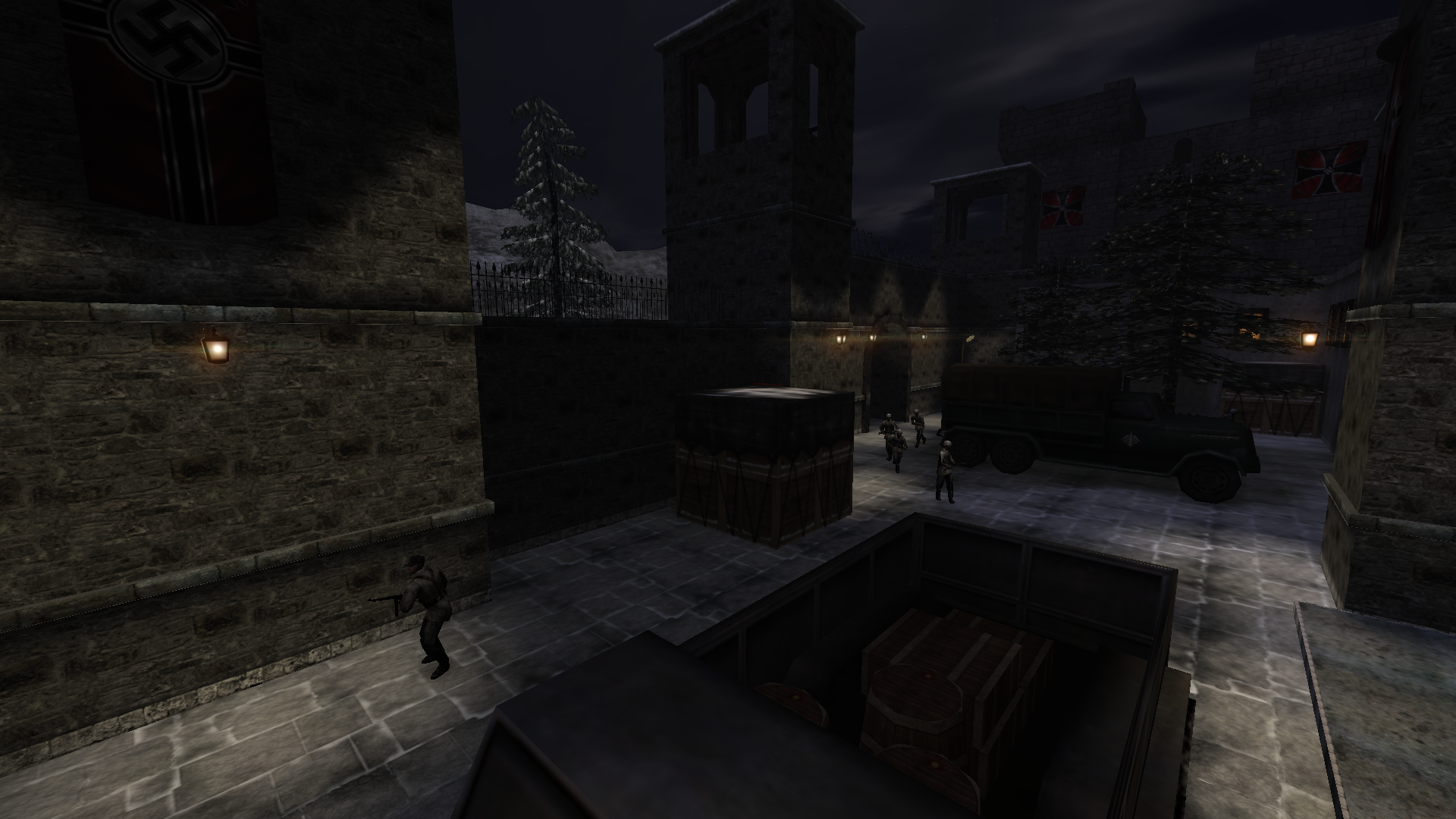 So you may have guessed it by now, as the new version of The Dark Army: Uprising will be powered by RealRTCW 2.1, you'll need a clean install of Return To Castle Wolfenstein (1.41) and it will have to be either the US version of the game, or the one available on Steam (which is basically the same, because the version sold by Steam all over the globe is actually the US version of the game). And the upcoming demo of tomorrow won't escape this rule, so be sure to prepare your clean install of the game. That's not that hard hopefully since, if you get the game from Steam, it will already be patched to the latest version, and if you have the US version without patches, those are not that hard to find and install (provided you proceed in the correct order, at least). We sincerely hope that now you understand why we can't release a standalone version of the mod just like we did in the past, because this time we would have to include all the original game's files in the package, and that would be illegal. However, be sure we'll provide all necessary installation instructions within the demo's file description, step-by-step, to make things way easier, and be here to help you with the installation if it proves necessary. Until then, if you don't have the game, we recommend you get it from Steam right below (and it won't have much of an impact on your wallet). Latest Wolfenstein installments are great FPS games? I won't deny that they are good FPS games, but this one right below is the real thing: the real, classic and unmatched Wolfenstein experience. The best entry in the series, despite it's sixteen years old. Give it a try if you haven't!
The exact time of the demo's release tomorrow will be revealed very soon. Now, as we said, feedback is our fuel for development. We'll make good use of your reviews. Thus we will most likely create something with Google Forms, a poll, in which you will be able to send your thoughts, what you liked, disliked and what you'd like to see, so we can work on it and keep you informed of our progress.