Dear warriors, today i'm writing this to celebrate the 10 year anniversary of the mod. It has been a very long journey for me as modder and Hunter's Moon in specific have been a huge experience gatherer. The date is not precise since i don't remember, but the mod had its very first public release in this month.
When i started Doom modding back in 2006, i was pretty much like any new young modder that sees how much stuff GZDoom was capable of and immediately started a Total Conversion project with everything i could find nice to me, trying to make everything with the "WOW! NICE!" factor to it. That was the case of Doom Reinforced, my very first Total Conversion for Doom, created and developed between 2006-2011, but well when you get older you start noticing all this "wow nice" thing fading out, and with that you can see how much of a mess you did and called it a mod. By 2010 i already pretty much halted Doom Reinforced development and decided to start a new mod for GZDoom, which is Hunter's Moon, but the very purpose of HM in the beginning was just to be an experience gatherer about coding and doing things more consistently this time, then whenever i felt confident i could go back to rework Doom Reinforced in way better manner than it was. This comeback eventually became MMDCXIV - Journey Into 27 Century.
Hunter's Moon started as nothing but a merely Quake 3 weapons pack for Doom, it had no custom enemies, not even the items, only the weapons, ammo and the gore. But as time passed i saw the potential it could become as the "Quake 3 singleplayer campaign that never existed", especially after seeing some players mentioning during the matches that they wanted to see such thing when i was active in Quake 3 itself. Initially the story of the mod was still very much like Doom except in a larger scale due the whole basic plot the Quake 3 already had about the Vadrigar. The Map Pack existed since 2011 actually, but stood under heavy alpha stages until 2015 where the initial release finally happened.
As time goes, Hunter's Moon is almost entirely another mod by now if compared with its very initial stages, much of the content has changed: Characters, Weapons, Enemies and Items went in or were changed/scrapped later. 10 years of a quality grinding that myself feels it was worth it.
For those who are curious, i managed to recover the very first trailer of the Map Pack with a friend, and nowdays it's actually bad, at least for me:
Another notable old footage lies right in the Video tab here in the mod's page:
Currently the oldest and earliest footage found about the mod in the internet is this video, which is not even recorded by me but by a friend that was testing it with me (turn down volume as it is pretty loud):
---
So, of course i wouldn't make a post only tell stories about the mod's journey, currently i'm also gonna show some new things for Version 3.6:
New Vehicle: GEV Walker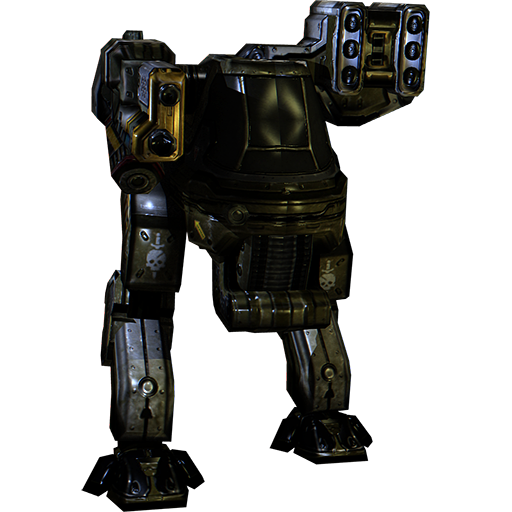 It was about time for the mod to have a brand new vehicle, so that time came and here is it. The GEV Walker is a small mechanoid vehicle brought straight from Quake 4 with much of the same functionality, it fires a seeking rocket salvo of 6 powerful rockets, perfect for dealing with sprinting or flying enemies, and it also possess a machine gun similar to the one the GEV Tank have. The special action this vehicle does is dispense 3 barrels in arc shape for more sources of explosions to cause chain reactions.
Currently, the GEV Walker and the Cyclops will share their spawn point with 50% chance for each to spawn, but both recieved their own specific spawn points if needed for patched wad and Map Pack.
---
Uriel Ability rework: Trauma Form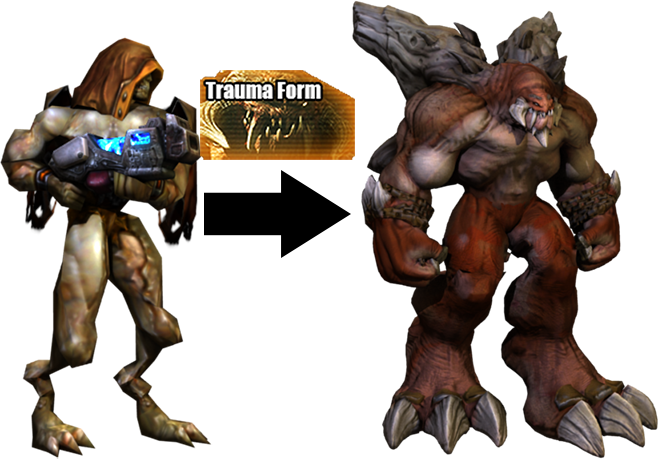 During a couple talks with active players of the mod in the discord server, we all came into the conclusion that the old ability Uriel had didn't feel that much entertaining, neither useful whenever he was overstacked since that old vampirism trait could only recover his base health and not overheal. So to bring him to sorta brawler-role like Doomslayer has with his Berserk, i decided to rework Uriel's ability to allow him to transform into a hulking beast coming straight from Darksiders, the Trauma beast.
This creature only have melee attacks and only walks, but in change attacks in various forms depending where you look at and if you're crouched or not, the special action button also works with him. Trauma is meant to be a meatshield while doing plenty of damage to fodder and medium tier enemies due the high amount of HP he have. While Uriel is in this form he cannot pickup items or earn kill medals, in order to heal this secondary form, Uriel needs to do kills in his original one.
---
New gameplay element: Power Chests

These chests will be included in upcoming Version 3.6 of the mod but won't be visible in regular gameplay of unpatched wads, they are completely new items that can be added into any map to help players refilling their Weapon Ultimates and Abilities whenever necessary. They won't open by interaction but rather by using the Gauntlet on them. The color of the Quake 3 logo in the chest determines which type it will refill, white for weapon ultimate, orange for ability.
---
Thank You!
Thanks for all of you who got interested in this mod for whatever reason it is, even those people who "just want the monsters" or "just want the weapons", only because this mod is one of the very few competent 3D mods GZDoom ever had. Thanks for some of you showing a huge passion to the mod just as i do have while developing it throughout all these 10 years, hope even better times will come, but until there, just thanks!
-Zanieon