---
"I was having such beautiful dreams. I dreamed I was walking in a forest rather like this one, only lit with torches on the trees and lamps swinging from the branches and fires burning on the ground; and there was a great feast going on, going on for ever. A woodland king was there with a crown of leaves, and there was a merry singing, and I could not count or describe the things there were to eat and drink."
---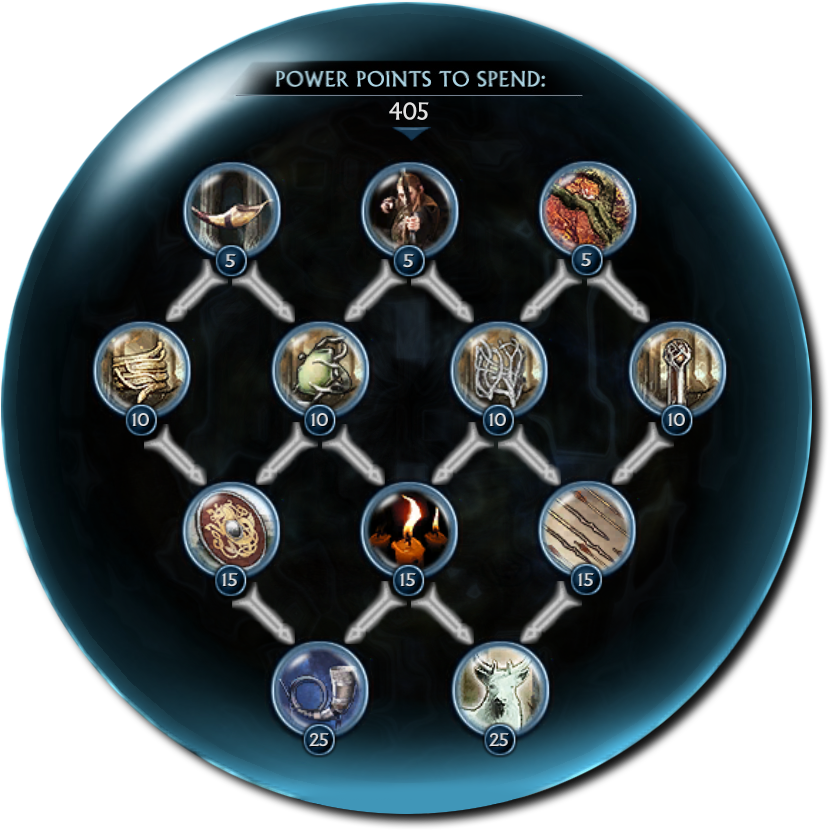 ---
Horn of the Gate
Thranduil's realm was distant and isolated, and wary of those traveling within its bounds. With good reason: the evil stronghold of Dol Guldur lay near. Elf-guards were on constant watch for encroaching foes. When a threat was sighted, they would sound a great horn to alert any nearby allies to prepare for a battle amongst the trees.
Horn of the Gate increases the damage and armour of targeted allies by 50%.
Hidden Sentries
Before the days of the Sindar kings, Silvan elves had long resided in their vast primeval forest. Aware of every nook, cranny, dell and glade, these wood elves could almost vanish and appear at will, tracking both quarry and interloper without ever being seen...
Hidden Sentries summons a trio of Feredir in the target area. These stealthed warriors will reveal the area and loose arrows upon nearby enemies.
The Elves Awoke Them
The Wood-elves have ever had a special connection to trees. For many long years, they would speak to them, giving them names and telling them stories of the world, until some trees began to waken and speak with voices of their own.
This power summons a tree on the target area, knocking back and disrupting the movement of enemy units while allowing the player to stealth their own units.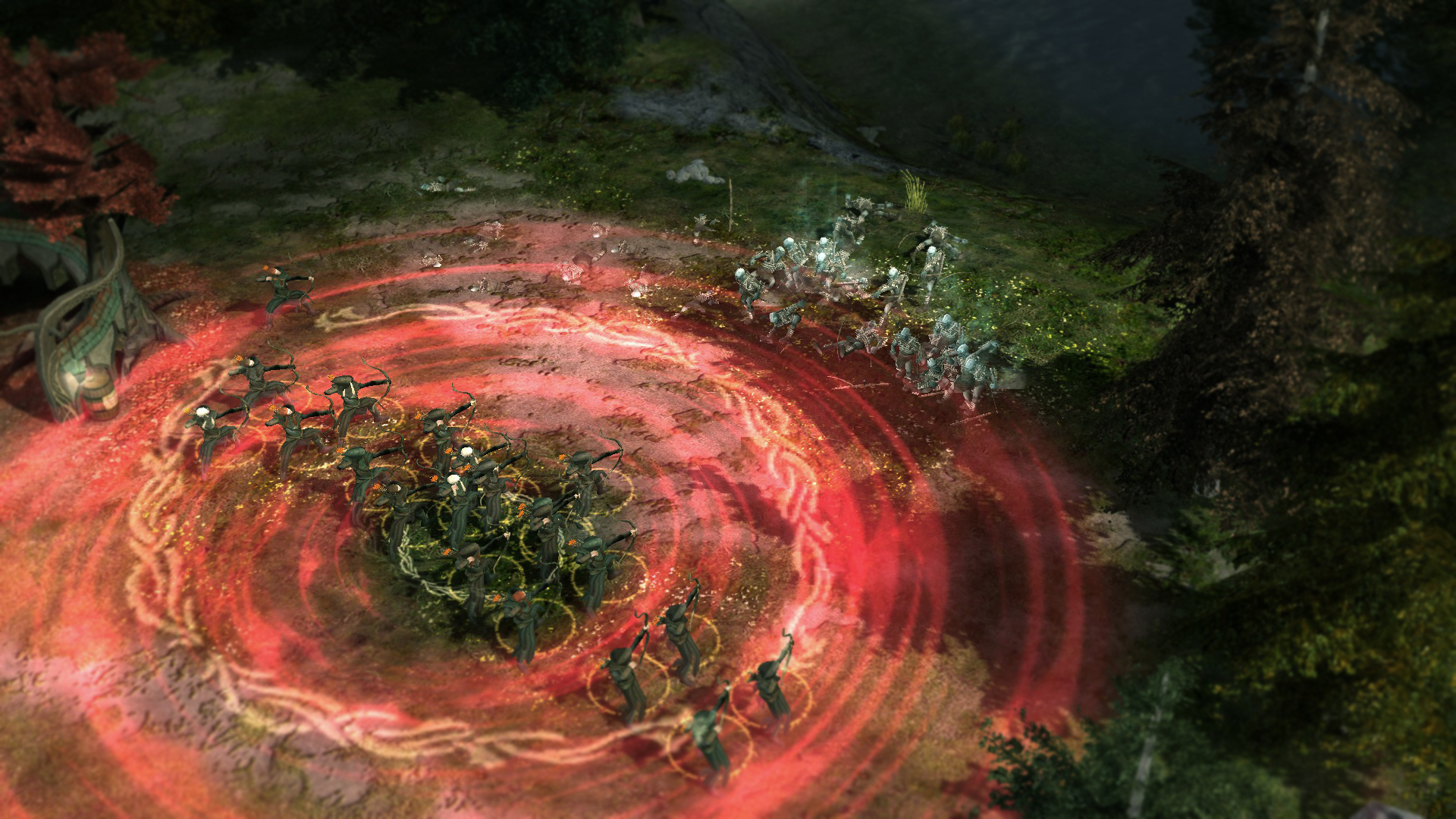 Silvan Rangers buffed with the Horn of the Gate are capable of mowing down rows of orcs with little effort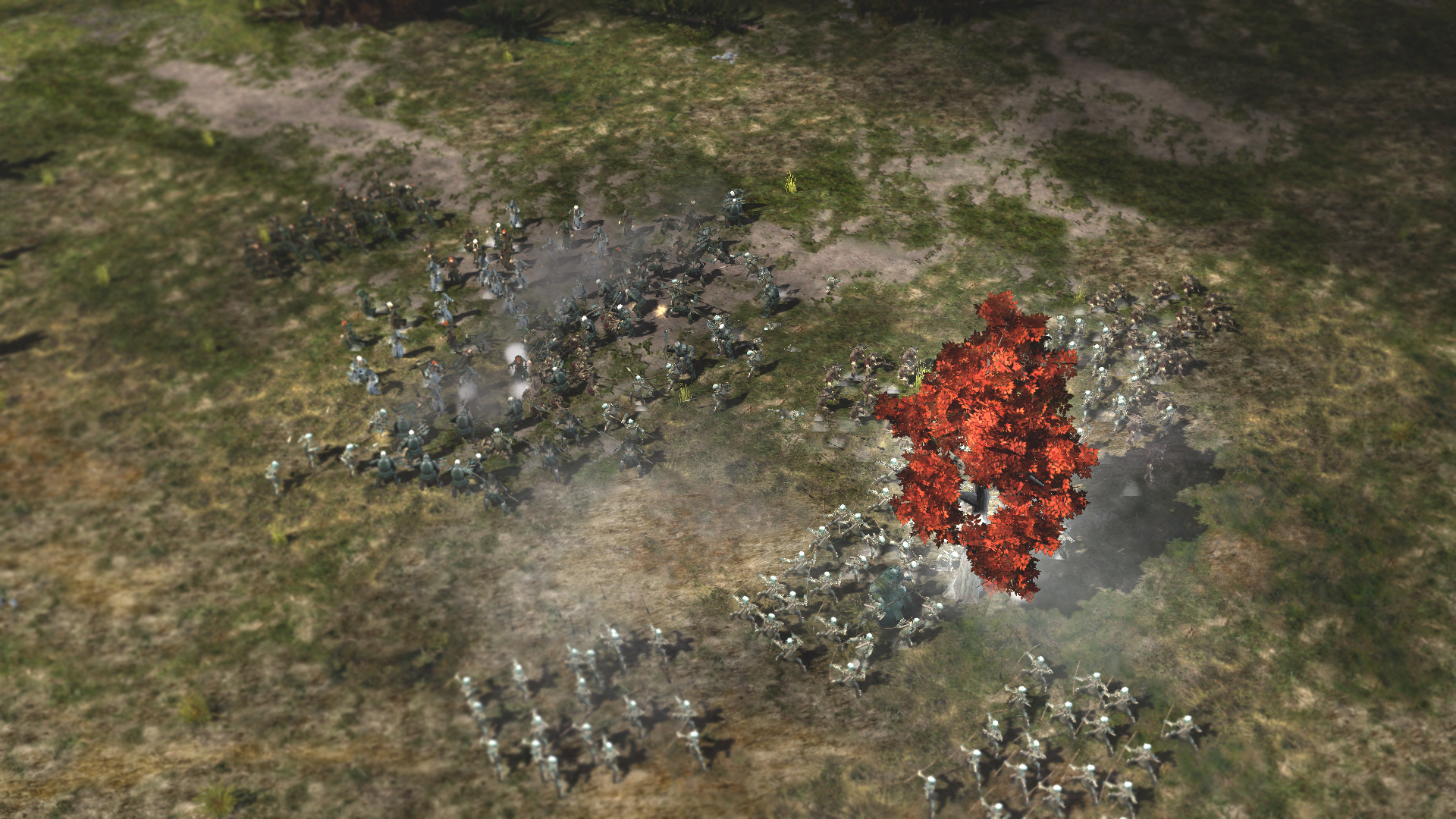 The summoned tree can disrupt the enemy rear, allowing fewer elves to overcome or escape a greater foe
---
Elvenking's Road
"There was a greenish light about them, and in places they could see some distance to either side of the path. Yet the light only showed them endless lines of straight grey trunks like the pillars of some huge twilight hall. There was a breath of air and a noise of wind, but it had a sad sound. A few leaves came rustling down to remind them that outside autumn was coming on. Their feet ruffled among the dead leaves of countless other autumns that drifted over the banks of the path from the deep red carpets of the forest…"
The Old Forest Road was a great and ancient road that travelled west to east through Mirkwood. The Elves knew it well, and were able to cover great distances in little time while traveling over it.
Elvenking's Road summons an Elven Waystone onto the battlefield. This Waystone can be used to teleport the targeted allied units towards it, allowing for the quick movement of units across the map. The Waystone is limited to 1 at any time.
Elvenking's Patience
Or lack of patience, perhaps. In the Woodland Realm, the final charge on all matters of justice was the Elvenking. His wise word was law, and all abided by its authority. As the years grew darker, punishments grew harsher. Thorin Oakenshield discovered this when he was captured while travelling in the forest and imprisoned in the Elvenking's dungeons for the petty crime of hungrily intruding upon their woodland feasts.
Elvenking's Patience is a powerful spell that can be used both offensively and defensively to disrupt and weaken enemies. Targeted units will lose all their leadership and will be heavily slowed for a short time.
Elvenking's Feast
"The feasting people were Wood-elves, of course. These are not wicked folk. If they have a fault it is distrust of strangers. Though their magic was strong, even in those days they were wary. They differed from the High Elves of the West, and were more dangerous and less wise."
The Elves of the Woodland Realm were known for their feasting ways. Any nearby travelers would be able to hear their song and cheer - but any attempt to approach this merriment would result in the lights going dark and the feast disappearing.
Elvenking's Feast allows the player to summon a feast for a short time. Units near to the feast will gain increased armour and be able to heal outside combat. The player can also control the feast, allowing it to instantly teleport across the battlefield to frustrate foes and assist in any particular battle.
Elvenking's Decree
The corruption of Dol Guldur would not cease its spread. Having been forced to abandon their homes in southern Greenwood, the Elvenking issued a fierce decree: his people would take heavy measures to keep the northern reaches of the forest secure. Orcs and spiders were to be killed on sight, of course; but even travellers of the race of Men or Dwarves were to be apprehended should they be found, to be brought before the Elvenking to explain their presence and purpose.
Elvenking's Decree is a mapwide spell that grants allied units an increase in speed while allowing them to gain resources per kill. This can be used in both offensive and defensive situations and can synergise well with the faction's ambush-heavy playstyle, allowing any successful attack to become profitable.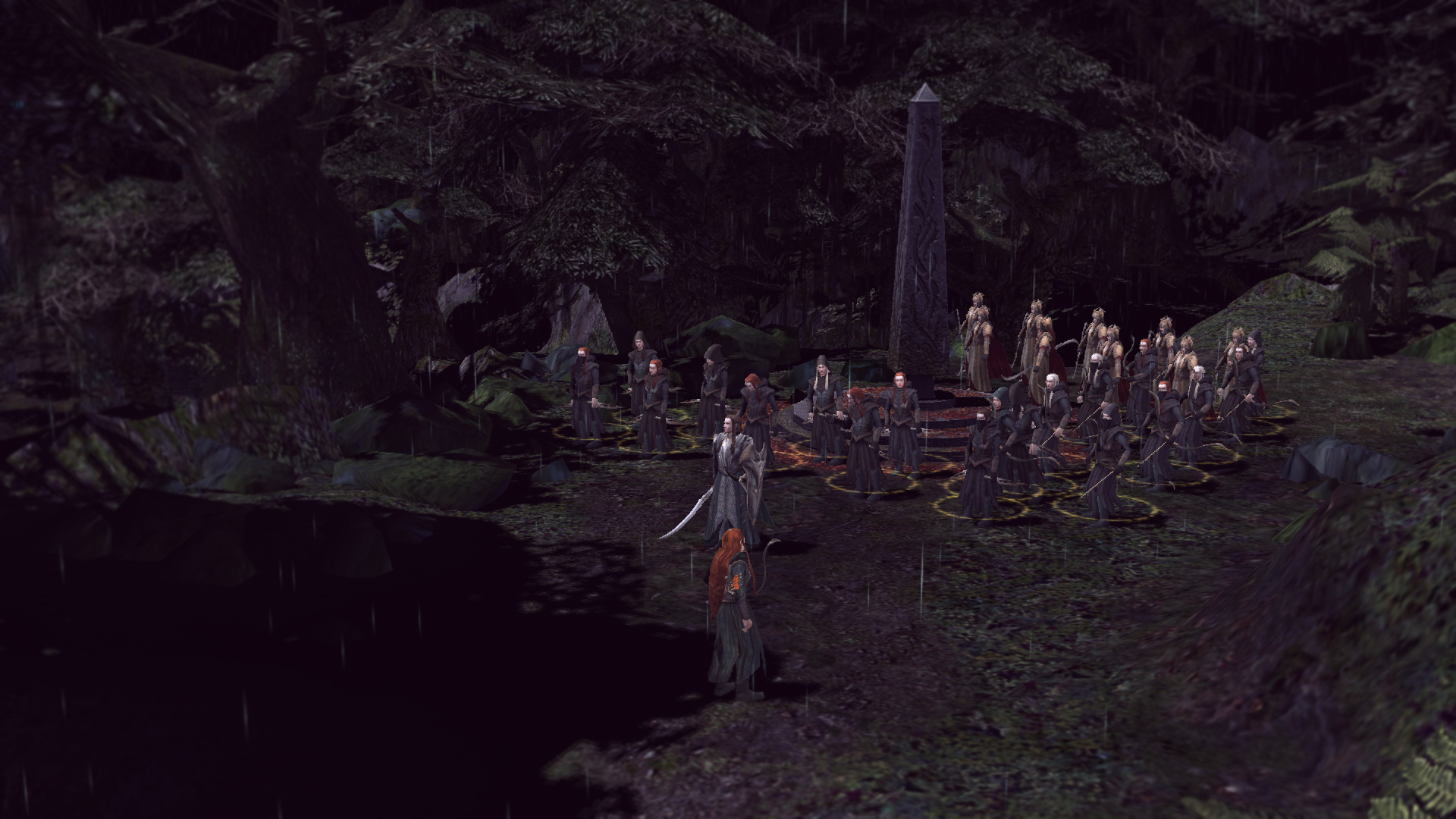 A well-hidden Waystone can be a long-lasting frustration for the enemy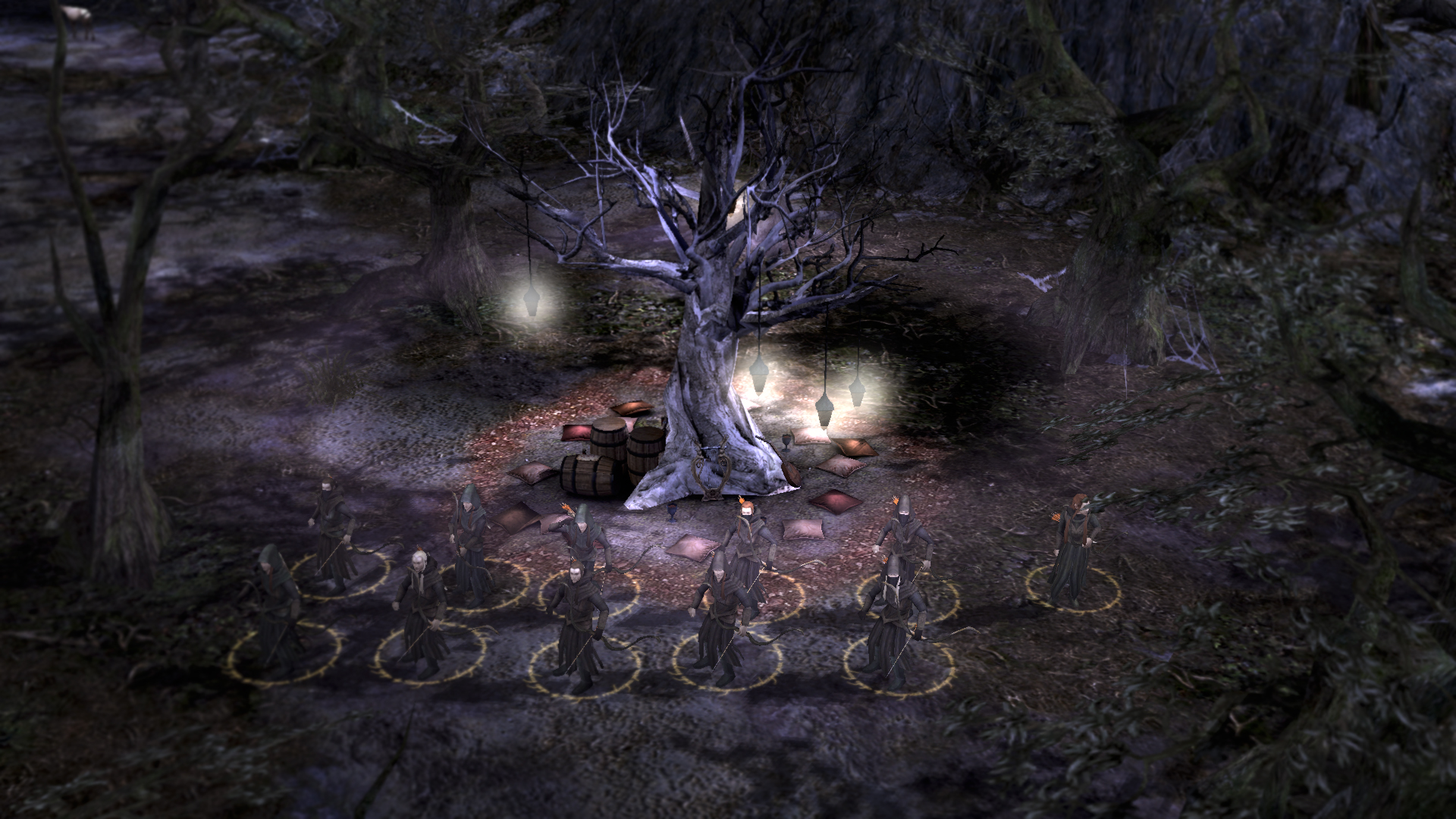 The Feast provides merriment in an otherwise dark forest
---
Spears of Framsburg
The Éothéod were remnants of the Kingdom of Rhovanion after the invasion of the Wainriders and lived north of Mirkwood in the capital of Framsburg. After fighting alongside Gondor against the forces of the East, they were well-regarded as a trusted people. While many of them migrated south many years later under the leadership of King Eorl to become the Rohirrim, some of them still lived in their old home. Hardy and noble men, they now prepare to fight alongside the Woodmen and Thranduil's people, to drive back the forces of Dol Guldur. Their leader is the great Frumgar, son of Frumgar, descendant of Fram the Dragonslayer, and deathly nemesis to the vile Muzgash of the Misty Mountains.
Spears of Framsburg is a powerful, temporary summon of Éothėod Warriors. Equal in stats to the Rohirrim, these cavalry units can trample foes and reinforce an allied army or allow for a retreat. Frumgar Frumgarsson supports his men and is capable of dealing a lot of damage to his enemy.
Lights Go Out
"Dead silence fell in the middle of a word. Out went all light. The fires leaped up in black smokes. Ashes and cinders were in the eyes of the dwarves, and the wood was filled again with their clamour and their cries. Bilbo found himself running round and round (as he thought) and calling and calling: "Dori, Nori, Ori, Oin, Gloin, Fili, Kili, Bombur, Bifur, Bofur, Dwalin, Balin, Thorin Oakenshield," while people he could not see or feel were doing the same all round him (with an occasional "Bilbo!" thrown in). But the cries of the others got steadily further and fainter, and though after a while it seemed to him they changed to yells and cries for help in the far distance, all noise at last died right away, and he was left alone in complete silence and darkness."
Elven magic was a source of legend across Middle-earth with Men and Dwarves speaking in whispers of enchanted forests that were full of peril for those who entered without permission. Those who wandered into the Elvenking's domain would suffer confusion and weariness as the darkness fell upon their eyes.
Lights Go Out can be used to disrupt enemies across the map. Upon activation, all enemy units will suffer reduced vision, experience gain and attack damage, leaving them vulnerable to attack.
Hail of Arrows
The long-lived Elves of the Greenwood achieved mastery of many weapons and styles of combat, yet they favored the bow above all, for its swiftness and its elegance. On an open field, the arrow volleys of Thranduil's warriors were without equal - striking repeatedly with great speed, killing all those unfortunate enough to find themselves in its path.
Hail of Arrows launches a great volley of arrows on the target area, dealing high damage to all enemies caught within. Unique among arrow volleys, this powerful ability triggers instantly with no warning shot between the use of the ability and the volley of arrows. This allows for instant damage without the enemy being able to evade the projectiles.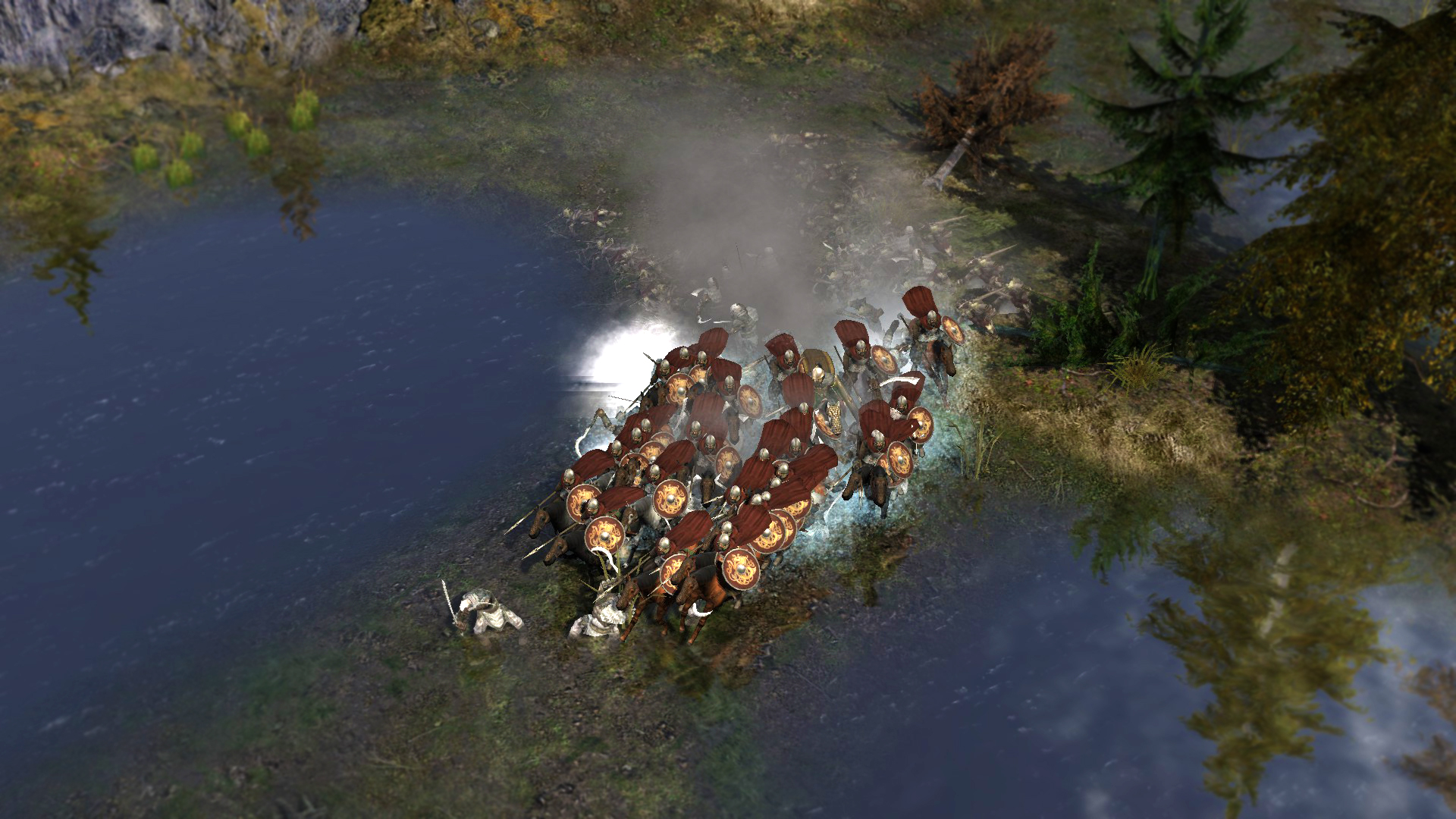 The Éothéod possess excellent trampling capabilities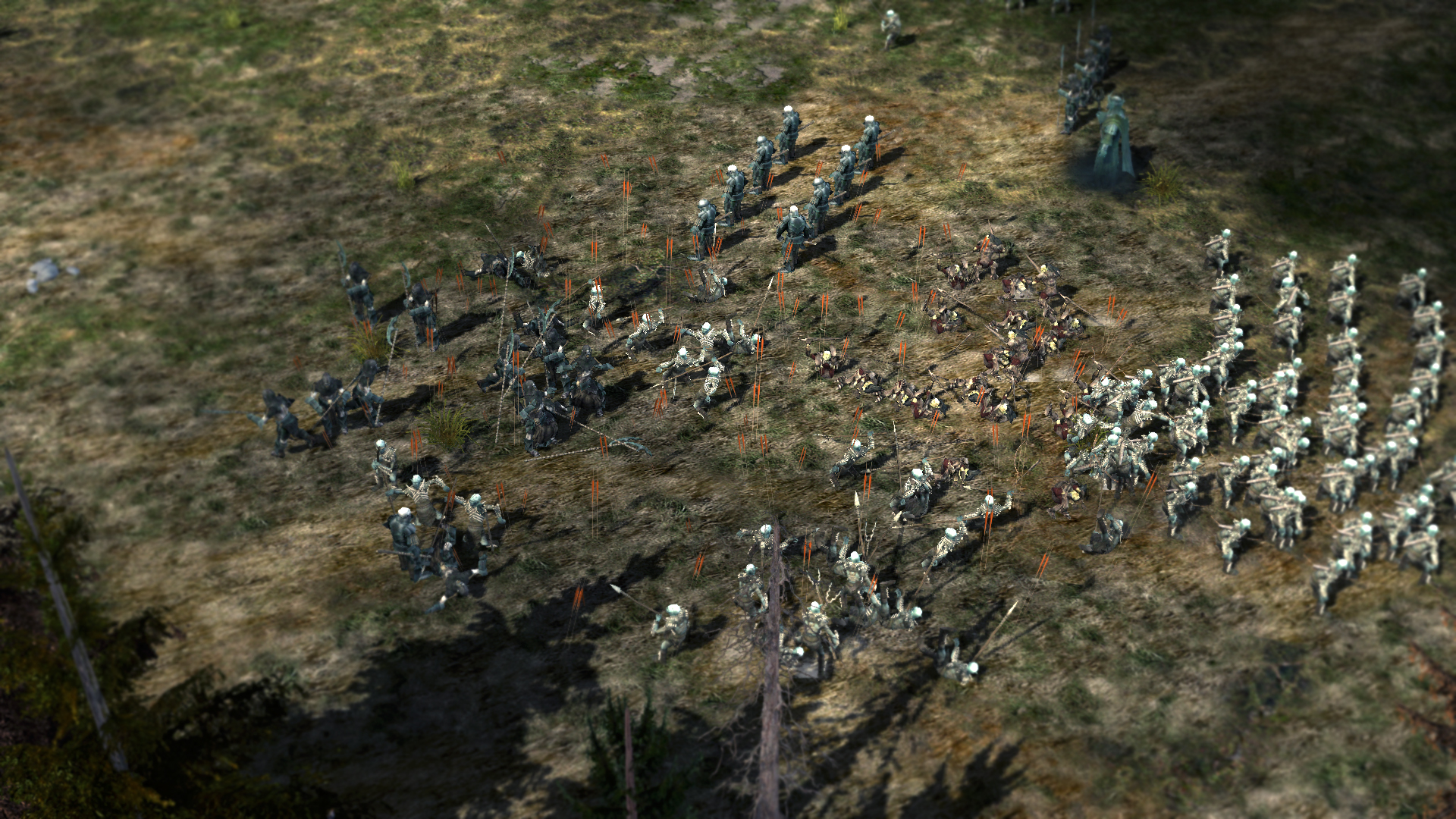 The Hail of Arrows will outright kill most units, leaving only elites with some health remaining
---
Great Hunt of Oromë
"Oromë loved the lands of Middle-earth, and he left them unwillingly and came last to Valinor; and often of old he passed back east over the mountains and returned with his host to the hills and the plains. He is a hunter of monsters and fell beasts, and he delights in horses and in hounds; and all trees he loves, for which reason he is called Aldaron, and by the Sindar Tauron, the Lord of Forests."
Silvan elves have ever venerated the Hunt as a sacred rite. Shrines dedicated to the Vala known as Oromë the Huntsman are scattered throughout the Woodland Realm, and the Elves often venture out from their woodland homes to hunt and ride amongst the forest and beyond, over moonlit plains and besides the singing of the running river. The Woodmen and the Éothéod also revere Oromë, though they know him as Béma.
Whether hunting or fighting, the invocation of Oromë is a shared trait between all good folk living in Greenwood and the Anduin Vales. Oromë's spirit is fierce, and it is said his martial prowess was amongst the greatest of the Valar. To be filled with his presence is to be courageous and commit great deeds worthy of remembrance.
Great Hunt of Oromë is a powerful spell that can heavily weaken foes in the target area while replenishing allied heroes. Additionally, it has a strong mapwide effect that allows allied units to trample foes and grants cavalry units additional armour against pikemen. This power is a strong tool when used in combination with an army to turn the tides of battle and begin a full assault.
A Sign of Good Fortune
"Suddenly on the path ahead appeared some white deer, a hind and fawns as snowy white as the hart had been dark. They glimmered in the shadows. Before Thorin could cry out three of the dwarves had leaped to their feet and loosed off arrows from their bows. None seemed to find their mark. The deer turned and vanished in the trees as silently as they had come, and in vain the dwarves shot their arrows after them."
A great evil had taken hold of much of Greenwood the Great. A deepening shadow enveloped its once peaceful glades. Dark things crept between its boughs. The very air you breathed was laden with poisonous spores. Murky, spell-infested waters granted twisted life to corrupted flora and fauna. And yet hope remained. Other forces still lingered under the darkening canopy. One of these was known as the White Stag - a mysterious creature whose radiance sent fell beasts scurrying in retreat, and whose presence was said to grant good fortune to those travellers that witnessed it. The Elves knew of it, though even they did not truly know what it was, for its appearance was exceedingly rare.
This power summons the White Stag. While this creature is invulnerable and can trample its foes, its main strength lies in its ability to continually terrify nearby foes and support allies. The Stag can grant allies an immense armour boost as well as immunity to fear and terror, as well as a large experience boost in combat.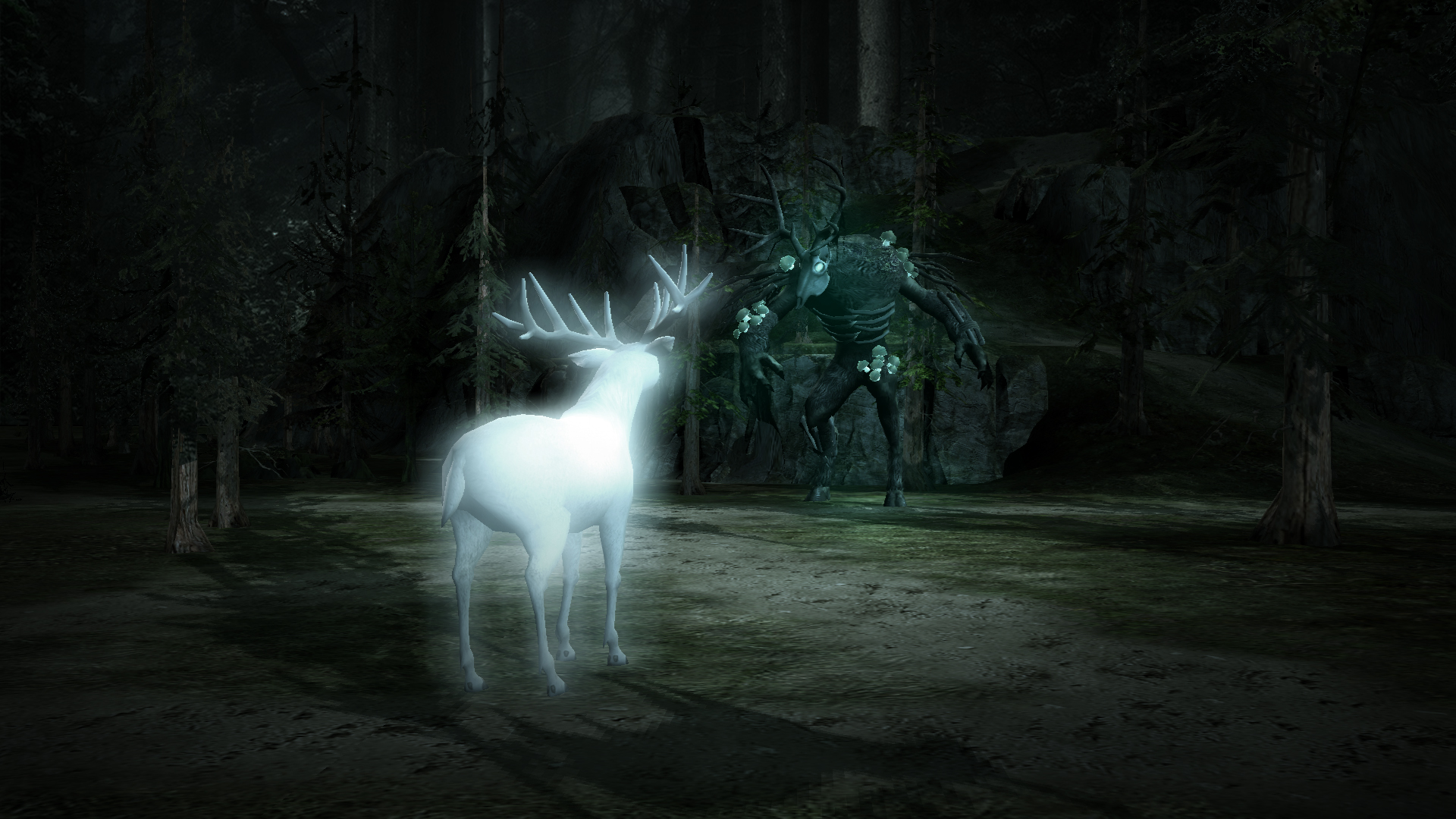 The White Stag is one of the few things in Mirkwood that will give pause to the mighty Gwanthaur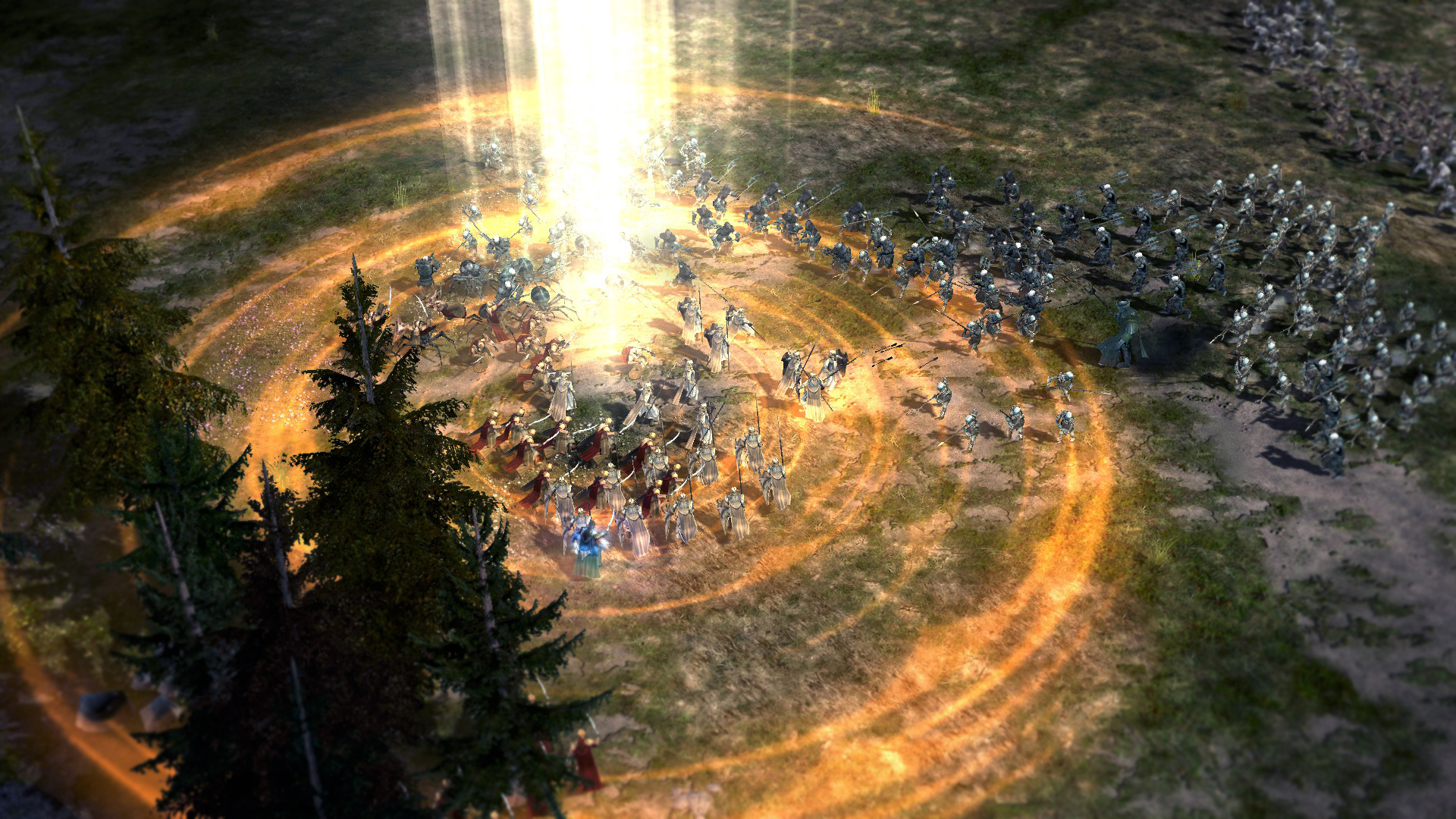 Once the Great Hunt begins, the Elves can withstand and overcome enemies that far outnumber them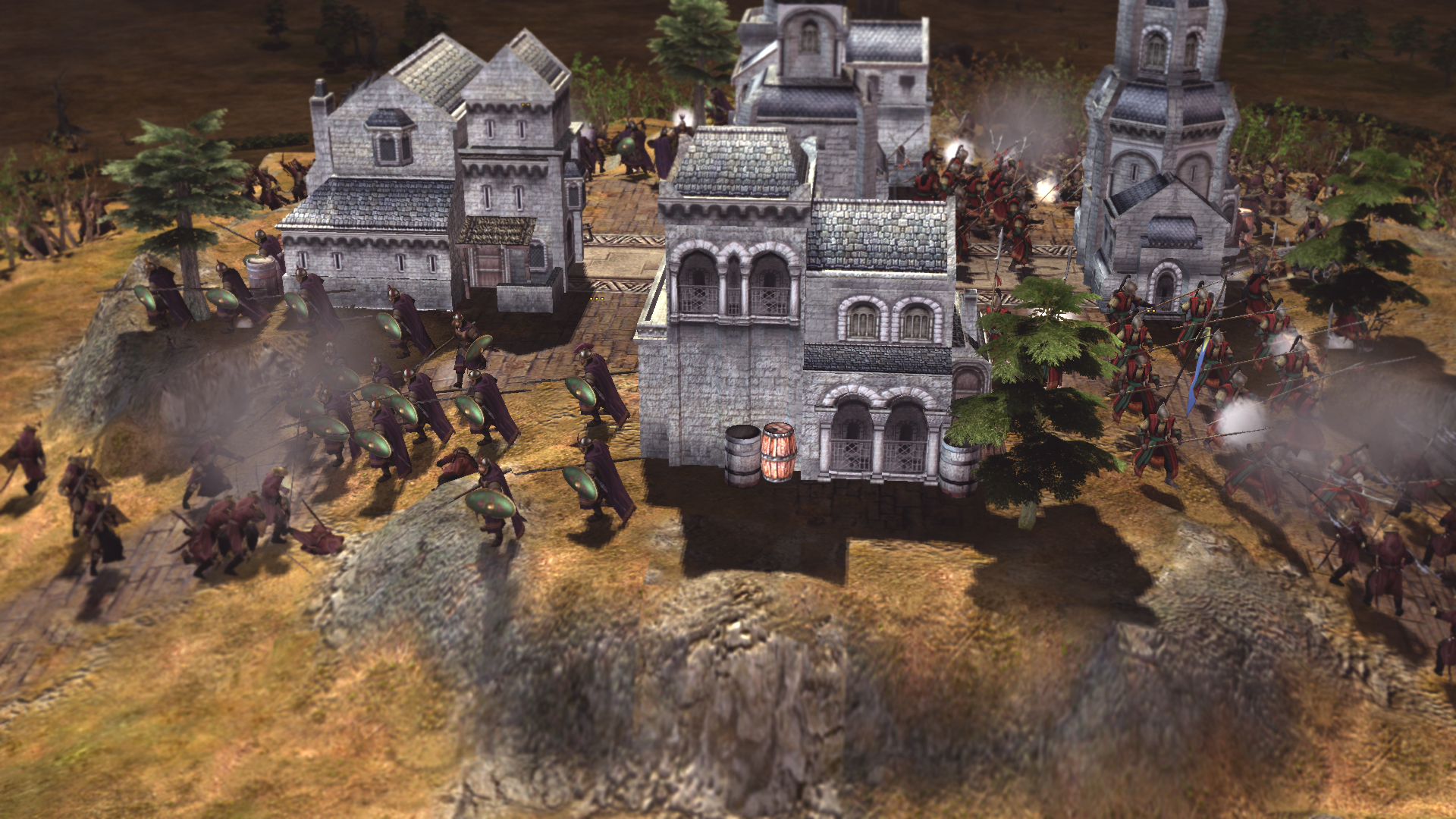 Bonus screenshot: Men of Dorwinion and Elves of the Kinn-lai defend an outpost of Dorwinion against Easterling assault
---
That's it for this article. Woodland Realm is essentially finished. We are currently applying an unprecedented amount of polish and balancing on both this new faction and previous ones. In addition, we are still working on refining our brand-new AI. Release isn't very far.
Wear your mask and wash your hands.
Yours,
The AotR Team