---
Dol Guldur. The Hill of Sorcery. A ruined fortress upon the bald hill of Amon Lanc in the southern reaches of what was once Greenwood the Great, one of the few remnants of the sea of trees that once covered all of northern Middle-earth, now known as Mirkwood, Taur-nu-Fuin, or the Forest of Great Fear.
Fell creatures lurk amongst its dark boughs. Corruption seeps into the earth and water, spreading like dark tendrils through the land. All who enter there are lost, never to be seen again. A hollow place of fear and slow nightmare, ruled by the one known only as the Necromancer: a sorcerer of terrifying power - one who communes with evil spirits and brings the dead to wander. In the upcoming version 5.0, Dol Guldur will join AotR's roster of factions, bringing with it a unique style and flavor not seen before in Battle for Middle-earth.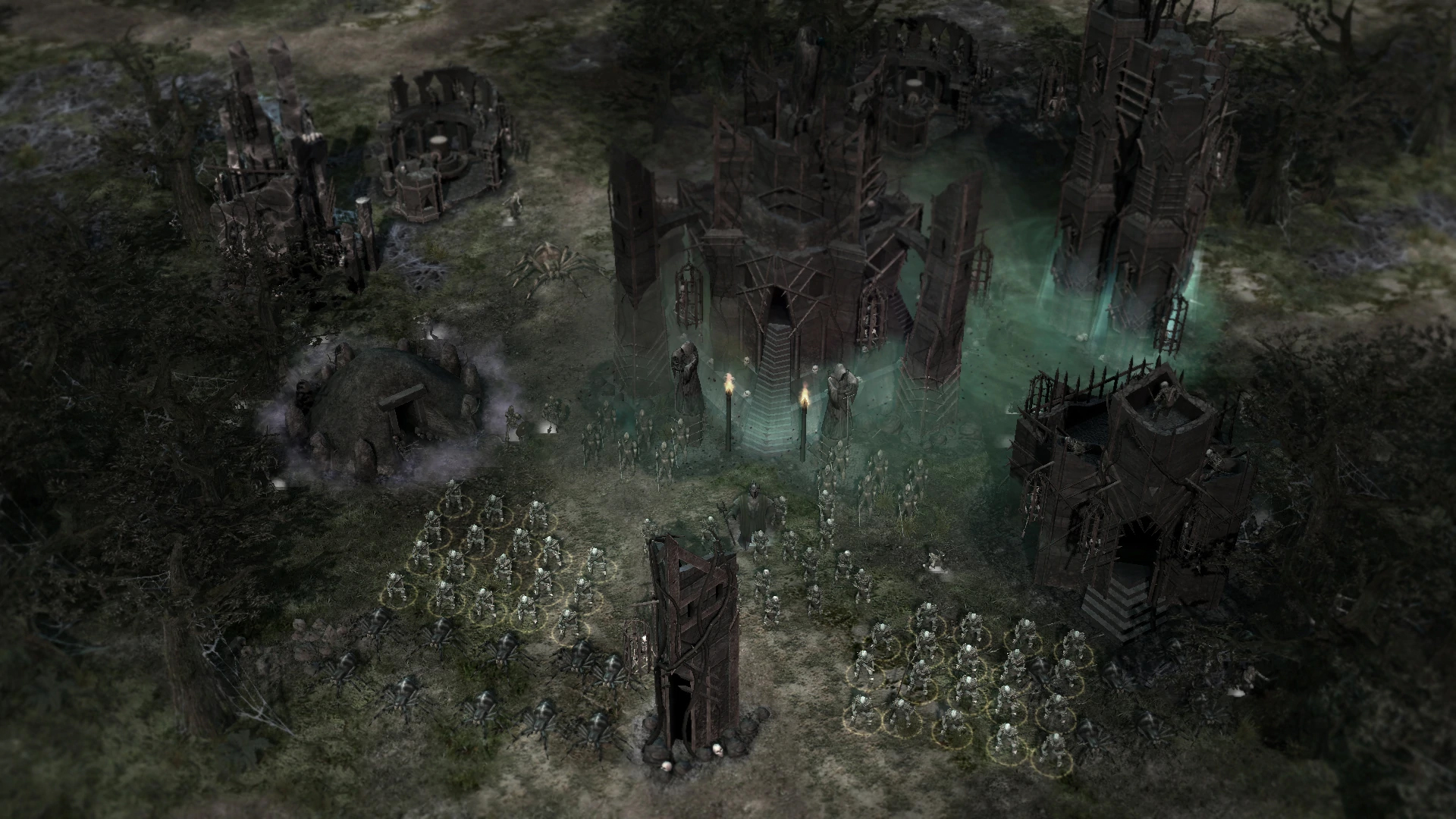 In Age of the Ring's Dol Guldur, every original idea can be traced to some degree to Tolkien's works, though we have extrapolated and embellished them in places where required. Dol Guldur is a strong example of what we have come to call AotR Canon - original ideas tailored to fit in reasonably within the mood, themes, and physical reality of Tolkien's Middle-earth. This article is meant to explore some of these ideas, their backgrounds, lore, and purpose in gameplay.
---
An important question we asked ourselves when designing Dol Guldur's inner workings was just what it meant for a land to become 'dark' or 'corrupted' - what sort of methods might the Necromancer have used to twist and manipulate his environment to suit his plans. What sort of devices did he employ, and how might these have worked? The answer we came up with lies in a bit of obscure speculation from Tolkien himself, on the subject of what might have happened to the Entwives:
I think that in fact the Entwives had disappeared for good, being destroyed with their gardens in the War of the Last Alliance ... Some, of course, may have fled east, or even have become enslaved: tyrants even in such tales must have an economic and agricultural background to their soldiers and metal-workers ...
In AotR Canon, Sauron is the tyrant that enslaved a number of Entwives, and eventually brought them with him when he took up residence upon Amon Lanc. Being learned in the dark arts of Morgoth, Sauron tortured and corrupted them, and employed their knowledge of botany and agriculture to subvert and perverse Greenwood's natural resources.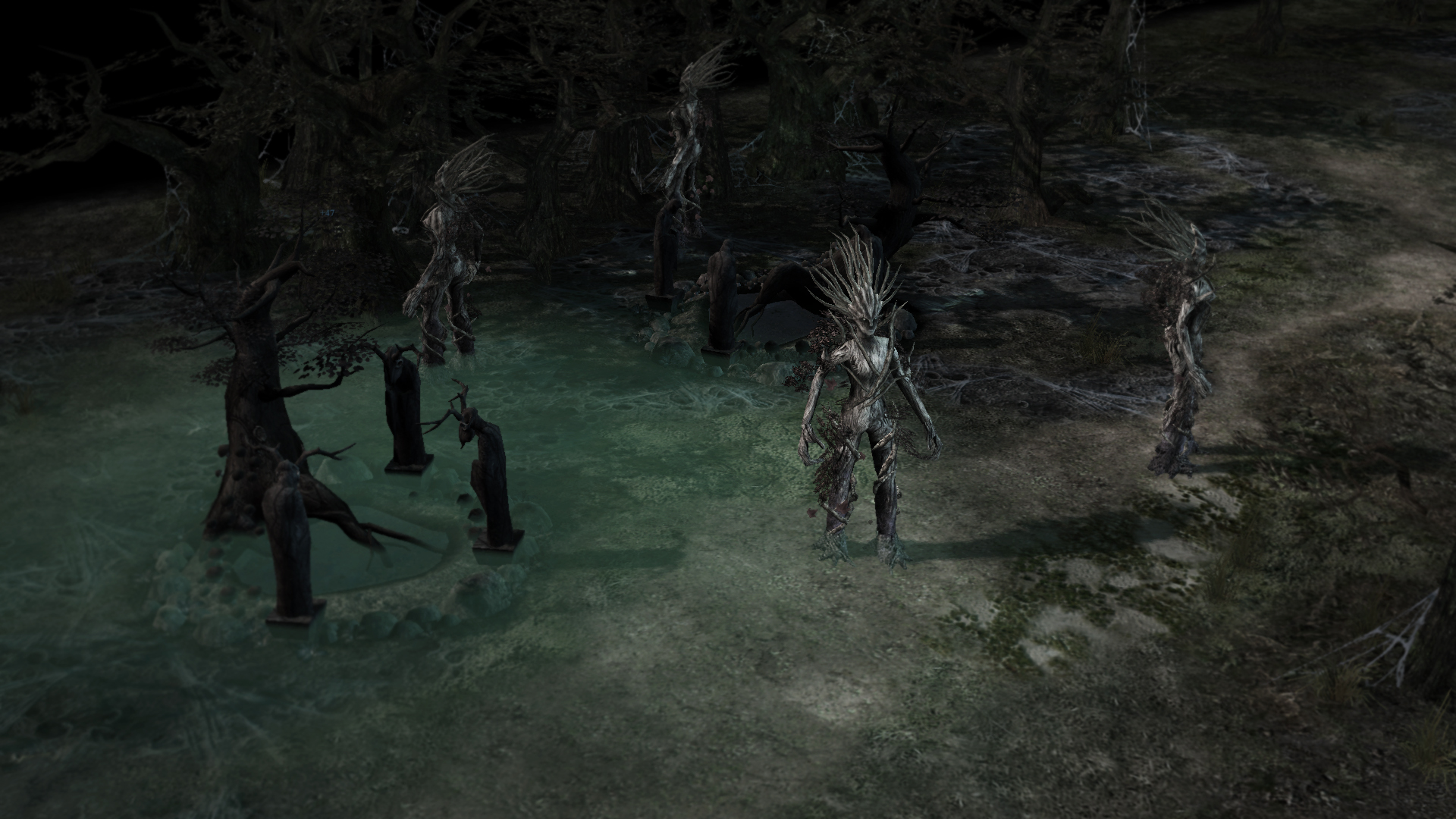 Ingame, this practice is embodied by the Fount of Corruption, pictured above. It's a wellspring whose waters have been corrupted by Sauron's magic, with its soil tended to by Corrupted Entwives, resulting in the sprouting of poisonous flowers and mushrooms that, through the underground waterways of the forest, spread the Necromancer's corruption in the form of blight and sickness. The mushrooms in particular have a profound effect on those that come into contact with them: their spores are parasitic, and bring about a change in their host, wiping away their free will and moving them towards the Dol Guldur, to be ensnared by its dark powers and bolster the Necromancer's forces. This concept is exemplified by the Blighted Trappers - former Woodmen living amongst the eaves of Mirkwood, now soulless husks that serve the Necromancer's bidding.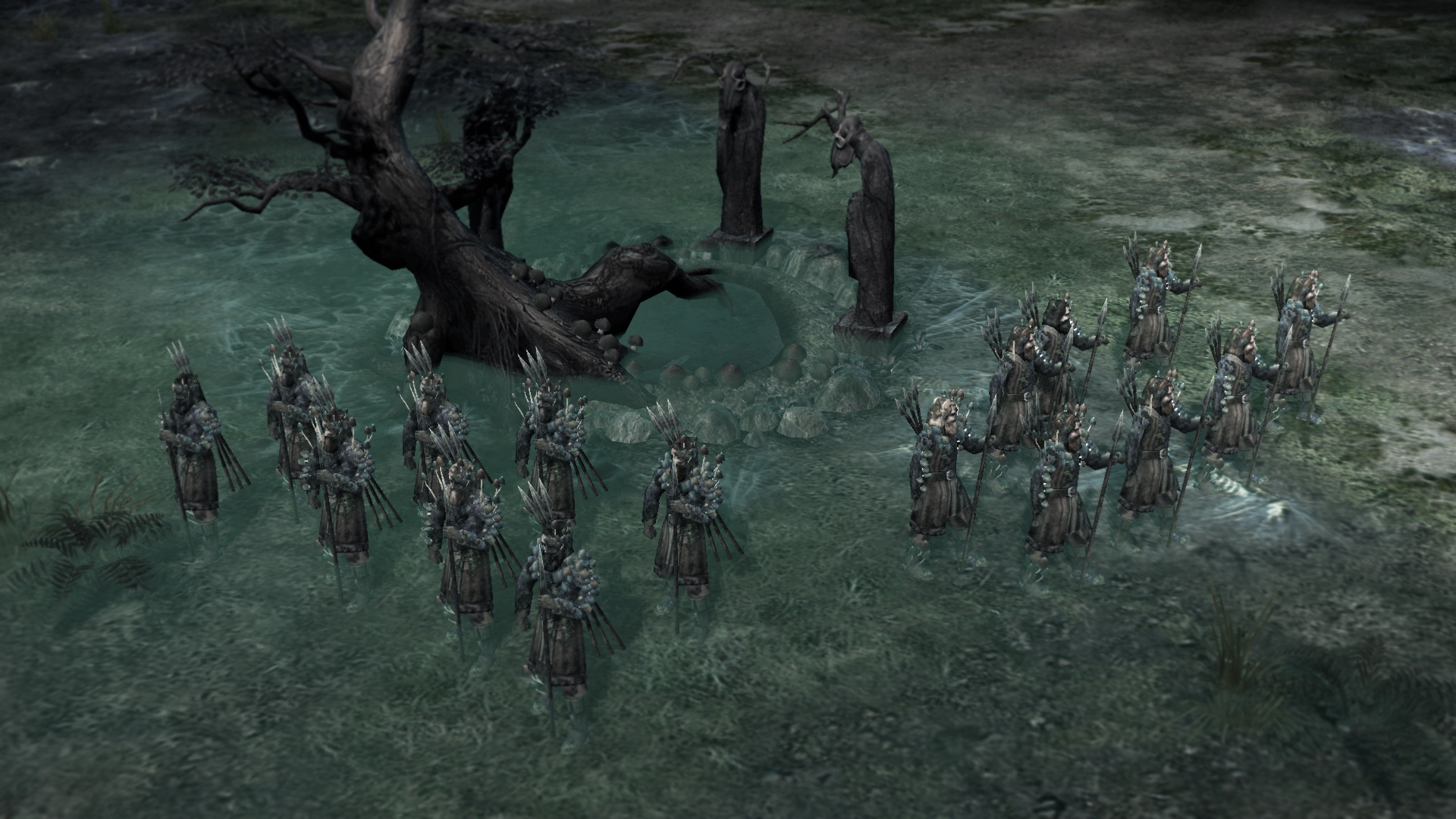 Slow Decay and Dark Presence
A second example of the corruption of the Necromancer is the Slow Decay effect, which affects every living Dol Guldur unit as soon as they leave the vicinity of Dark Presence, a power cast by every Dol Guldur structure that counters Slow Decay and buffs units within its radius. Slow Decay deals a small amount of damage over time, and will kill your units if you don't keep them close to a structure and under the influence of the Necromancer's dark power. This mechanic emphasizes Dol Guldur's need for seizing map control through the building of forward bases, which they can do best through the Ruinous Tower structure: a cheap, simple tower that is built quickly and casts Dark Presence.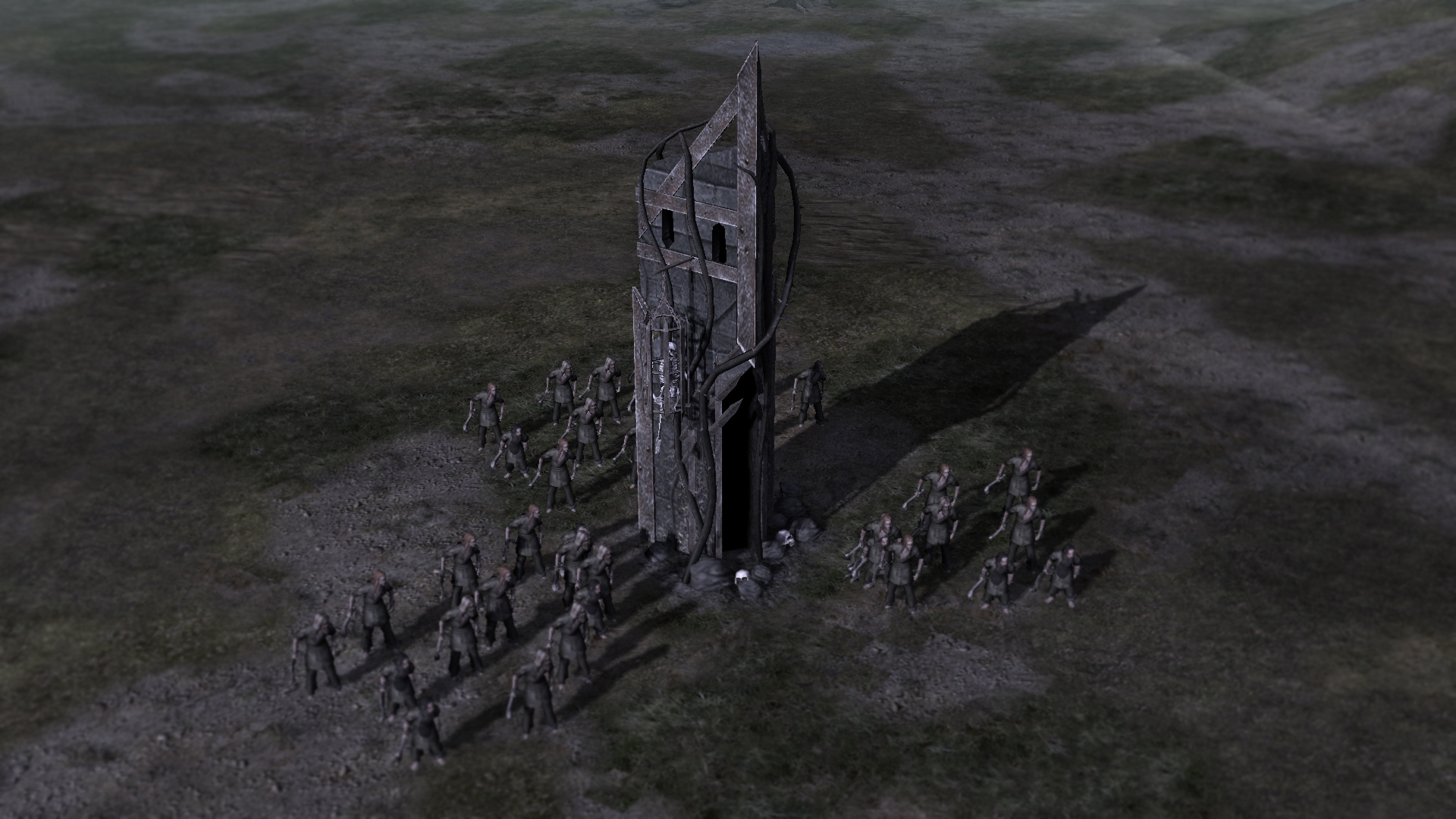 Slow Decay also plays into a second, more sinister strategy available to the Dol Guldur player. Broken Rabble, the faction's weakest units, receive Eternal Servitude at rank 2, which will automatically reanimate every fallen member of a horde as single Risen Dead, which are semi-elite units with several passive powers available to them. Using Carnage, one of the Spellbook's tier 1 spells, you can temporarily increase your Broken Rabble's attack damage at the cost of their armor, allowing them to kill enemy units faster to gain more experience and rank up while also dying faster to both enemy damage and Slow Decay, in order to provide you with Risen Dead.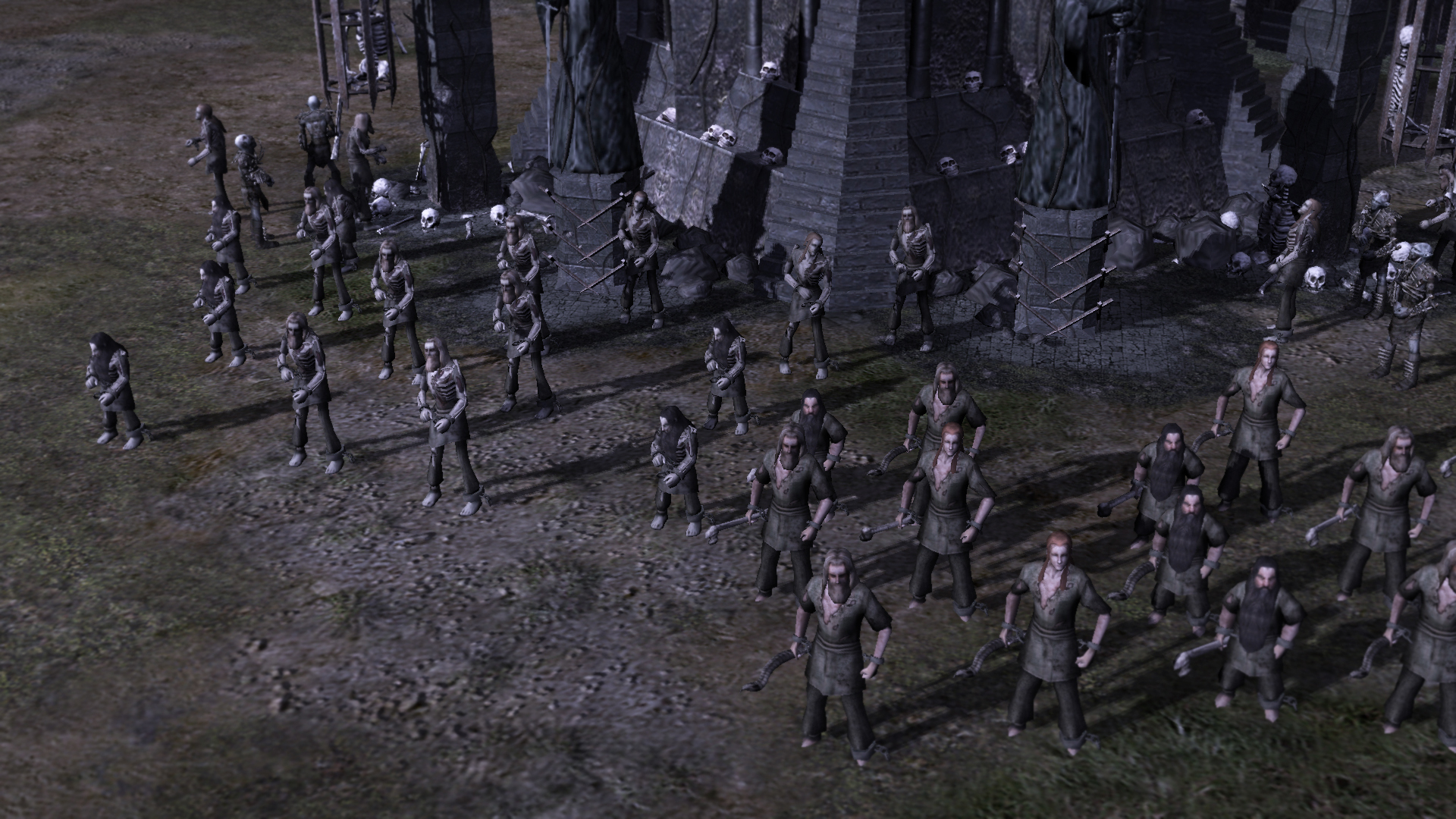 In Middle-earth, undeath appears to be related to two possible causes: spirits taking up residence in the remains of the dead and animating them in this way, such as the Barrow-wights of Eriador, who were reanimated by the Witch-king sending forth fell spirits, or due a magical curse, such as the Dead Men of Dunharrow, whose spirits were prevented from rest by Isildur, who cursed them after they failed to uphold their solemn oaths.
Both of these variations are included in Dol Guldur. Necromancy, such as the Necromancer practices it, is not the actual resurrection of the dead. Sauron has ever been in command of a great number of phantoms and fell spirits, which he sends forth in number to inhabit the corpses of the fallen, both his own soldiers and those of the enemy. It is these spirits that animate the fallen Rhovanion nobility in the Restless Barrow, as well as resurrect fallen Guldur Orcs through the Necromancy upgrade - an upgrade that replaces both the traditional Forged Blades and Heavy Armor upgrades, and allows you to kill your living Orc units and reanimate them as much more powerful Risen Dead. Risen Dead are also available from the Necromancer's Abhorred Dread power, which deals strong damage to enemy units and converts those that fall into temporary Risen Dead on the player's side.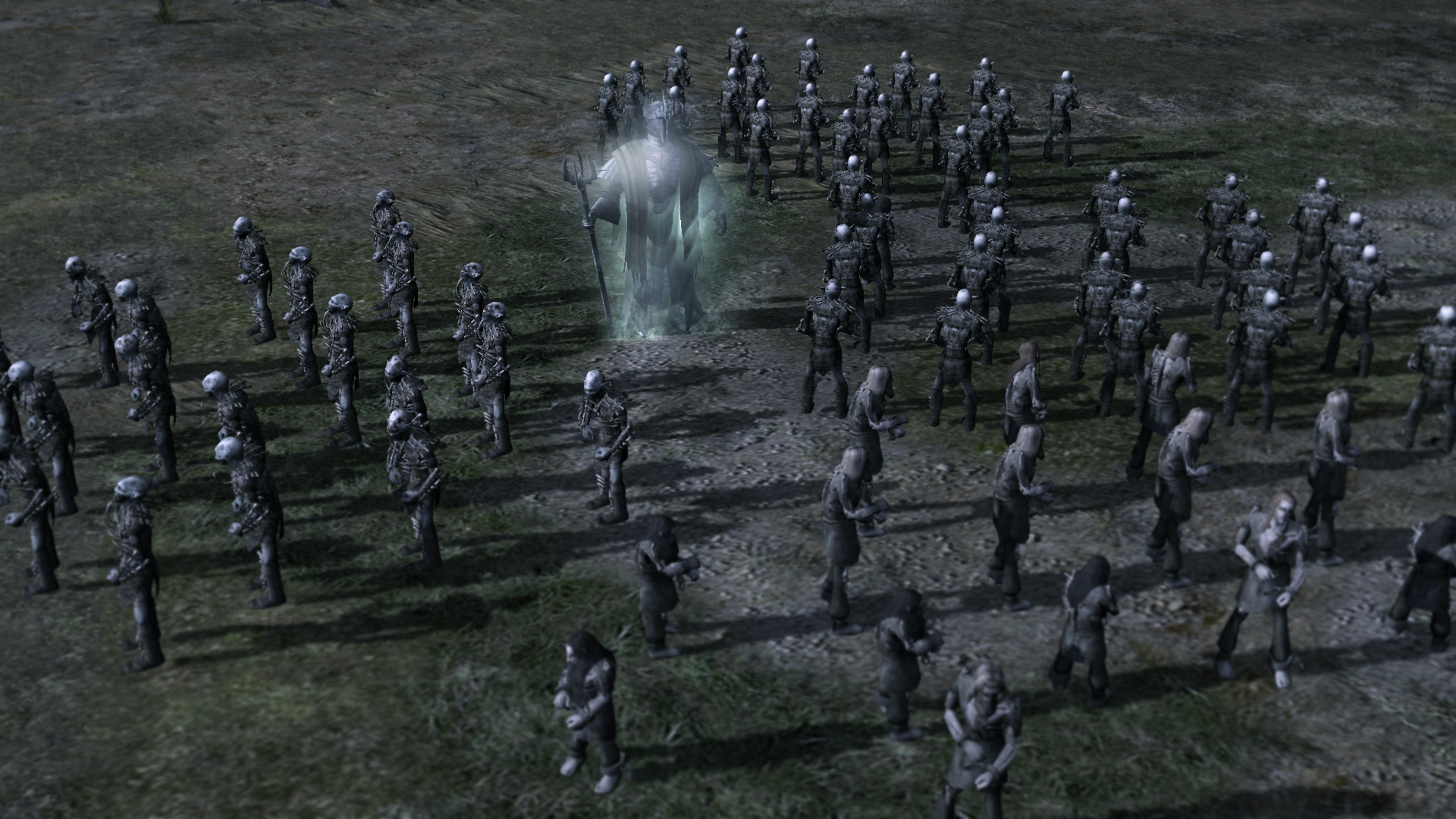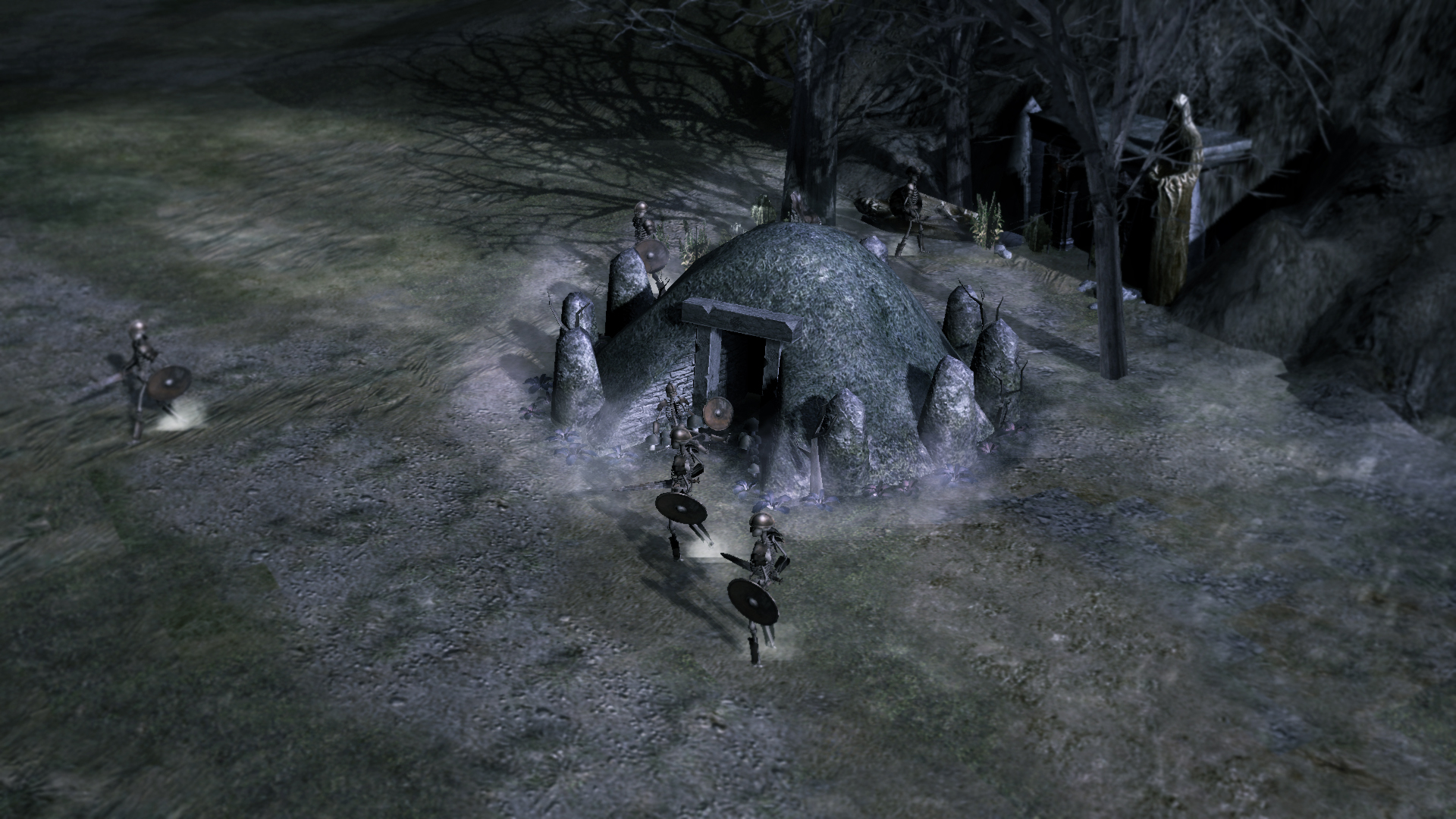 Tethered Shades are Silvan Elves that fell in battle against the Necromancer during Thranduil's retreat past the Forest River towards the northern parts of Mirkwood, their spirits (fëar) cursed by Sauron to be unable to make their journey to the Halls of Mandos, tethered to his will and essence, only to be freed when they have served their purpose in furthering his evil. These Tethered Shades take the place of the traditional builder unit, and come with a unique twist: they are much cheaper and faster to recruit, but will disappear after building their first structure. Unlike other factions, Dol Guldur will start out with 4 of these, which will allow them to quickly start building Ruinous Towers and working on gaining map control.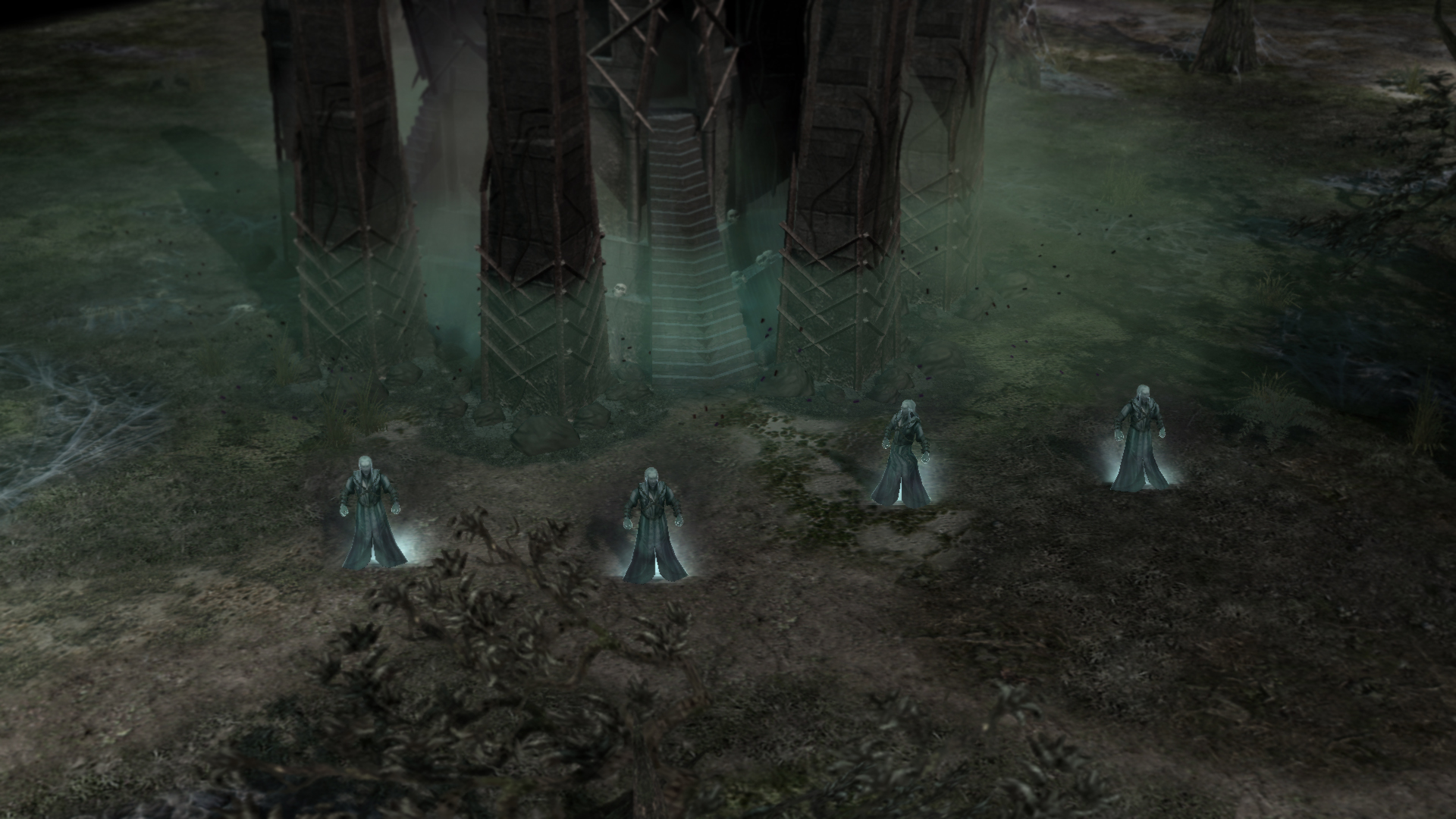 Related to the trapped spirits of Silvan Elves is the Gwanthaur, a terrifying creature of ancient, unknown origin. It appeared in southern Mirkwood not long after the Necromancer. It feeds upon the lost souls of Elves and Men, growing large and monstrous over long, dark years. It can be summoned to the battlefield as one of Dol Guldur's final Spellbook powers, and comes with a set of powers - Soul Trap, which deals damage to enemy units within a radius and strengthens the Gwanthaur for each enemy killed, Sacrifice, which devours a friendly unit in exchange for health, Dark Reclamation, which instantly destroys a targeted structure, and Expulsion, which sends forth a wave of Shades to clear out the enemy.
Similarly, the Castellans of Dol Guldur were empty vessels - suits of dark armor, inlaid with dark spells, inhabited by the Sauron's phantoms that animated them and gave them great power, setting them to guard the crumbling parapets of Sauron's fortress and ensure that no unfriendly eyes laid upon its towers would be able to leave and tell the tale.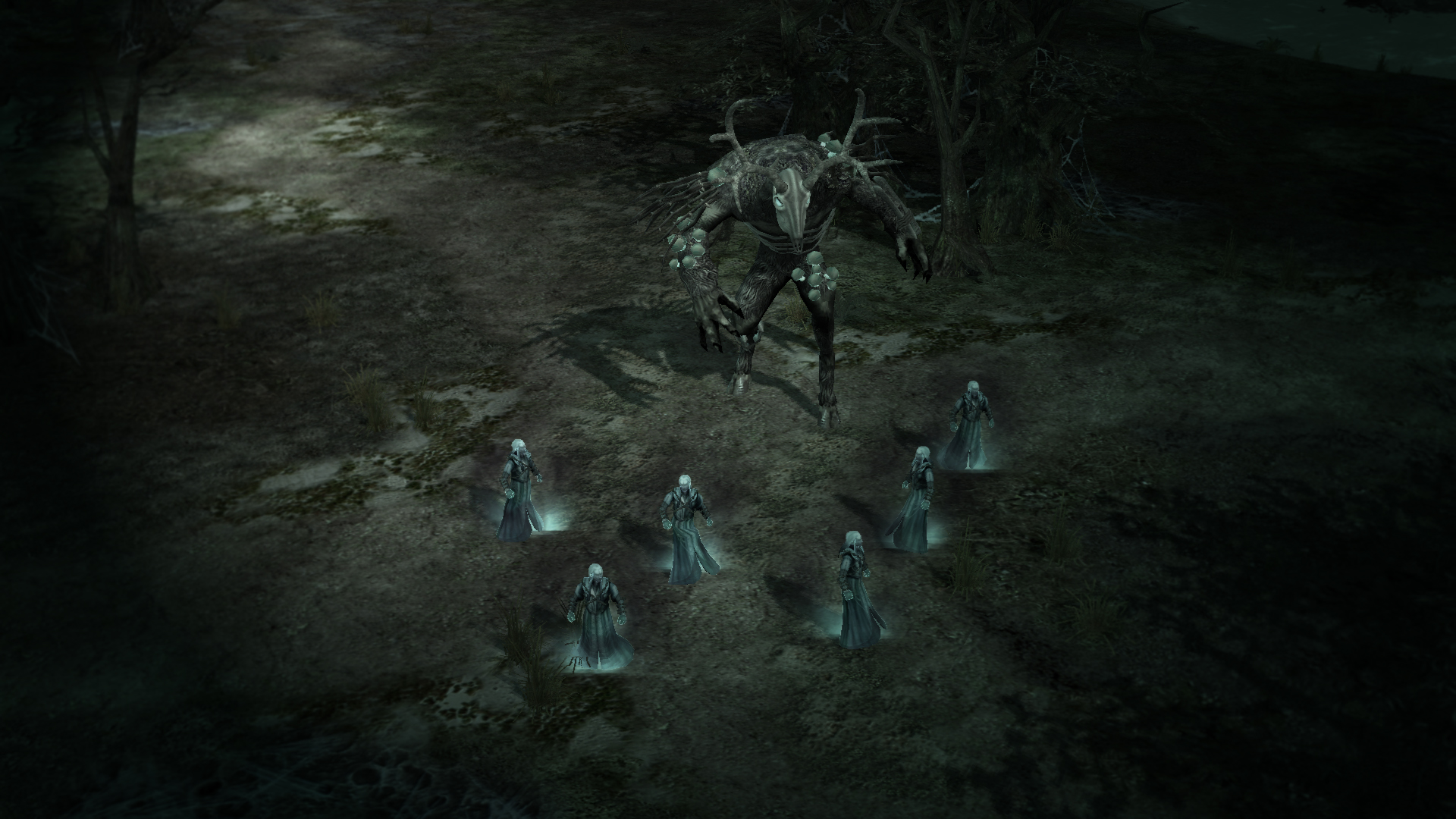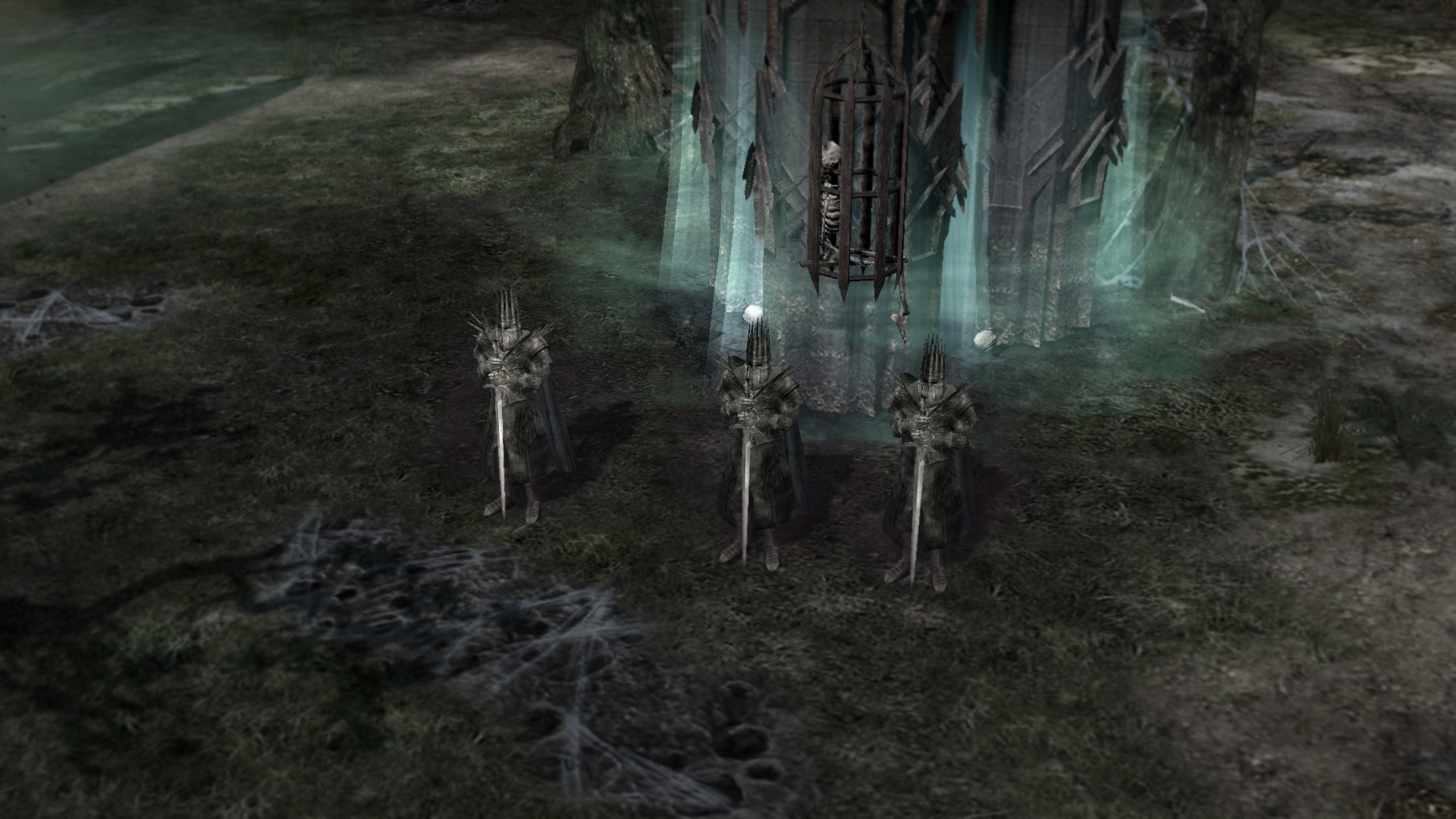 When Gandalf the Grey first visited Dol Guldur to confirm suspicions that it was inhabited by Sauron. The Dark Lord, not having gathered enough power to openly declare himself, fled into the East, where for several centuries he worked to create strong alliances between the tribes of the East in service to him. When eventually he returned to Dol Guldur, Sauron was stronger than before, and brought with him a number of Easterling sorcerers and Witch-lords, knights and warriors. Now become wraith-like, sat upon the line between life and death, these Harbingers of Shadow were undead after a fashion, and learned in the dark arts. Harbingers of Shadow serve an anti-structure and debuff role, being able to cast Deep Rot on structures to deal damage over time as well as spawn several wraiths, Cold Steel to have each of their strikes passively reduce armor and movement speed, and Withering Touch to deal damage over time to allies and enemies within a radius.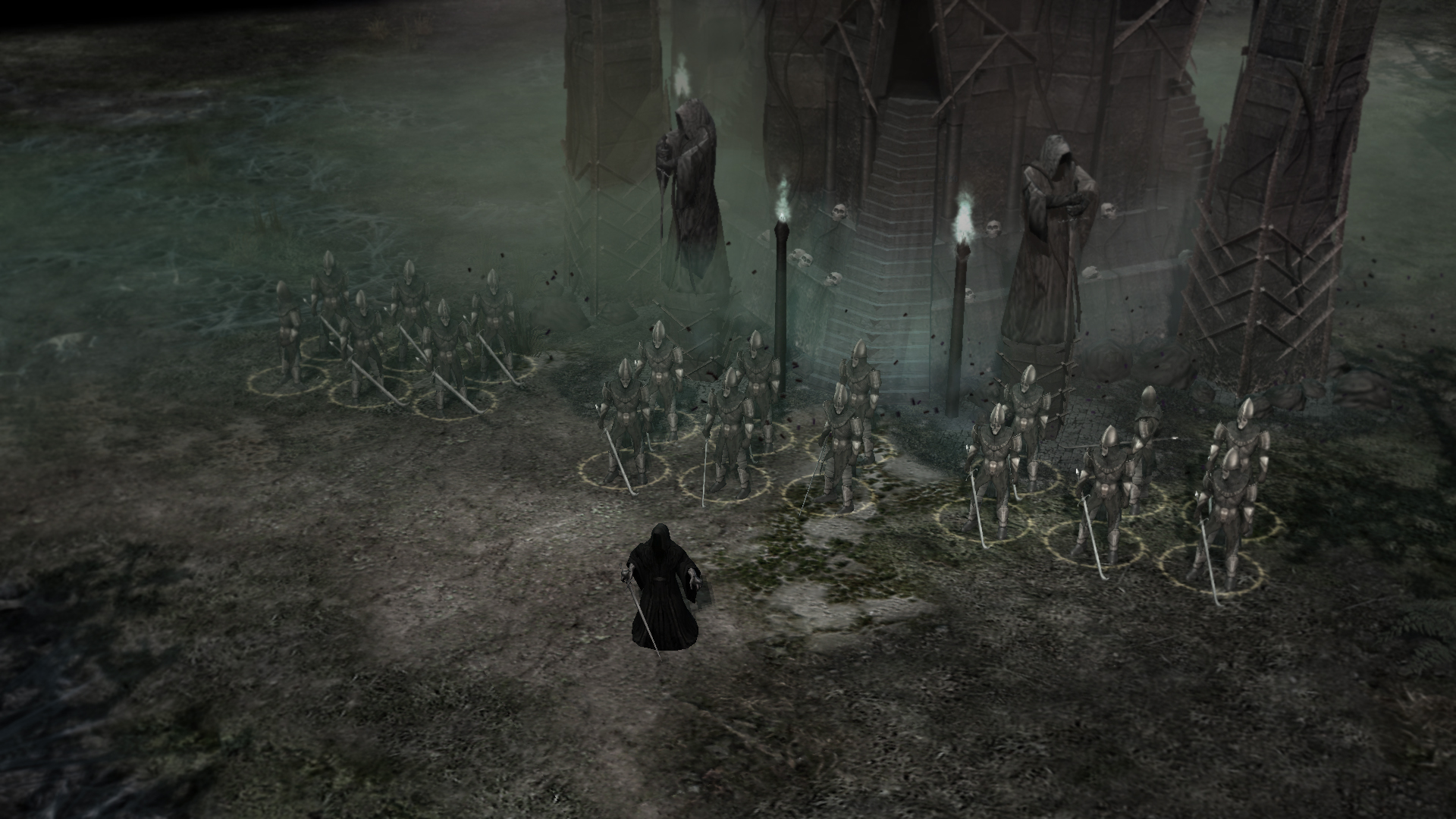 For now this is where we'll leave it. Initial work on Dol Guldur is slowly coming to a close, and we're not too far from entering its first testing phase. Expect more articles coming later, covering its heroes, some more of its units, and its Spellbook powers.
Oh, and by the way: the Two Towers campaign is also underway. Also, don't forget to check out our Wiki and join us on Discord. We also have a Patreon if you wish to support our efforts!
Kindest regards,
The Age of the Ring team