---
In our soon-to-be-released update, we have completely overhauled Age of the Ring's skirmish AI. This has been a massive undertaking in which many different aspects of the game were changed. The article below breaks down what we've done, and what you can expect from version 6.0 going forward.
---
Subject A: Target Priority
The first thing we adjusted when we set out to improve the AI is called Target Priority. Target Priority tells each individual unit what exactly it should be attacking in any particular engagement when the AI gives it an attack-move command. As you might suspect, the core targeting priorities in the old AI were all over the place; nearly every unit had a preference for attacking buildings over units, and most units were not very good at focusing on targets that they naturally counter. In 6.0, you'll be facing an enemy that takes full advantage of unit target priorities, which means keeping your own troops alive will be much more difficult. In our experience, it's been a huge improvement.
The AI's tendency to suicide units into the back of the player's base has been greatly reduced! While these farm-seeking teams are actually an essential element of the AI's tactical ability, they were being dramatically over-produced and were notoriously annoying. Expect the new AI to send them far less often.
Units now have more intelligent targeting capabilities. Pikes will actively seek out cavalry and surround heroes and monsters, and cavalry will prioritize archers first and infantry second. Swordsmen will reliably engage pikemen and other nearby targets, and archers are programmed to snipe down fleeing heroes.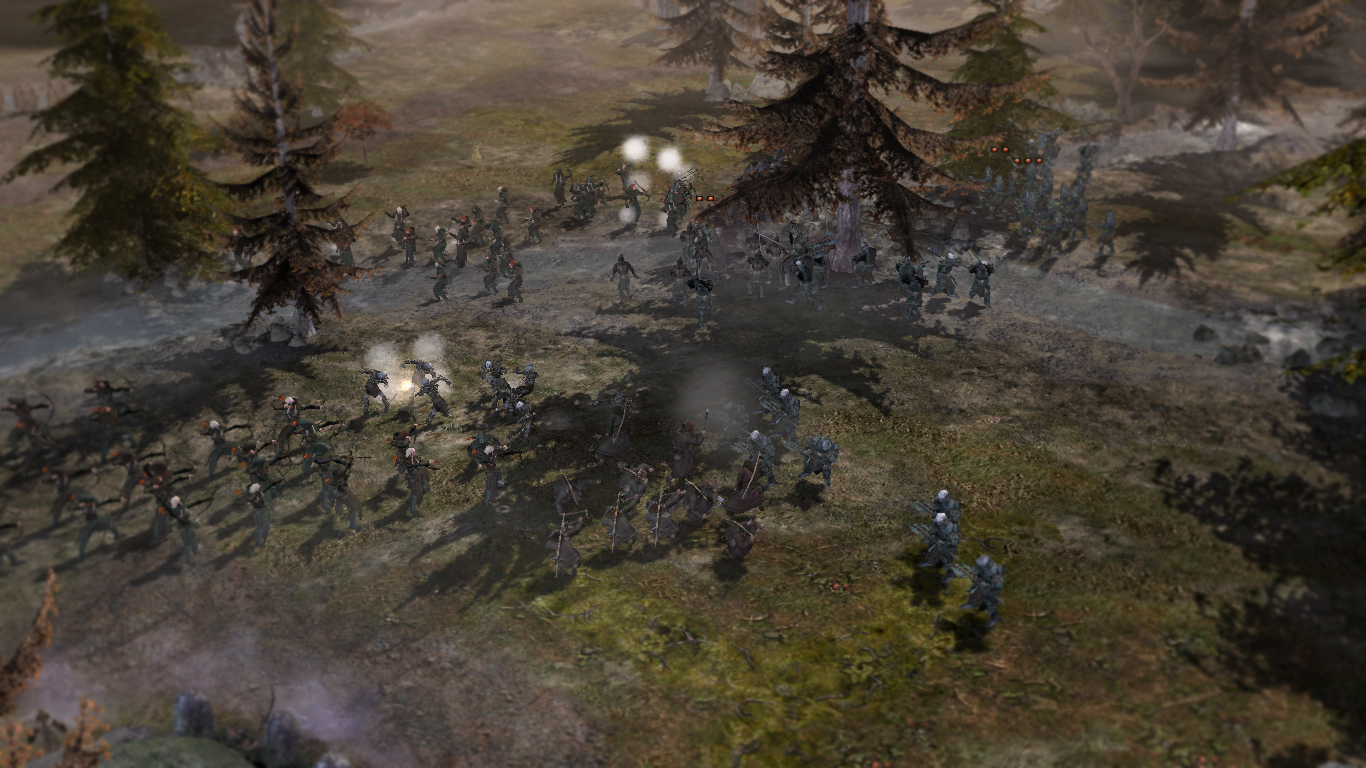 Subject B: Skill Updates
Many unit and hero skills were not used by the AI in previous versions of AotR, but we've taken some new steps to ensure that the AI can make much greater use of its entire arsenal of skills and powers throughout the game. This particular part of the overhaul will be expanded upon further post 6.0. Until then, enjoy Dol Guldur's new affinity for Necromancy!
Skills now behave more intelligently. We've done a pass on many skills' AI types to ensure that the AI uses them in a more appropriate manner. This part is still under active development, and will not be fully complete when we release 6.0. It's definitely functional however, and will be further improved with subsequent releases.
Subject C: AI Metagame
We also have made changes to the AI's building priority, as well as the number of each kind of unit it builds and when it builds them during the flow of the game. No longer will early-game Entwives be the Dol Guldur AI's main source of danger, for example. In general, the AI is now much better at moving up the tech tree more appropriately, and builds a bigger, more varied army.
The AI can more readily purchase upgrades! While the overarching system that governs upgrade purchasing is, unfortunately, completely random, we've made a number of changes to ensure that when the AI wants to upgrade, it can. Expect to see upgraded units happening much more frequently, especially during longer games.
The AI's base building skills have been drastically improved. The AI now builds a much more defense-oriented base that is far more difficult to break into, and can train a lot more units at any given time. It's very likely that any siege you mount upon the AI's base will be met by a garrison of defending units. Which leads into the next point...
...The AI will now wait and build up a large force before attacking, particularly in the late game. Rather than 2-3 units at a time, now in the endgame the AI will send entire armies to attack. These enormous armies are spectacular to see in action!
When in doubt, cheat! The AI now has various economy buffs to allow it to keep pace with the player and make up for some shortcomings in its tactical abilities. The cheats are specifically designed for each faction in order to bring them up to an acceptable level of play. Rivendell and Rohan are no longer the pushovers they once were!
Subject D: Scaling Difficulty
The AI's difficulty settings have been greatly overhauled! In place of the old Easy, Medium, Hard, and Brutal, players can now look forward to facing Peasant, Soldier, Captain, and Death March.
Peasant - A dramatic upgrade over RotWK's mostly-useless Easy difficulty, Peasant serves as an introductory difficulty for newer RTS players, as well as newcomers to BfME2. This AI will throw the entire roster of units at you, but expect smaller attacks, few heroes, and light spell use. A great place for any beginner to start learning the ropes of AotR.
Soldier - Landing somewhere between old Medium and Hard AI, Soldier AI introduces the player to large-scale armies and more extensive spell and hero usage. You'll have enough time to build up a decent base, but once the enemy gets going you'll need to keep up the pressure to push it back.
Captain - Captain's challenge lies between old Hard and Brutal, and fully showcases AotR's new and improved skirmish experience. The AI has full command of its spells and abilities, and will engage you very early in the game with a steady ramp-up in difficulty into a relentless endgame full of heroes, upgrades, and elite units.
Death March - A challenge for the true masochists among you! Death March takes all of the upgrades to the AI and combines them with a massive discount to drown you in an endless sea of units and heroes. Ruthless, quick, and very unfair, this AI is meant to make you hurt. Not for the faint of heart, this AI takes the skills of a pro player to defeat (note: this claim is fully verified). Try a handicap setting, perhaps.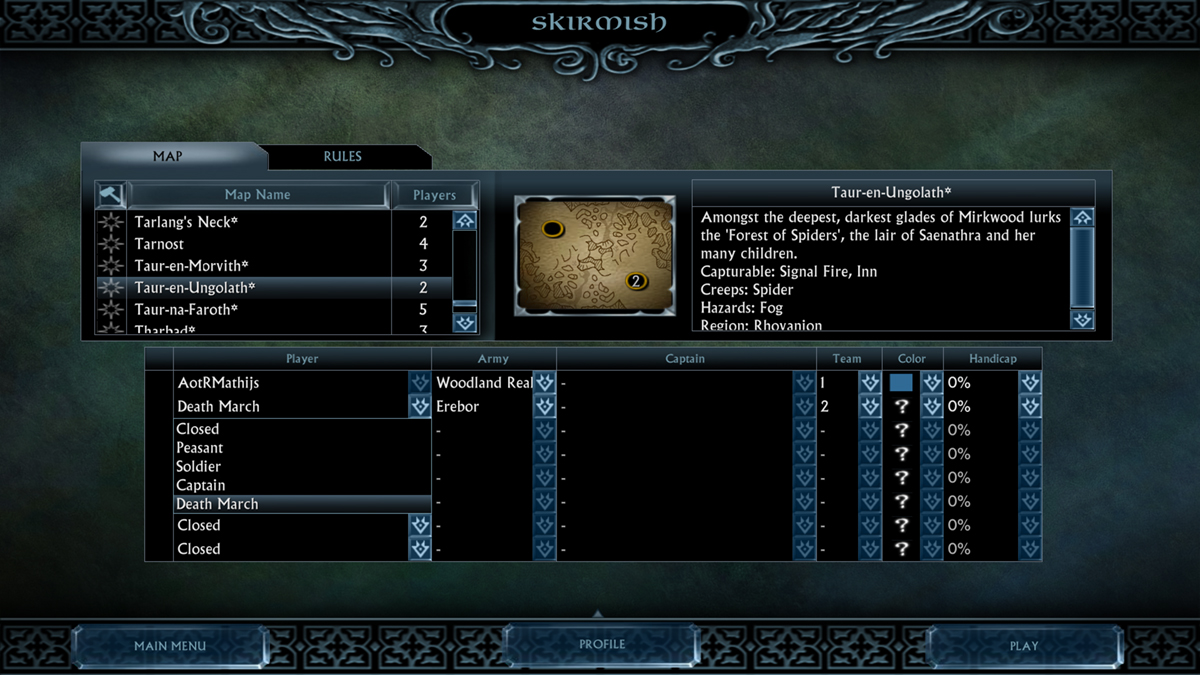 Subject E: Build Me An Army
AI army construction has been completely overhauled. The AI can build multiple armies simultaneously with different orders, meaning that one force can focus on attacking your units while the other flanks for your economy.
We've also taken advantage of built-in systems long left mostly dormant by EA to give the AI the ability to strike when you least expect it through what are called Opportunity teams. The AI has a system for scanning the relative threat level of your base and forces, and can create squads to take advantage of any weaknesses it perceives. While this system has always been present in RotWK, we've drastically increased the AI's ability to create these teams and strike when you're most vulnerable. The AI can even flank your entire army and attack from the side, sometimes on multiple fronts!
Subject F: Map Overhaul
Many maps within AotR, including several from the original game, had terrain and farm template issues that could prevent the AI from expanding properly throughout the game. If you ever had the AI suddenly slow down and stop producing units at any point, this is likely what caused it. Our mappers have been hard at work going through every single map in the AotR roster, ensuring that these issues have been resolved to the best of our ability. This is a massive undertaking that has taken months to complete, and while there may still be some hiccups here and there, most maps are now completely viable for skirmish play.
Being that each and every map had to be edited, our mappers have also taken the time to improve and visually rework many of them, as well as editing their information to display more facts about the map's capturable structures, creeps, map hazards, and region.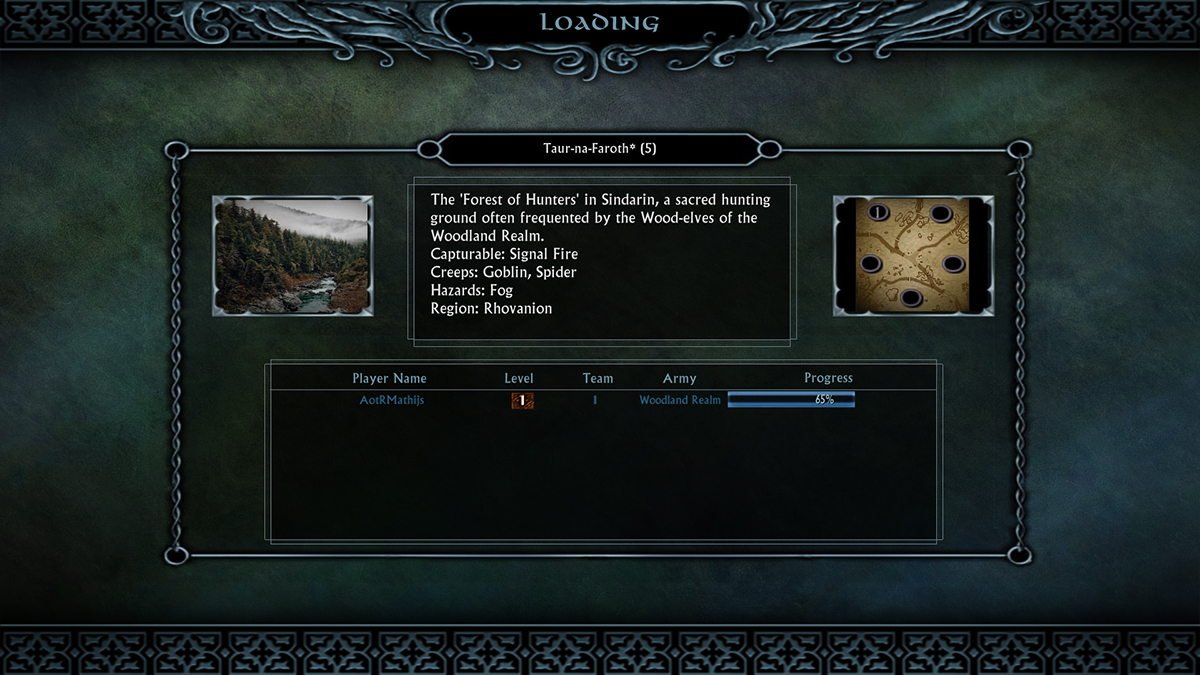 ---
That's all for this update. We hope you enjoy Age of the Ring's new and improved AI experience when we release. Which, by the way, is soon. Release candidate 1 has been completed and is being tested.
Remember to stay safe out there,
The Age of the Ring Team