As we approach release of C&C 3: The Forgotten--8 days to go!--we're showing off our new faction as a whole. In this update you can see all of the units and structures that comprise The Forgotten, together and labeled.
You can also see one of the previously unknown support powers, The Ion Tempest. Available once a Tacitus Library has been constructed, it enables The Forgotten to create devastating Ion Storms anywhere on the battlefield.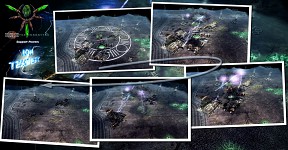 Want to see more? Check out our brand new unit, structure, upgrade, and support power pages--created by webmaster extraordinaire Mike--and learn more about the army you'll be leading into battle just over a week from now.
If you're an longtime fan of this mod, keep checking back because your wait is nearly over. If you've never heard of us, now is a great time to jump onboard and learn about our project to tell a true Command and Conquer story. We've got lots more to show to you this week, including images of The Forgotten's super weapon in action, one of the other neat support powers, maybe an interview or two, and--before long--the launch trailer.