Crucial Release Information: Please Read
Being an offshoot of the main Clone Wars Mod (based on the 2008 Clone Wars series), we have to comply with their needs as well as ours. Though, I have complete creative control over the Clone Wars Sub-mod, when it comes down to the logistics, it's Ozzy667's final decision, not mine.
With the main Clone Wars mod being released soon (I'm obliged not to tell you the exact date however I can tell you that it is coming soon, sooner then you think), Ozzy667 has told me that he wants the Sub-mod released before the main mod. That being said, it means my projected release for the Sub-mod has bumped up as well.
This has both good and bad repercussions. On the up side, you guys get to play the mod sooner than expected. The downside, however, The last 2 models that we need are still unfinished. No one has stepped up to the plate and took on the challenge.
We will have Anakin and Obi-wan in their Revenge of the Sith gear however we are forced to use the free release, realistic models which are very well done but they don't fit the theme of the mod. It will inevitably ruin the atmosphere of the mod but think of them as place holders. My plan is to release another version after v1.0 which will contain the Original Clone Wars series style models for Anakin and Obi-wan, as they appear in the 2nd season of the series.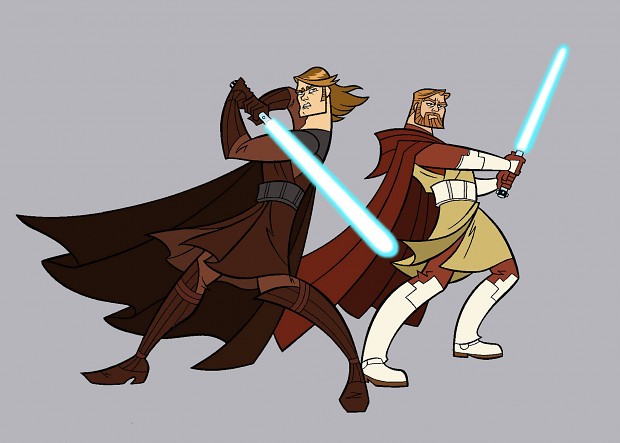 Are you an experienced modeler that would like to help out the Star Wars: Clone Wars Sub-Mod?
Please contact me via Private Message if you would like to make the Miniseries Style Volume 2 Anakin Skywalker and Obi-wan Kenobi models.