1v1 Tournament Replays
---
The 1v1 Tournament has gone on the way, with the games already started and knocking players out. The replays have been released
Checkout the Replays in our Youtube Channel
We have been Greenlit!!
---
Secondly he have to thank all of you that voted for use on steam greenlight, we have been greenlit, this means that we can release Far East War on the biggest PC gaming store in the world. Which will put Far East War on the map and keep Company of Heroes alive with all the mods. We are now currently working on the steam release. A specific date has not been set but we are sure hoping to get it out for you guys soon :)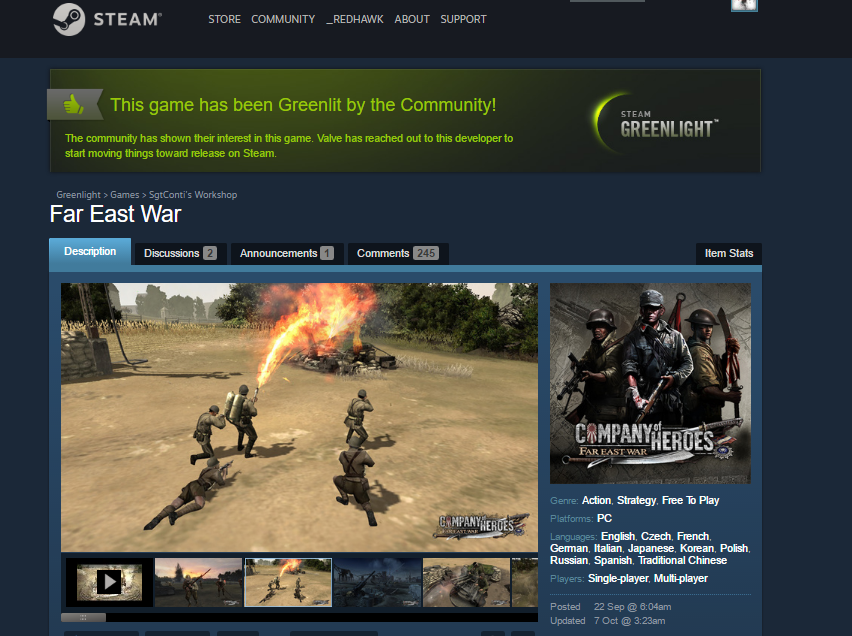 We all have to thank Sgt.Conti that works with us and has helped us to get greenlit, by setting it up. We are part of the of the Company of Heroes Mod initiative, that SgtConti founded. The mod initiative currently supports Europe at War, Modern Combat, Far East War and the Great War 1918. Other mods that we have been in contact with are: Eastern Front. Please go and check them out, they are all really good!. The COH mod initiative was made so that COH mods can help each other and so that COH as a game will never die
---
Far East Nevers Stops Updating!!
---