---
"Such is the nature of evil. Out there in the vast ignorance of the world it festers and spreads. A shadow that grows in the dark. A sleepless malice as black as the oncoming wall of night. So it ever was, so will it always be. In time all foul things come forth."
---
Thranduil Oropherion. Son of a Sindar lord, he followed his father eastwards over the Misty Mountains following the closing of the First Age. They settled in the great forest of Greenwood, where the native Wood-elves crowned Oropher to be the first Elvenking of Eryn Galen.
Many centuries later Oropher's people received word from Gil-galad, High King of the Noldor, who, together with Elendil the Tall, commenced a great campaign to oust the Dark Lord Sauron. Oropher and his Silvan subjects distrusted the Noldor, but joined the war effort nonetheless, for Oropher had not forgotten the atrocities committed under the influence of Sauron's overlord all those years ago. When the time came and Gil-galad and Elendil arrayed their forces for war, pride overtook the Elvenking. In his heart he did not recognize the authority of the High King, and he gave the order to charge ere the signal was given. A hard battle he fought, and great valor was shown by his warriors, but the might of Mordor proved greater. Oropher perished that day, and during the course of the campaign two-thirds of his Silvan army shared in his fate.
But Thranduil survived. The Sindar prince returned to Greenwood the Great and there was crowned the second Elvenking. An elf-lord scarred by bitter fate, his rule would prove far less peaceful than his father's. Before long, the lush, wild forest of Greenwood the Great began to darken. Though the Elvenking could not be sure, in his heart he knew that the corruption seeping forth from the southern reaches of the forest came from the same malice that had brought Oropher to ruin. Thranduil knew he did not possess the strength to oust the dark presence in Dol Guldur. Fearing he would forever be haunted by this evil, he moved his people north, where he had his halls dug underground - a memory of Menegroth in Doriath, where he had dwelled in his youth.
For many years, Thranduil's people kept the darkness at bay. But the shadow never left him. If ever he looked south, its memory dimmed the light of the sun. The Elvenking grew cold and distant, pursuing a policy of isolationism, putting the safety of his people above all else. No travellers were guaranteed safe passage through his lands. The Wood-elves of the Greenwood, now named Mirkwood, were often considered dangerous - an unfair description, for those that followed the Elvenking's laws and whims had nothing to fear. When not leading skirmishes on his borders, Thranduil would occupy himself with feasts and the collecting of fine gems and jewelry. During the War of the Ring, Thranduil led his people to victory during the decisive Battle under the Trees, which was soon followed by Sauron's ultimate defeat. Though we know his son Legolas eventually sailed West, Thranduil's fate is unknown. He may have followed his son in the end, or faded amongst the trees along with the remainder of his people.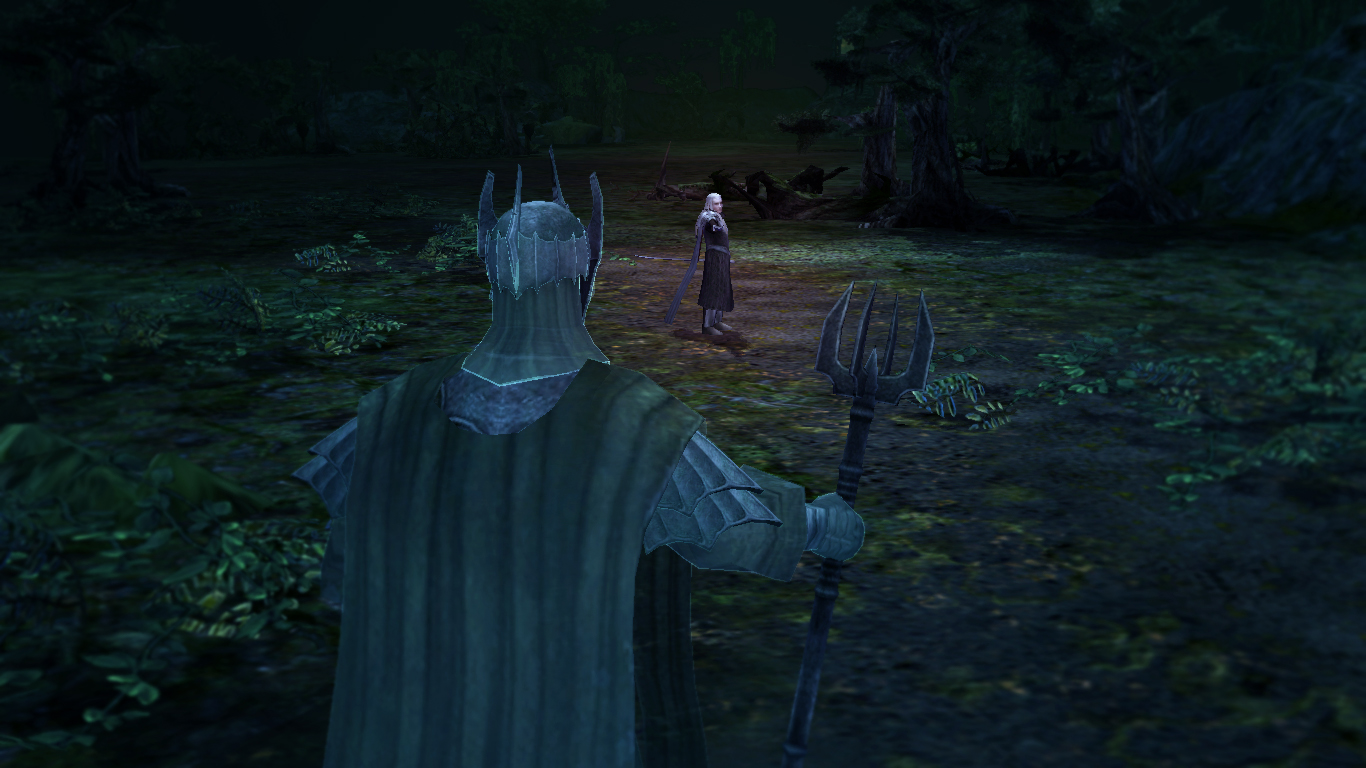 In Age of the Ring 6.0, King Thranduil will play a large role in the faction as both a great warrior and the leader of the Woodland Realm. Through his portrayal, we have attempted to show all facets of his character and his full command over the Woodland Realm.
---
The Elvenking's Abilities
In AotR 6.0, all faction leaders are recruited at rank 1. Not only does this provide more consistency among the heroes, it also makes it riskier for the player to rush the more powerful heroes earlier in the game as they are more vulnerable and will take longer to level up. Thranduil is no exception to this rule.
Rank 1: Elvenking
"In a great hall with pillars hewn out of the living stone sat the Elvenking on a chair of carven wood…"
Modifier Type: Leadership
Allies near Thranduil gain +50% armour. Stacks with buffs and spells.
Left click to switch between Mounted on Great Elk and on foot.
As King of the Woodland Realm, Thranduil's greatest priority was the safety of his people against external threats. This leadership is the strongest in the Woodland Realm, and is the only one that will affect all units in the faction, allowing Thranduil to help with all strategies. He is also the only hero in the Woodland Realm with a mount, and so can support the faction's various cavalry units.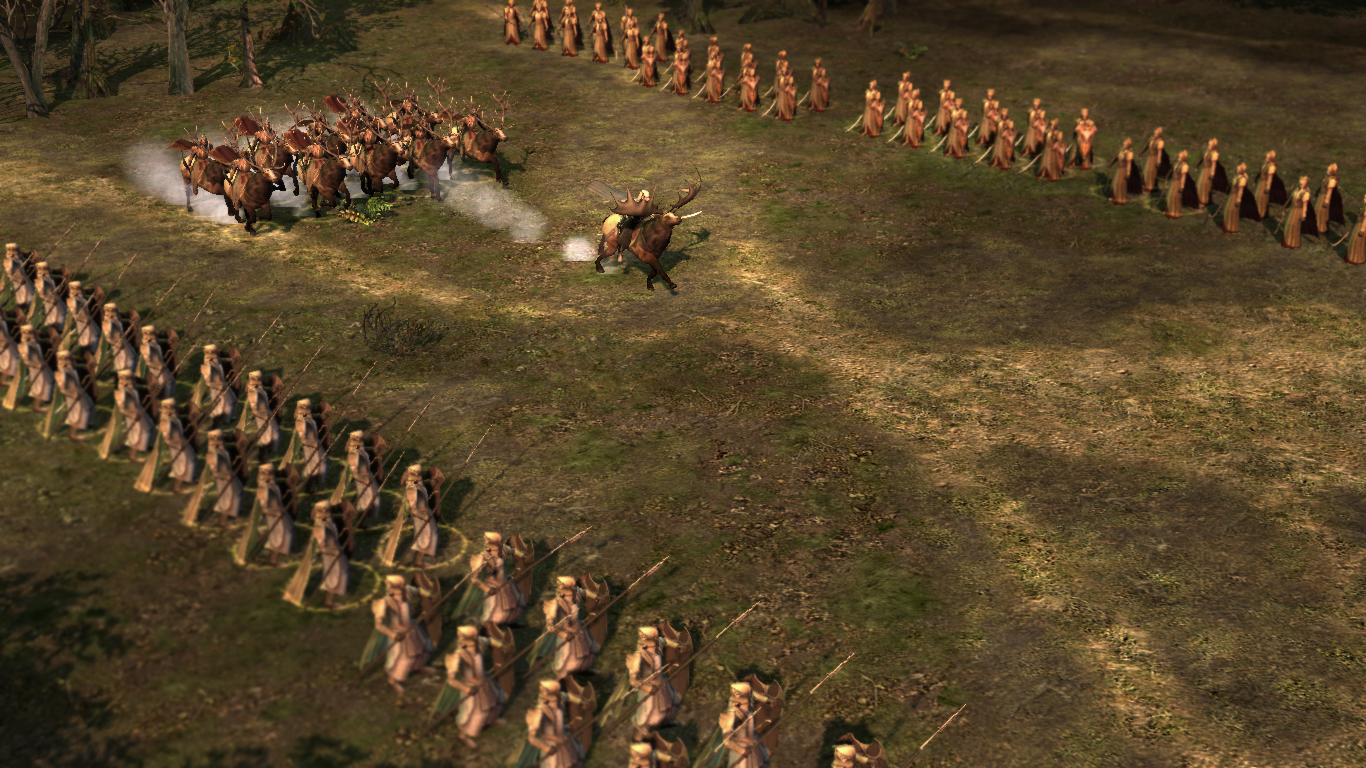 Rank 3: Love of Silver and Jewels
"If the elf-king had a weakness it was for treasure, especially for silver and white gems; and though his hoard was rich, he was eager for more, since he had not yet as great a treasure as other elf-lords of old."
Grants Sindarin Armour to units in radius.
Sindarin Armour: Grants an additional +20% armour to units.
Increased radius levels 5, 7 and 10.
Stacks with leaderships, buffs and spells.
Left click on icon then left click on target own units.
Wood-elves were often lightly armoured in combat, a factor that contributed to the heavy losses they took at the War of the Last Alliance. During the Third Age, Thranduil ensured that his armies were well-equipped and protected. The Woodland Realm faction does not have a traditional heavy armour upgrade, with their strength being in high speed and high damage ambushes. This ability allows the Silvan and Greenwood elves to stand up to fully upgraded armies in the late game and emphasises Thranduil's importance as faction leader.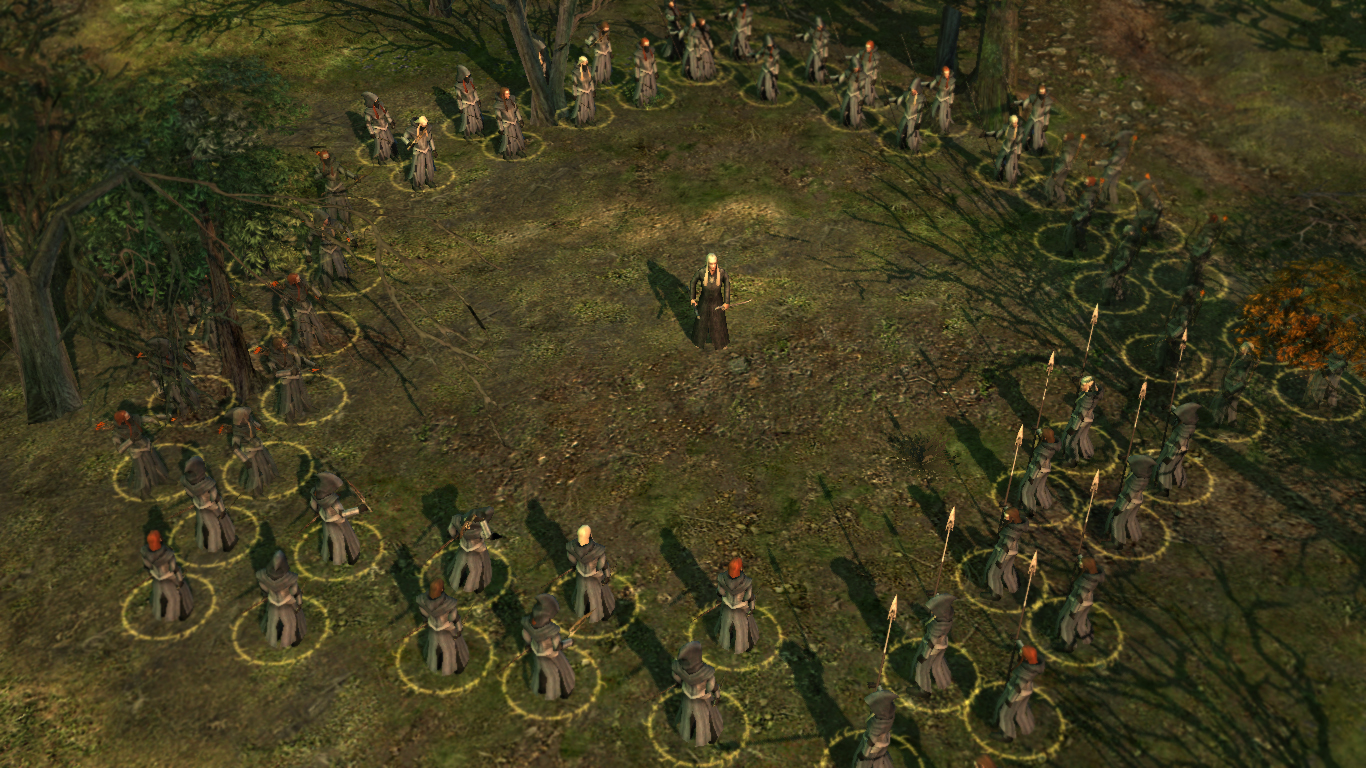 Rank 4: None May Enter
"I want the watch doubled at our borders, all roads, all rivers. Nothing moves but I hear of it. No one enters this kingdom and no one leaves it."
Targeted terrain becomes hostile to enemy units. When passed over, enemy units are slowed by -25% and take damage over time.
Left click icon then left click on passable location.
As the corruption of Dol Guldur spread, Thranduil retreated his people further north. The Woodland Realm became a guarded kingdom, with all intruders being slain on sight or taken for questioning to the Elvenking. This power can be used in many ways to deal continuous damage and interfere with enemy movements, preventing enemy retreats or enabling the retreat of allied forces.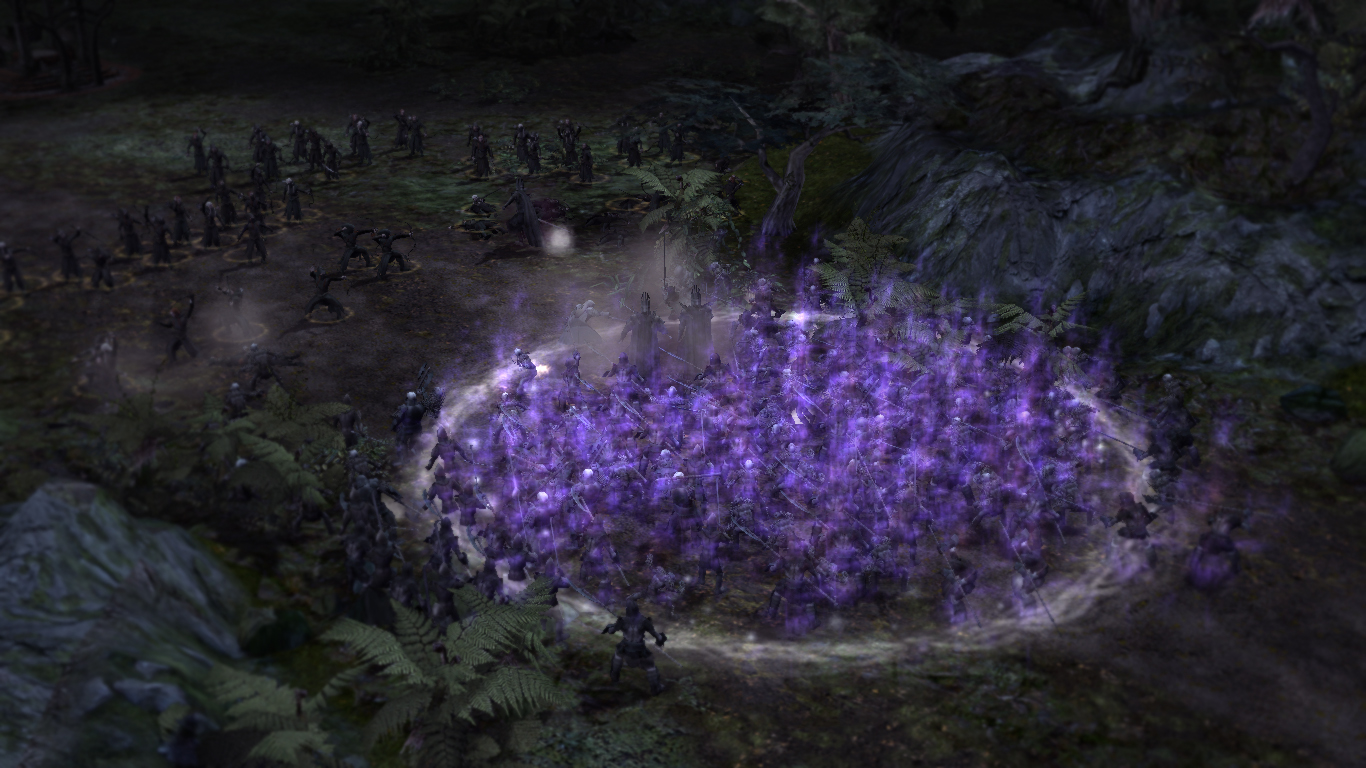 Rank 5: Renowned Warrior
"In the North also there had been war and evil. The realm of Thranduil was invaded, and there was long battle under the trees and great ruin of fire; but in the end Thranduil had the victory."
Thranduil briefly gains +15% speed and +50% armor
Rank 6: +15% speed, +50% armor, +15% damage
Rank 7: Thranduil permanently gains +25% armour
+15% speed, +50% armor, +25% damage
Rank 8: +15% speed, +50% armor, +50% damage
Rank 9: +15% speed, +50% armor, +50% damage, -75% crush deceleration
Rank 10: +15% speed, +50% damage, -75% crush deceleration, and absorbs all damage towards him
Left click to activate.
Thranduil was a renowned warrior. Under his leadership, the Elves of the Woodland Realm fought against the forces of Bolg during the Battle of the Five Armies and against the armies of Dol Guldur in the Battle Under The Trees. Renowned Warrior enhances Thranduil's combat capabilities to great heights. While a small bonus at first, it grows in strength as the Elvenking levels, allowing him to duel the powerful fighters of other factions as well as thinning out their armies. At rank 7, Thranduil equips his heavy armor, unwilling to repeat his father's mistake, granting himself greater survivability. In addition, all Woodland Realm building guards will also be granted heavy armour once Thranduil reaches this level.
Rank 10: Memory of Mordor
"But there was in Thranduil's heart a still deeper shadow. He had seen the horror of Mordor and could not forget it. If ever he looked south its memory dimmed the light of the Sun, and though he knew that it was now broken and deserted and under the vigilance of the Kings of Men, fear spoke in his heart that it was not conquered for ever; it would arise again."
Thranduil is surrounded by memories of the Black Land.
Enemy units are terrified, take damage, lose all leadership and deal -50% damage.
Thranduil is invulnerable while the power is active but cannot move.
Left click to activate.
Thranduil's experiences in Mordor were traumatic, and he was often beset by memories of these events. It was this acute knowledge of the danger that lurked beyond his realm that informed his policy of isolationism. When using this ability, Thranduil is unable to fight directly, but can heavily weaken and damage nearby foes. He is immune to damage in this time and so can be used as a way of preventing his death while allies arrive.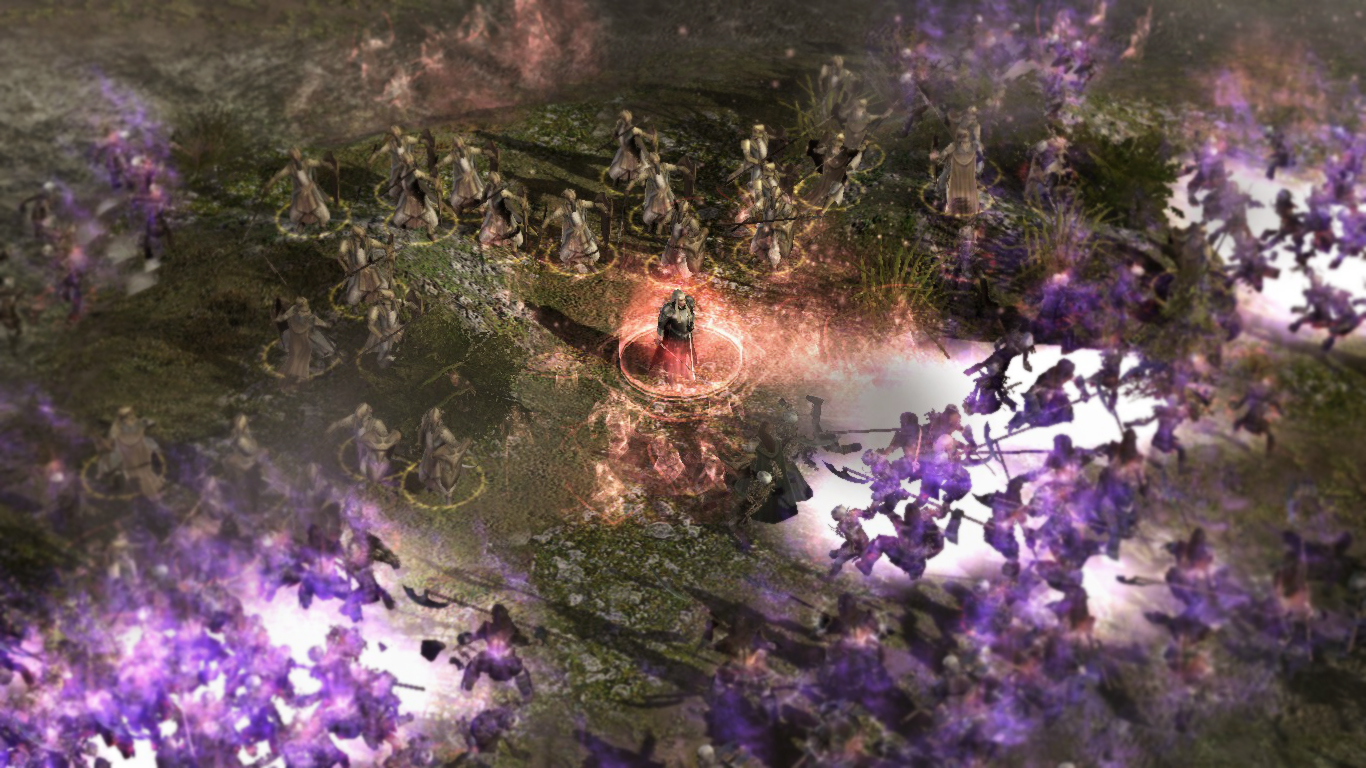 ---
"...On his head was a crown of berries and red leaves, for the autumn was come again. In the spring he wore a crown of woodland flowers. In his hand he held a carven staff of oak."
The Elvenking was no stranger to a touch of vanity. His wardrobe was vast and varied, and he knew how to dress for the occasion. In the Woodland Realm faction, he will alternate between five different outfits, chosen at random when he is recruited.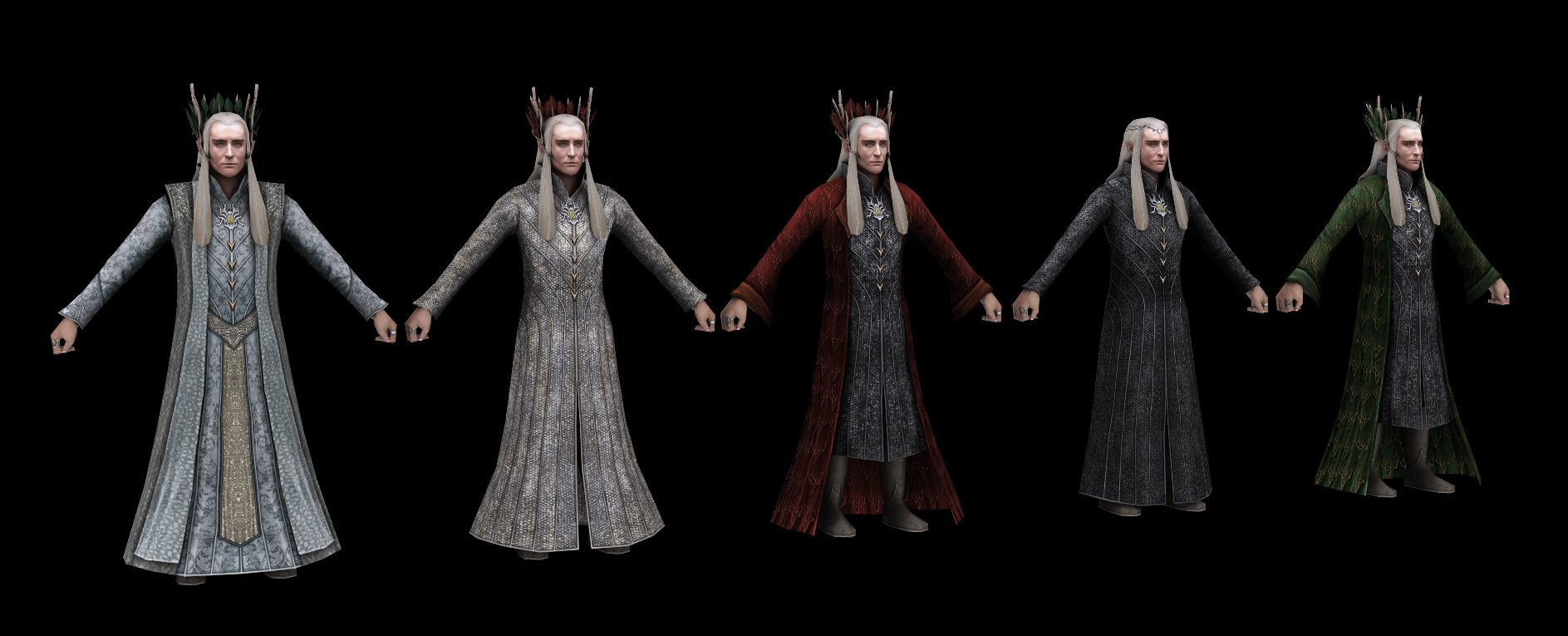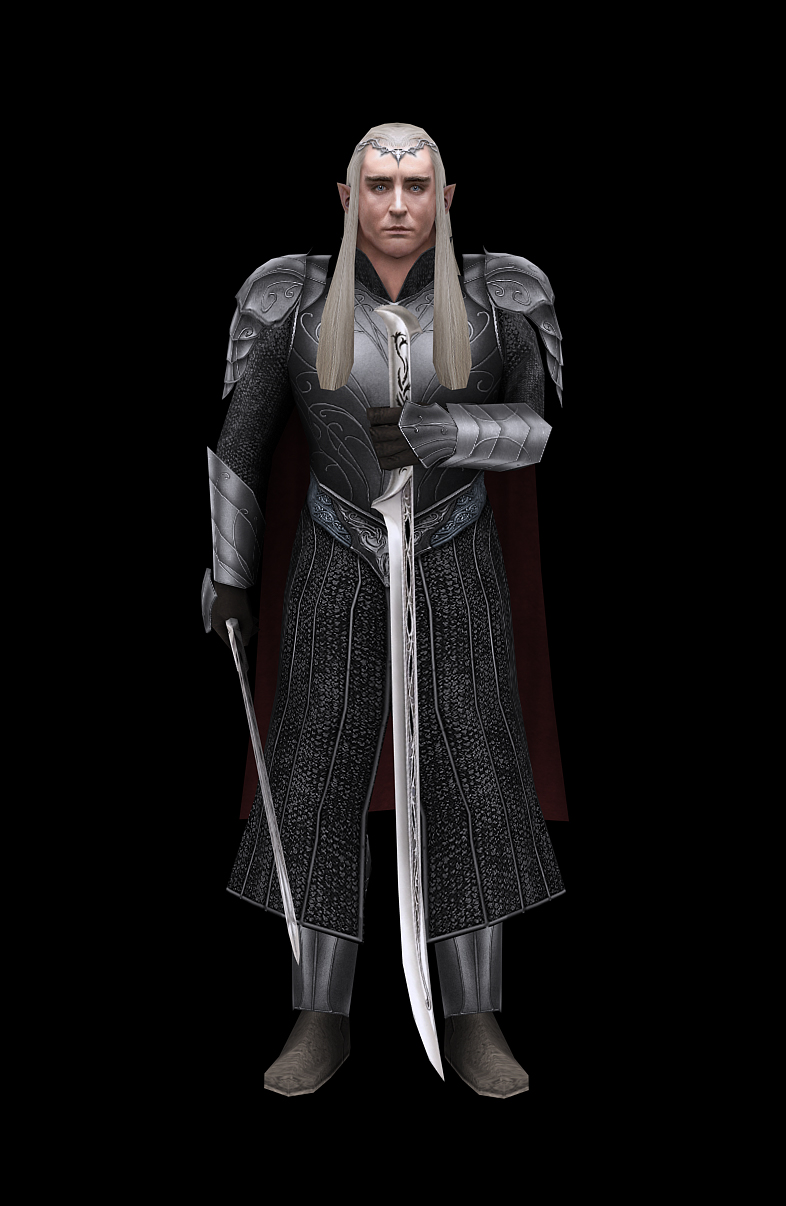 ---
"It is a crime to wander in my realm without leave. Do you forget that you were in my kingdom, using the road that my people made? Did you not three times pursue and trouble my people in the forest and rouse the spiders with your riot and clamour? After all the disturbance you have made I have a right to know what brings you here, and if you will not tell me now, I will keep you all in prison until you have learned sense and manners!"
Thranduil's will and presence can be felt beyond his representation as the faction's lead hero. Woodland Realm's spellbook has an entire row of spells dedicated to his personality and command, which can be read about in our recent article: Spells of the Elvenking
---
Wear your mask and wash your hands, and please don't drink the kool-aid.
Yours,
The AotR Team