This is a "testing video" of "CALL OF DOOM:BLACK OPS" MOD that I am building now.
In the world of DOOM, I can use the weapon of Call of Duty: Black ops 2.
Weapon motion capture of "AN - 94" "M870" "HK 416" "SIG 556" has been completed.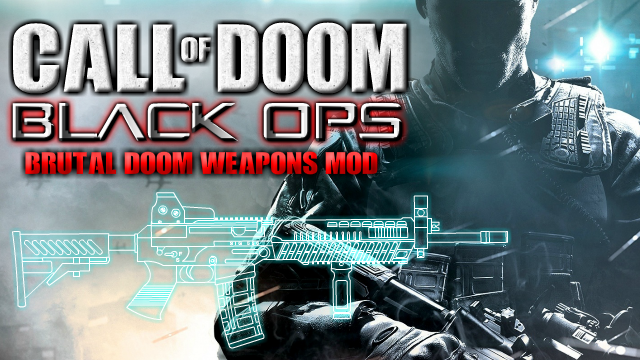 This is a new project of "CALL OF DOOM".
By using this 1 mod, I plan to make call of duty weapons "Black ops 2" "Black ops" "Ghosts" "Modern Warfare Remastered" available in the world of DOOM.
A variety of weapons and various attachments that did not appear in the "first generation CALL OF DOOM" will be available in this new project.
Current plans:
[New Systems]
Weapon look:
Pressing "Weapon look key", player checks the weapon.
By checking the weapon, weapon spec sheet will be displayed.
It becomes a reference when choosing a carrying weapon.
Selective Fire:
Pressing "Select fire key", player can change the weapon's fire-mode at any time.
Switching of "Full / Semi / Burst", Switching of Under Barrel Weapon, Switching ammunition type will be possible.
A weapon equipped with a grenade launcher or a master key shotgun or a small flame radiator can switch to it and use weapons,
Pump-action shotgun and revolver-shotgun can be used by switching to special shotgun ammunition.
Selective Scope:
Pressing "Select Scope key", players can change the function of the scope.
Weapons with hybrid scope can switch between dot site and scope.
Sniper rifles can change the zoom magnification and turn on / off the night vision device.
[List of Weapons]
*Depending on the situation, the plan might be changed.*
*I can not accept weapons requests. Because weapon motion capture work is very Ultra-Violence troublesome.*
(BO2)- From "Call of Duty:Black ops 2"
(G)- From "Call of Duty:Ghosts"
(MWR)- From "Call of Duty:Modern Warfare Remastered"
(BO)- From "Call of Duty:Black ops 1"
SLOT-1 Handguns
(BO2):FiveSeven / Tac.45 / Executioner
(G) :M9A1 / P226 / MP443 /.44Magnum
(MWR):SFA-M1911 / Desert Eagle
(BO) :ASP / M1911 / Python-Snub / CZ75-MP
SLOT-2 SMGs
(BO2):Vector K10 / Chicom CQB / Skorpion EVO3
(G) :Bizon / K7
(MWR):MP5 / Mini-UZI
(BO) :MP5K / Skorpion / SPECTRE
SLOT-3 Shotguns
(BO2):M870MCS / KSG / S12 / M1216
(G) :Bulldog / FP6 / MTS-255 / Tac 12
(MWR):W1200 / M1014
(BO) :STAKEOUT / SPAS12 / HS10
SLOT-4 PDWs
(BO2):MP7 / PDW57 / MSMC
(G) :CBJ-MS
(MWR):P90
(BO) :KIPARIS
SLOT-5 Launcher
(BO2):SMAW
(G) :Panzerfaust / MK32
(MWR):
(BO) :M72LAW / RPG / CHINA LAKE
SLOT-6 5.56mm NATO Assault Rifles
(BO2):M27(HK416) / SIG556(SWAT556) / MTAR / M8A1
(G) :SA-805 / Remington R5 / Honey Badger / ARX-160
(MWR):M16A4 / M4A1
(BO) :M16 / ENFIELD / FAMAS / AUG
SLOT-7 High-Power Assault Rifles
(BO2):AN-94 / Type25
(G) :AK-12/ Vepr / Maverick AR
(MWR):AK47 / AKS74u / MP44
(BO) :
SLOT-8 LMGs
(BO2):Mk.48 / LSAT / HAMR
(G) :Ameli / M27IAR / ChainSAW
(MWR):RPD / M60
(BO) :RPK / STONER63
SLOT-9 Battle Rifles
(BO2):FAL OSW / SCAR-H / SVU-AS
(G) :SC-2010 / MR-28 / MK14 EBR
(MWR):G3
(BO) :M14 / FAL
SLOT-0 Sniper Rifles
(BO2):DSR-50 / Ballista
(G) :L115 / Lynx / VKS
(MWR):M40A3 / R700 / Barrett .50cal
(BO) :WA2000 / PSG-1