DESCRIPTION: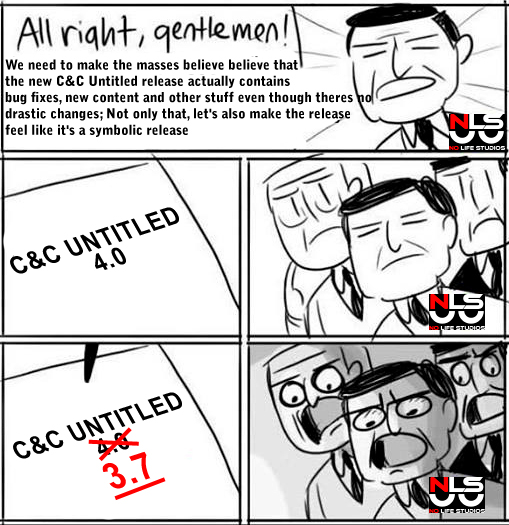 art (c) to hiimdaisy modified for ccu use
Alright, kidding aside, let's get serious:
First off, happy 2017 to all our loyal fans that had been patiently following us throughout the years and second, we have an announcement to you all so listen up; As you've all known, C&C Untitled is now, more or less, being developed for over 11 years and throughout the years, long gone are the simple years and these past few years, the dev team's lives is now getting hit by the reality of real-life, shifting interests and other boring adult issues which pretty much translates to having a lot less time or motivation for our hobbies, in this case, developing C&C Untitled.
Not only that, it doesn't help either that we've been having manpower issues as well, especially in regards to scripting a working AI and proper multiplayer testing and so, we'll going to be direct to admit that the AI performance in this version is extremely if not downright lackluster (and might not even work) at best and gameplay balance might have some oddities here and there and not as refined like the previous versions.
So what does this mean? Simple, this 2017 release would mean the very very, very LAST big release for C&C Untitled; Infact, this release was supposed to be 'version 4.0' that we've been hinting for over a year already, but with shifting interests and real-life issues catching up, we've decided to release it as-is while it's still at the internal version of 'V3.7' instead of dragging the development even further;
So, ladies, gents, animu weebs, filthy furries and other minorities, as promised
we present this to all of you, the release of C&C Untitled v3.7: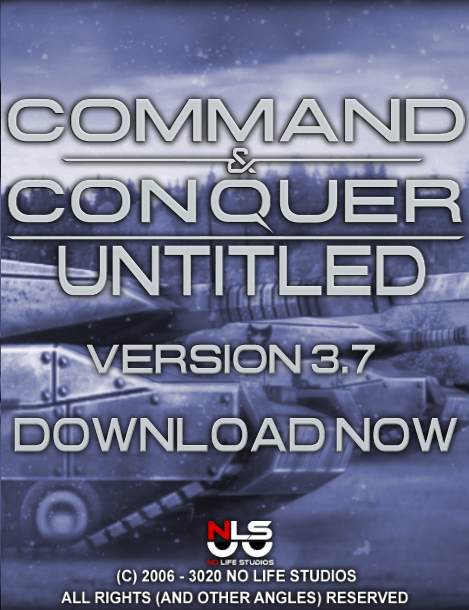 tl;dr: crippling depression, shifting interests, ai is eternally broke, no script writer gg wp no re.
ALTERNATE DOWNLOAD MIRRORS:
TBA on later time
HOW TO INSTALL:
Just extract the content of this rar file in a clean ZH directory and you're good to go.
Uninstalling the mod is just the reverse of this procedure.

ADDITIONAL NOTES:
Considering this is pretty much the final release, this version will be provided as-is and no further direct active support will be done; however, since the development might still continue behind the scenes, we will still be accepting bug reports; So, if you have any bugs, issues or whatever, feel free to go to the following links:
Also, do make sure that, before installing the mod, your copy of Zerohour is properly installed and is patched to version 1.4. Not only that, since this mod has a severely broken AI system, we highly recommend it playing with your friends via either C&C Online or GameRanger.
CLOSING MESSAGE:
That being said - thank you for all your support during our many years of ups and downs in modding and don't worry, the development of C&C Untitled might still continue in the back end of things and throughout, we might still release patches here and there; but overall, this marks the end of C&C Untitled doing big full version releases like we used to do.

Although, if you guys would still like to follow what we might do with C&C Untitled in the future,
just go to the following links:
C&C Untitled SWR Forum
C&C Untitled Official FB page

Also not forgetting the major shoutouts as well to the following due to their contribution to this release:
Sato-kun of Condition Zero mod
Stalker of Operation:Firestorm mod
GDIZOCOM of Project: Tomahawk storm mod
...and the rest of the NLS and SWR crew.


Also, thank you for voting and even make us reach the top 100 in last-year's MOTY 2016, it means alot us and thank you for enjoying our work. Overall, hope you all understand and have a happy new year to you all.
-NLS Team Signing out