Article update:
"Call of DOOM: Black Warfare" has been released !!
---

Use GZDOOM to launch files A and B together.
Be sure to load in the order of A to B.
Select two pk3 files with the Ctrl key, then grab "FileA" and drop it on GZDOOM.exe.
Alternatively, use Autoloading with a shortcut.
If you get the following error message, you are loading the files in the wrong order.
Script error, line 455:
Unexpected '8 Slots Doom-Slayer Mode' in definition of 'RGAPlayer_M9A1'
After starting the game, first open the OPTIONS "Customize Controls" menu and set the "Call of DOOM - Basic Controls" and "Advanced Actions" keys.
Set "Equipments Shortcut" only when necessary.
Explosives are in slot 9 and equipment is in slot 0.
---

Download *BRUTAL DOOM ver* CALL OF DOOM:BLACK WARFARE - Mod DB

Download LIGHT Edition *BRUTAL DOOM ver* CALL OF DOOM:BLACK WARFARE - Mod DB

Download *VANILLA ver* CALL OF DOOM:BLACK WARFARE - Mod DB

Download LIGHT Edition *VANILLA ver* CALL OF DOOM:BLACK WARFARE - Mod DB
---
-What is necessary?
1:not Potato PC
The file size is large and there are many animations, so please play on PC.
It's difficult to enjoy this mod on low-spec PCs and smartphones that have a lot of lag.
2:Official DOOM game(IWAD)
This is a mod, so you need a base game file.
Please purchase the official DOOM on Steam etc.
Or use FREE DOOM.
3:latest GZDoom engine
This mod only supports GZDOOM.
If you run it with another engine, unexpected problems will occur.
Also, this mod is for single player. Multiplayer is not supported.
---
-What is "Call of DOOM: Black Warfare"?
This mod is a realization of the modern DOOM I wanted.
Players can fight DOOM monsters with high quality firearms imported from the Call of duty universe.
This weapon WAD is compatible with many custom maps, so you'll have fresh gameplay on maps you've played in the past.
4 versions will be released.
[Brutal DOOM Ver] - Enjoy the greatest violence based on Brutal DOOM
[Vanilla DOOM Ver] - Vanilla version with no changes to monsters and decorations.
[Lightweight Brutal DOOM Ver] - Low spec version with reduced weapon animation.
[Lightweight Vanilla DOOM Ver] - Lightest version without Brutal DOOM.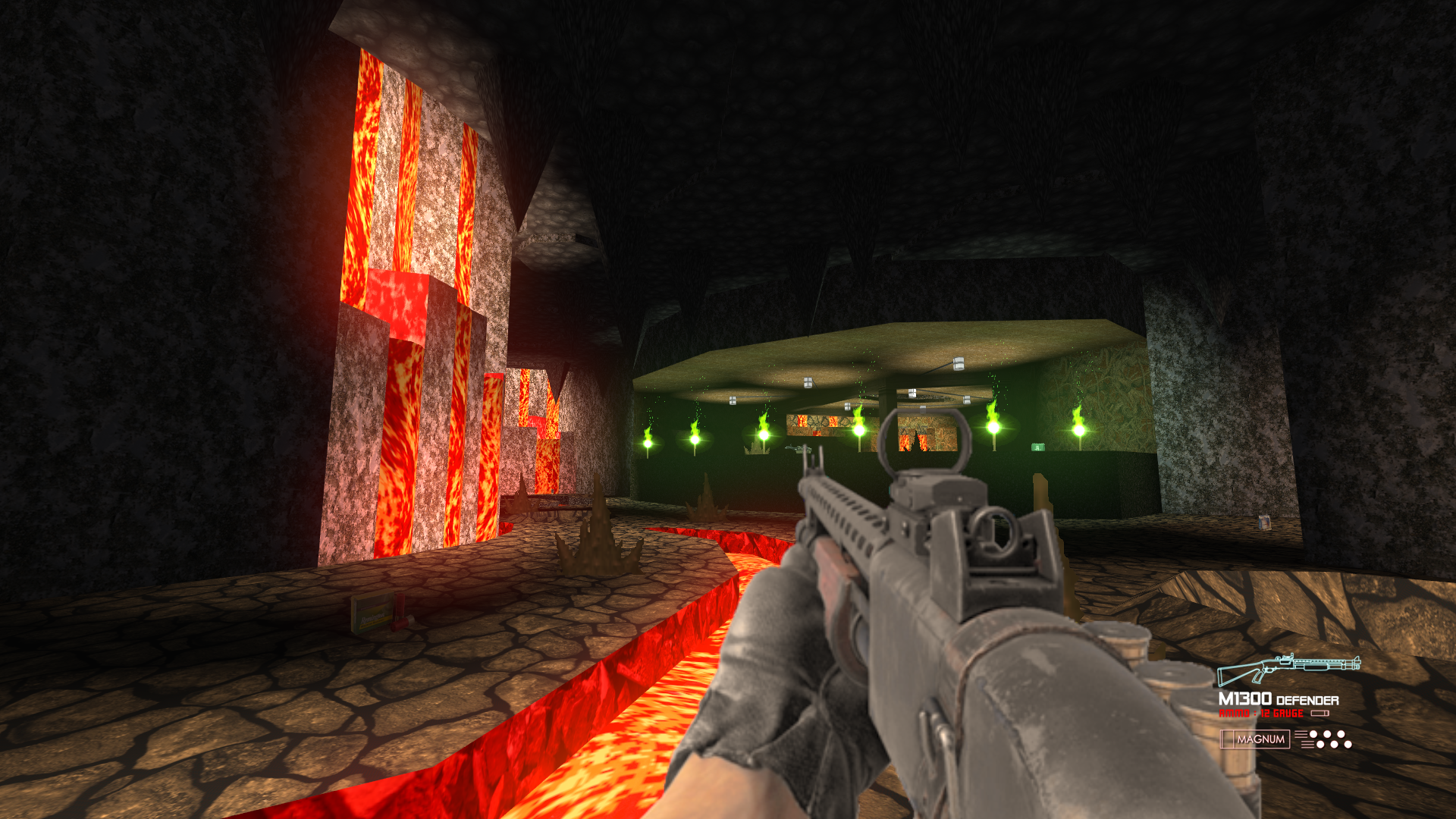 -NEW Weapons
Introducing 70 new weapons.
There are no energy guns, all guns use bullets or rockets.
Most weapons have aim shooting and reloading function, allowing you to switch shooting modes and change ammo types as needed.
And various kinds of ammunition based on the caliber of the actual gun will appear.
[slot 1] - 6 Handguns and 1 SAMURAI sword (9mm/.45ACP/.357 Magnum)
[slot 2] - 10 Sub Machineguns (9mm/.45ACP)
[slot 3] - 12 Shotguns (12 gauge)
[slot 4] - 6 PDWs (PDW bullet)
[slot 5] - 6 Heavy Weapons (40mm Grenade/25mm Grenade/66mm Rocket/23mm CSgas/.404 Raufoss/Fuel)
[slot 6] - 10 NATO Assault Rifles (5.56mm NATO)
[slot 7] - 8 Eastern Assault Rifles (5.45x39mm/7.62x39mm)
[slot 8] - 8 Marksman Rifles (7.62mm NATO/.338 Magnum)
[slot 9] - 3 Explosives
-NEW Equipments
Introducing modern game style support equipment.
[Survival Knife] - Can be used for Instant attack and stealth-kill.
[Frag Grenade] - A powerful grenade. You can also knock out by hitting the enemy directly with a grenade.
[Stun Grenade] - A stun grenade that afflicts enemies with intense flash and noise.
[Flashlight] - High beam flashlight mounted on a helmet.
[Night-vision device] - A ready-to-use Night vision device mounted on a helmet.
[UAC Satellite Phone] - Can summon relief supplies, reinforcements, and attack helicopters.
[Tactical Medikit] - A first aid kit that can carry up to 6. Be careful not to be attacked by the enemy while you are giving the injection.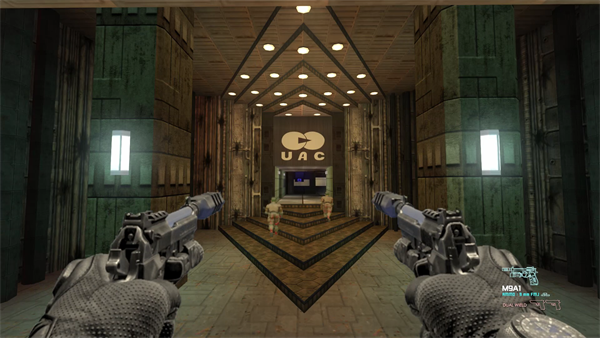 -NEW Characters
There are 12+α friendly soldiers with new sprites.
It also includes the Heroes of "COD: Modern Warfare" and "COD: Black ops".
You can summon them with Satellite Phone when you need them.
If you don't want to see hell anymore, you can call a girls.
When you want to fight alone, use the Satellite Phone to get ammunition and other relief supplies.
You can give three instructions to fellow soldiers : "follow", "wait", and "gather".
If you get a Sentry bot somewhere, you can switch between "follow" and "Attack" instructions in the same way.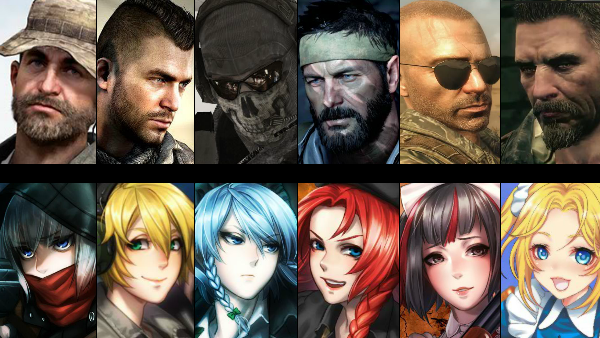 -Mystery box
The infamous "mystery box" from the COD zombie series will be featured in this mod.
There are 90 different results, and you can get the best weapon, but you can also get the worst weapon.
There will also be secret items that can only be obtained here.
If you want to challenge, use the Satellite Phone to summon the Mystery box.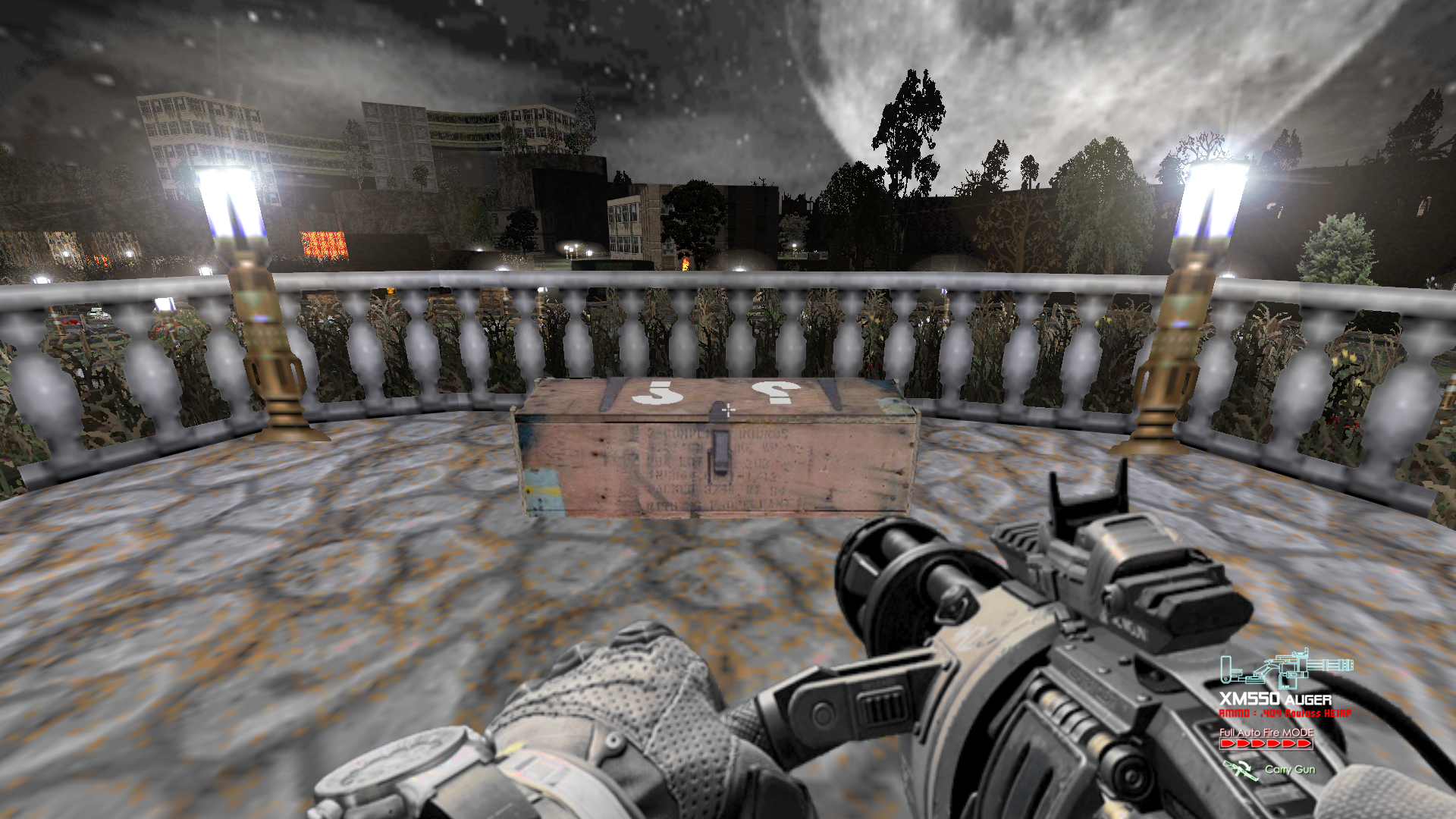 -Gameplay changes
The kill speed is faster than Brutal DOOM, and even the weakest 9mm gun can defeat the Pinky Demon.
However, you will always suffer from a shortage of ammo and recovery items.
Kill your enemies as soon as possible before they are attacked, like Call of Duty. Otherwise it can have fatal consequences.
If you are a veteran player, choosing a higher difficulty level than ultra-violence (Brutal DOOM ver only) or a class with a stricter weapon possession limit will make you more thrilling.
Players can only carry 4 weapons. (In the case of normal mode)
Every time you find a good weapon, you have to choose to drop something.
Carefully look at the spec sheet, which describes the advantages and disadvantages of the weapon.
If you're greedy and holding only powerful weapons, you'll quickly run out of ammo, and you'll have to drop something and switch to a 9mm gun.
There is no convenient item box.
Weapon placement changes randomly each time you play.
Flamethrower may appear when you need an M16, or you may never find your favorite weapon.
Therefore, even on maps that have been visited in the past, the tactics can change significantly depending on the weapons you can pick up.
This weapon mod was developed so that I can play it for over a year without getting bored.
(I don't know how other players will feel, but I've been enjoying DOOM for years with this mod)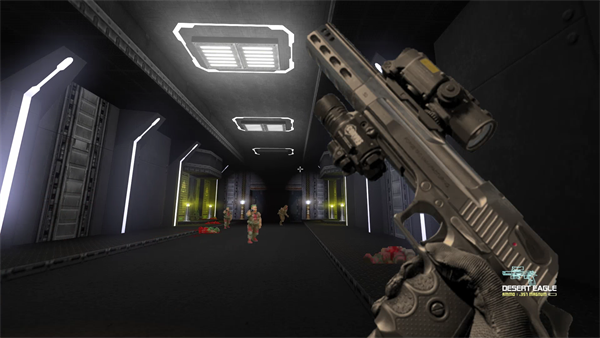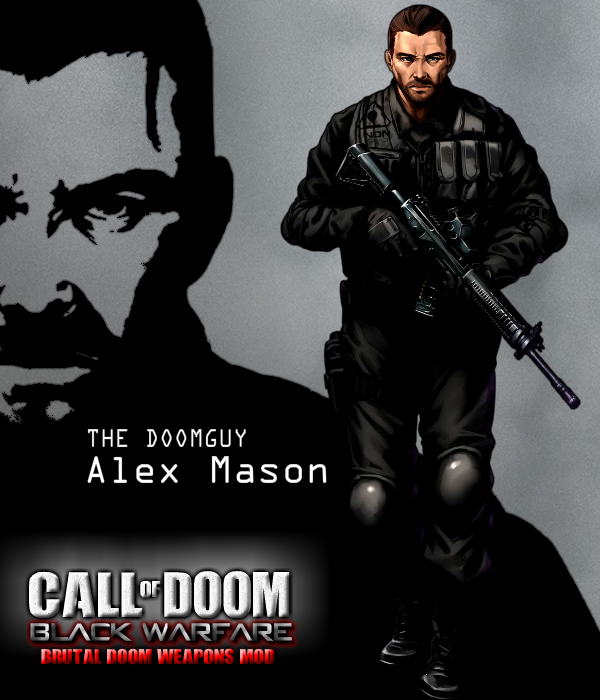 Below is Arrowood's message.
If you just want to see fun stories, you shouldn't read the message.
---
Hello, this is Arrowood.
I would like to thank the people who support the Call of DOOM project.
The full version of "Call of DOOM: Black Warfare" will be available soon.
This will probably be my last DOOM MOD project.
I may make small updates that fix mod bugs and add a few weapons, but I'm not going to start a completely new DOOM MOD project.
You might expect new releases like "Battlefield DOOM" or "Escape from tarkov DOOM", but I don't think I'll spend my life developing DOOM mods anymore.
The reason I made this mod is not to liven up the DOOM MOD community.
It's all for myself who loves Call of Duty and DOOM.
You might think of me as an old man, I've always loved DOOM(1993).
Originally, I made a mod that was adjusted by combining "Brutal DOOM" and "Real guns advanced" just for my own play.
When I uploaded the mod video to YouTube without much thought, I got a lot of comments saying "I want this mod", so I decided to start the CALL OF DOOM project.
I speak as a person with my own life, to be honest, I think it's more peaceful for ME not to publish this mod forever.
I have experienced a lot of suffering and anger in this project.
I know a lot of people are cheering me on, but a few people threw stones at me and sometimes tried to destroy the project.
The people did the following:
-threaten to kill
-Add violent comments and tags to the MODDB page
-Post lots of low-rated reviews with insulting words
-Post insulting comments and offensive images on my MODDB My Page
-Add a lot of BAD to YouTube videos using illegal tools
-Post insulting YouTube comments daily using multiple accounts
These were done by a small number of malicious people.
The support team's response has now brought peace, but the project has been severely damaged.
How many people can complete a free project with no reward in the face of such an attack?
How many good mod makers have been killed by the simple words "garbage" and "totally worthless"?
And I hate "critics of justice".
Critics haven't paid me any money, but they profusely command me to "do this!" Or "I hate it, so fix it!".
When I say, "I don't obey that order," critics get angry, "We are guests! Be more humble!"
I'm only publishing this for users who want to play this mod, and I have no intention of dealing with users who don't want to or hate it.
There are many criticisms that "there are too many weapons and should be reduced" and "3D sprites look bad to DOOM. You should redraw it in 2D animation".
It's my desire to have a lot of weapon choices, so I have no intention of reducing it for critics.
Critics have the freedom not to use weapons and the freedom not to use this mod, but I wonder why they can speak like my producer.
The criticism of "redraw the animation!" Feels more arrogant.
It's surprising to me that they think the animators will do the job for free.
I loved Call of Duty's cool reload animation and wanted to bring it straight into DOOM, so I'm not going to change this.
Similarly, there are criticisms that "Don't include girls in DOOM!", But DOOM isn't just for critics and gender-discriminators, and don't have to play this mod forever.
As I say many times, I haven't made any money on this project.
If don't like this mod, just keep quiet and play another good game.
I don't want people who are neither my boss nor my friends to criticize my hobbies.
You can't see it, but I've always seen inappropriate YouTube comments with dirty words stuck in the filter.
You can only see the fun part, but I'm always receiving unreasonable orders and taunts.
I don't know why they can't do the simple thing of "quietly ignoring things they don't like."
They throw stones or throw irresponsible orders before they leave.
I was able to continue making mods because I had my own DOOM dream, but I think they would give up making if other volunteer mod makers were hit by the same attack.
If you find your favorite mod maker, don't be shy and cheer them on.
If you keep quiet without cheering, mod makers may be defeated by invisible attacks and fall.
When you want to criticize a mod severely, first check to see if you paid for them.
If you are paying, you should criticize it openly.
As long as the producer receives the reward, he is obliged to provide what the customer is satisfied with.
But if they were volunteers, stop and ponder whether the critique is really necessary.
It's free for you to order, but it costs a lot for them to follow the your order.
Some might criticize "Don't complain! Entertainer", but I really had to release this anger at the end.
I wanted players who knew only the fun part to know the reality of mod makers.
I'm just one of many who like DOOM.
I'm not a punching bag, nor a volunteer to serve critics.
With the release of the full version of CALL OF DOOM, my MOD production is probably end.
I don't like volunteering anymore because of the trouble of dealing with justice critics and terrorists.
I will complete this project and return to life for myself.
Thank you for always supporting me.