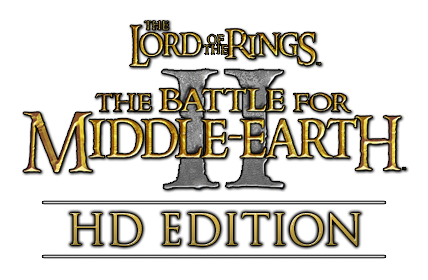 Greetings all!

Just in time for the MOTY awards but not actually intended to be,
BFME2: HD Edition is finally released! If you're hazy on what this mod is exactly, keep reading:


What is it?
The BFME2: HD Edition is a model pack featuring both reworked and all-new unit and hero models.
Our primary goal is to preserve the distinctive style of BFME2's models
while thoroughly polishing them up.
How does it work?
BFME2: HD Edition is essentially a model pack. Units, heroes, and other visuals are drastically improved.
The model pack is intercompatible, meaning you can use it online while your opponent doesn't need to have it installed. You will not run into any compatibility or out-of-sync issues while running this pack.
Note, however, that the BFME2: HD Edition currently only
works for Revora's T3A:Online multiplayer server.
How do I install it?

Simply download the file HERE and run the installer!
After that, click the HD Edition shortcut on your desktop to run!
What's next for this project?

We're considering further updates.
However, first we'll be working on HD Editions for BFME1 and RotWK.

The HD Edition is more of a vanity project, if you like our work
and want to support us, vote for The Horse Lords in this year's MOTY awards!
We hope you enjoy!

~ Rider of Rohan and Mathijs