Hello, and welcome to the first article for this mod! I have a bunch of stuff to cover so let's get right down to it!
History and 'why?'
While I've always been a big fan of the Spyro series, and have wanted to make a fan game at some point, I never actually thought about doing this till I saw the release of the Crash: N. Sane Trilogy. Once I saw this games success I knew that the Spyro series was also going to get the same treatment and it occurred to me that I could make a game about a relevant game series for a change. I thought about several things I could do like making a fan game in a engine like Unity or Unreal, but I've always enjoyed using Goldsrc and Xash3D so I thought about the challenge of getting this purple dragon into Half-Life. And from there the mod pretty much came to life.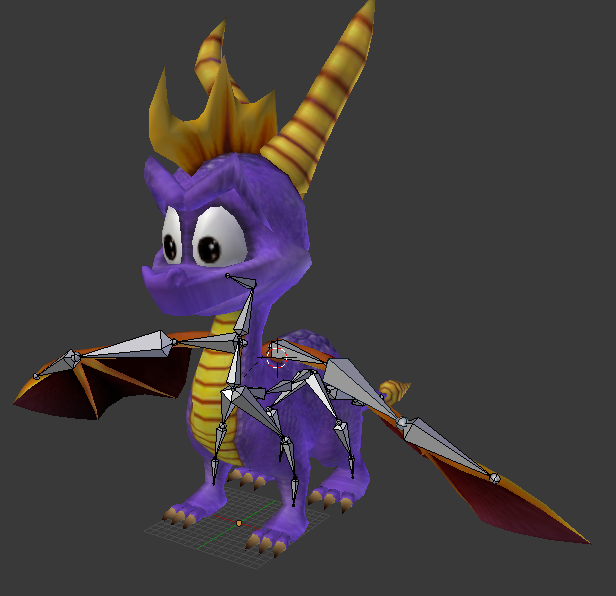 (First model rig I setup using the PS2 model before I got Dr. Fug's PS1 recreation model.)
Now for the 'why' question. It's to get famous obviously. Alright, the real reason is because why not, it's a neat programming challenge for myself, and as I said above this can help me make a fan game after the initial game mechanics are put in. This can also help me with a Prospero remake sort-of-thing I mentioned on my Twitter but that's for later.
Progress video
I've been posting small recordings on my Twitter and some Discord for a while now showing the progress that I've been making. I decided it would be nice to compile all of them into a video for everyone to see. This video includes every single recording I have made so far including non-public ones and plenty of me breaking stuff.
Other media
I've also been adding some screenshots to the mod page here as well. For those who haven't seen them yet then check them out.
Future plans
I'm currently planning to get all the basic mechanics in before I get the first beta release out to everyone. This will include charging, gliding, swimming, and climbing. Also the head bash ability so you can break vents, and other objects below you. After this initial release I want to add in Sparx, Fodder, Gem collecting, and other breaths in for the second release. Everything after that will be just polishing, bug fixing, and adding in any other features for the sdk release and more or less final release. The time span for these releases aren't certain. I would like to get the first release out before September, but I cannot guarantee that yet. I may have to release after September so I don't get buried by the Reignited Trilogy hype that's currently going on. If anything expect a release sometime before the end of this year!
Conclusion
I'd really like to say thank you to everyone who has supported the mod and all the interest is has gained so far! I've had many people message me about the mod with questions and suggestions. I've had several YouTubers contact me wanting to try the mod out. I even had a related tweet go pretty viral and got a article written on it which is just crazy to me! I really hope everyone enjoys this mod when it gets released! If anyone wants to keep up to date on the mod, then please check out my Twitter, Discord, or YouTube. Thanks for reading!!