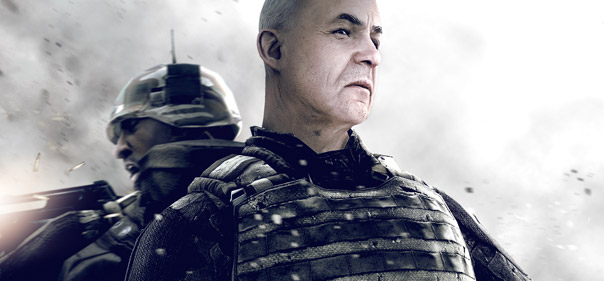 STANDALONE IS AVAILABLE
"We are thrilled that, togehter with Crytek, we can give all PC-players the
possibility to experience Wreckage in all of its variety:
Wreckage throws you in the middle of a nonstop-action firework with superior
vehicle combats, highly detailed landscapes and thunderous teamaction. Using
the powerful CryEngine 2, Wreckage features technology like accurate lip
synchronization, facial animations and the choice between english or spanish subtitles.
We hope that you'll enjoy the game just as much as we enjoyed its development.
We love to read your feedback."
-The Wreckage Team-

W

reckage
offers an action-oriented presentation, professional execution, complete dubbing
and Crysis-level graphics. Developed by the four-man-team around Christopher Held, who
also already developed "The Harbour" and "Rainy Days".
It's the final chapter of the story, that began with the map "The Harbour" and was continued in the
modification "Rainy Days". It tells the story of three soldiers who try to survive a devastating war
between two worlds. The play time is somewhat longer than one hour.
FEATURES
Cinematic flair: Wreckage puts the player in the middle of thrilling rollercoaster ride with superior vehicle combats and roaring teamaction. Professional voice actors let you enjoy the whole mod with a german synchronisation and full english/spanish subtitles.
Great-Looking Visuals: Hand made environments in different scenarios, CryEngine technologies like accurate lip synch and facial animation promises a graphic beauty like you know it from the original game.
Bugless: A new chapter system ensures a minimum amount of game errors. In the unlikely event of a bug, this way every chapter can be restarted.
Playable without Crysis: Just download the standalone version.
Standalone Version - Playable without any installed game (1900 MB)
Mod Version - Requires Crysis-Wars with Patch 1.5 (280 MB)
Desura Version - Requires Crysis-Wars with Patch 1.5 (280 MB)
-

PC-ACTION wrote: "The final part of the thrilling trilogy is incredibly successful. - Excellent work!"
PC-GAMES wrote: "Masterpiece"
PC-GAMEPLAY wrote: "[...]intense action scenes where even Call of Duty can eat their heart out."
GAMESTAR wrote: "Damn good."