September Updates!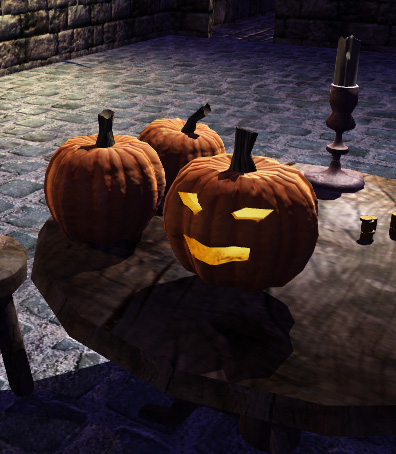 A new Halloween speed-build contest is underway! There are at least half a dozen mappers participating, including heavyweights Fieldmedic and Bikerdude.
(Update: And Mortem Desino might be back in the game too...)
(Update: Melan had to drop-out due to his overly busy schedule... Sorry folks. )
The mission must have at least one element that evokes Halloween. Scary missions will be preferred but things like: playing tricks, finding candy, fall decoration (Gourds, Pumpkins, etc), Pagan harvest festivals, etc ... are all acceptable ways to evoke the holiday. Missions must be completed by October 31th.
UPDATE:
All 5 contest missions have been released. I will have a new article up shortly.
You can identify the contest missions in our mission matrix at The Dark Mod wiki by "HSC 11"
* Samhain Night at Bone Hill (by PranQster)
* House in Blackbog Hollow (by Stumpy)
* The Creeps (by Mortem Desino)
* A Night to Remember (by Fieldmedic)
* Dragon's Claw (by Bikerdude)
---
Dueling Revisionists!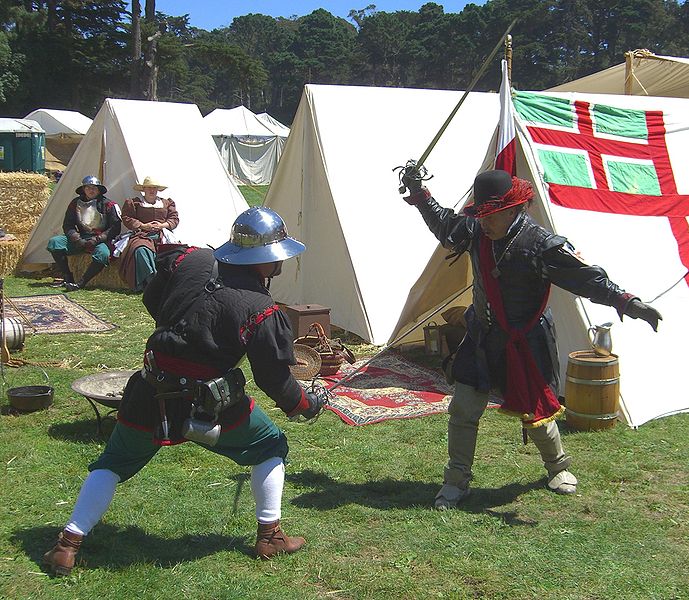 PranQster and Bikerdude have both released improved versions of their original missions. Both authors have improved the visuals and game-play elements of their missions but PranQster has also optimized his mission to be playable on lower-end hardware so it can reach a new larger audience (Biker's mission was already well optimized).
---
The Siege Shop
(version 1.2)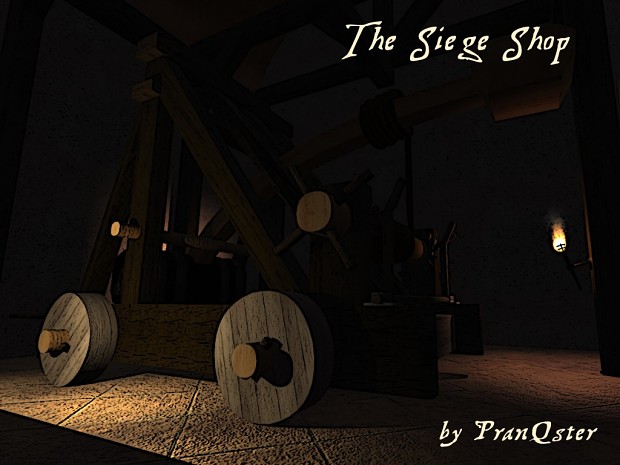 Briefing:
"I must break into the weapons factory... the tunnel in the mountains takes me there.
I received a tip that there may be a way to reach the roof, if I'm lucky.
Inside is a siege weapon shop. I need to acquire the plans to the new weapons being built there.
The previous taffer to attempt this job has either been caught, or has run off with the weapon plans. Find what became of him."
I must mention this: There is a scene of violence more graphic than usual in this FM. Some might not approve. Not for the little ones.
The Siege Shop
By PranQster
This is my first mission, release number 2.
Version: 1.2.0

Build Time:
eternity

Credits:
I thank the entire TDM community and all those who helped me.

Special thanks to:
Bikerdude, Fidcal, Springheel, & Grayman for awesome technical support and advice.Extra thanks to Springheel, BikerDude, and Nosslak for additional models used. Thanks also to Shadowhide for the help with getting my script file working.
Major Thanks to the Beta Testers:
Chiron, Xarg, Aprilsister, AluminumHaste, SiyahParsomen, and Midnight
---
Business as Usual
(version 2)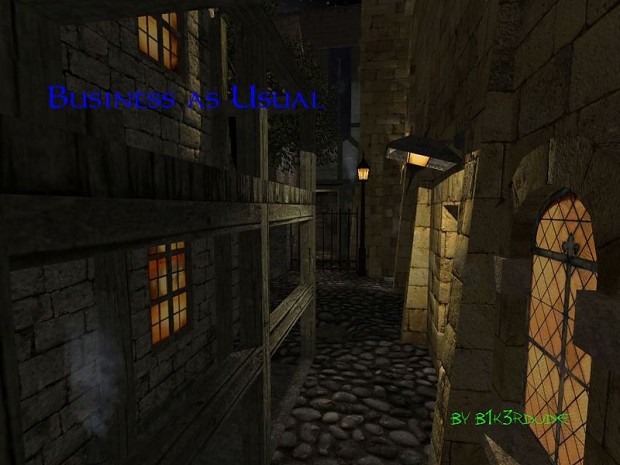 Briefing:
"Visiting a friend in the old quarter, has asked me to keep an eye on his place while he is out of town for a few days. Have a few errands that need doing, will know more when I get there...."
Business as Usual
By Bikerdude
Build Time:
Update Build Time:'
3-4 weeks.
Thanks:-
As always respect to the Dark Mod team and for all the hard work they put
and continue to put into it. Special thanks to Fidcal, Serpentine and
others for their help on the forums and to my beta testers: Greyman,
nbohr1more, McPhisto, Lost_soul, Pranqster and the original testers!
Info:
# I have changed some of the Ai in the town, and added to the level of difficulty
Known issues:-
# Despite all the extra eye candy, this mission should perf well on even low end systems. P4+HD4650 gets around 20-30fps.
# As with all my missions, explore, explore, explore... you taffer!
---
Please visit The Dark Mod Forums to share your thoughts on these re-releases and check on the progress of our Halloween Contest entrants:
Main Site:
www.thedarkmod.com
Forum:
Modetwo.net