Hello!
Well, its been a while since I wrote here anything. I was actually busy with some stuff, and weirdly some of that time I spend helping with few Stalker projects, including one that recently took big chunk of my free time, and for some reason Im not mad about it because I had a chance to make some cool stuff for it.
Long story short, I started doing some weapon stuff, mostly making some never-used-before models from scratch and fix/import others guns that are not just another batch of AK in 100 color variations or remakes of existing guns in stalker, but some "candy" special stuff that you see only if you look for it in game.

And all that because Mod that Im helping with aim to not only bring some good balance and fresh stuff to Stalker but also actually deal with, lets be honest, crappy Stalker gun ballistic and mechanic. We can of course add bunch of fancy addons to guns like grips and flashlights but all that is just cover for really bad ballistic mechanic.
So to fix that our small team spend time to actually make it work properly so it could even compete with ARMA ballistic. Hard stuff to make, but we actually spend some time tweaking stalker and actually try to understand how X-ray handle that stuff, and not just change some values without bothering to check it in game. Because sadly for most of time gun mechanic in stalker mods was made by people who never actually had gun in their hands, and most of settings that they did was pure hog-wash that worked in a way that guns where pumped to weird values and rest of "realism" was based on tweaking damages that F up rest of game.
We actually have guys who deal with guns in real life and know how to tweak and fix and even add more stuff related to them... But its not always simple, and some work need to be done by digging deeper in stalker guts.
So because of that sometimes we need to make some new scripts that "bring balance to the force", but unlike other mods we would like to try keep it simple and available for everyone, that why we are looking for people that could help us with some script related work. Anyone with even basic knowledge about lua and stalker scripts could help us with not only work but also discussion about how to make gun mechanic and models better. You know, more people = more ideas = more fun.
---
Also in other news, some of you will probably wonder where are mutant models that I posted, like Boodsucker remake or Tark and Pseudodog.


I decided to remove them because even if they looked kinda nice, they where not optimized properly, some people had problems with them and its not good. It will take some time to fix them but after I finish I will upload them again. I also started to remake other mutants, and make few new ones.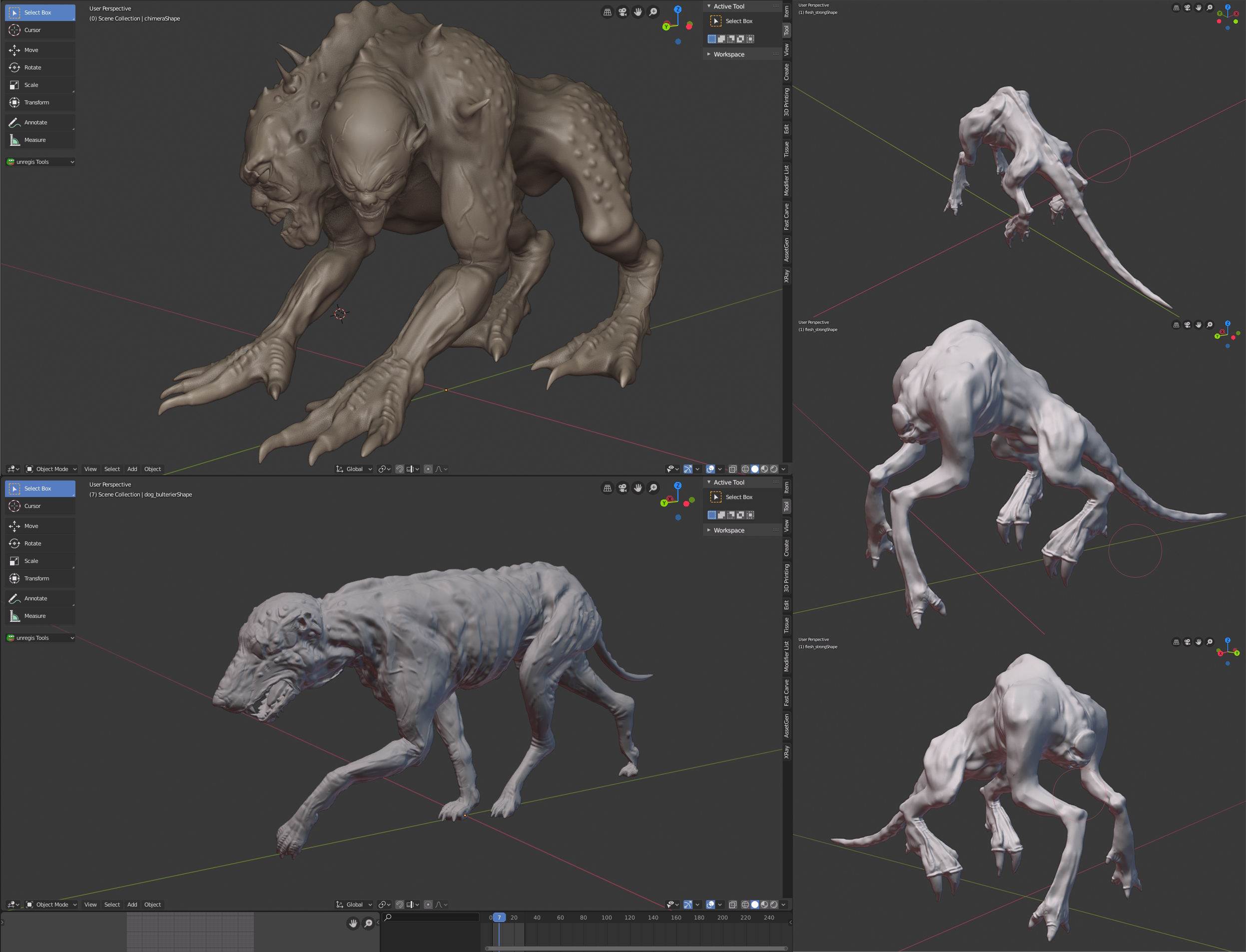 ---
So again, If you have any experience with scripting in stalker, give me a PM or write about it in comments, your help will be really helpful!
---