Hello everyone,
As you have probably noticed by now, the alpha test for Version 03 has been going on for longer than initially planned. This has a number of reasons:
For one, some essential parts are taking longer than anticipated and need some more time to be completed.
Second, in-depth testing for bugs and balance issues have continuously uncovered issues that we needed to address. This includes minor and major bugs, minor visual issues but also design flaws that needed in-depth adjustments or entirely new units to fill certain roles.
The bad news is, we're still not done with the development and testing to release Beta 03 yet.
The good news is, we're working full speed to continuously polish and improve the mod in order to bring you the best release yet. We ask for your patience one more time, but we're confident it will be worth the wait.
For now, there's a new set of renders to show, showing some new and reworked content:

China Tu-160
The Tu-160 is currently in use to deliver Red Army General's Napalm Bomb as well as Nuke General's Missile Strike GenPowers. This unit will receive a new model and texture. Thanks to n5p29 (and SWR) for providing the model.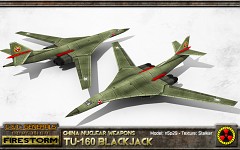 China Cyclone Launcher
The Cyclone Missile Launcher replaces Red Army General's TOS-1 as Heavy Artillery unit, unlockable at Rank 3. This unit fires a pair of high explosive missiles at very long range. While the Cyclone is not very fast, it does not need to deploy in order to fire, giving it an advantage over most other heavy artillery units.
In addition to the Cyclone, Red Army general gets access to the Inferno Cannon (with no GP requirement), giving Red Army general an option to attack long-range base defenses.
Thanks to Sato for the model!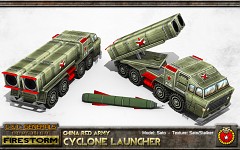 GLA Decimator Cannon
Fortress General finally gets access to a heavy artillery unit, unlockable at Rank 3. In addition, his regular Howitzer artillery is available by default.
The Decimator Cannon is a slow moving piece of artillery, with decent firepower, but it does not compete for the top spot in its class. The render shows default and salvage variants.
The Decimator gives Fortress general an option to defend against heavy artillery attacks, which outrange his defenses.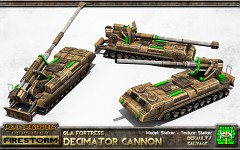 If you want to participate in Alpha testing, head over to the NLS Public discord server.
That's it for today, have a nice day.
~OFS dev team