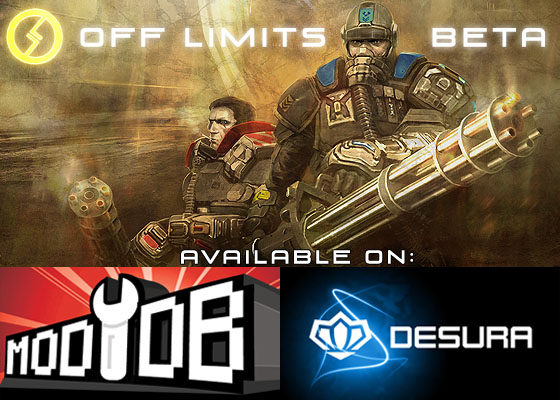 A new beta is out for Off Limits, ready to be downloaded from ModDB or Desura! I uploaded a patch file for those who already downloaded the first beta. You can get the patch here. Some of the bigger changes in code are:
- Issue where weapons didn't shoot on target (first few shots did, the rest shot above the crosshair).
- Decreased the Juggernaut minigun screenshake + added more damage to the minigun.
- Decreased the sniper rifle damage and increased the shotguns (not close range full contact is lethal).
As for mapping:
I mainly worked on Styx, updating the path's going up to the central station as most people didn't seem to find their way up to the spawn point. For this I made the harder more advanced paths a bit easier and I added a third train station in the middle of the underpass. For this I removed the parked bus as well so it would show the entrance better and renamed the sign from "Train Station" to "Central Station" to match the spawn point naming. I also removed 2 parked cars for a clearer vehicle path coming out of the parking lot tunnels.
Here are some shots of the new area added: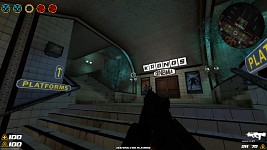 Here are before and after shots of the most important Styx changes: Changes 1 | Changes 2.
The full changelist can be found here.
Again, everything you need to know about this mod and it's game play can be found in our guide which is accessible here and also ingame in the "select team" middle menu!
If possible try playing between 6 and 8pm UK time, as it seems a lot of people join in scattered across the day and end up playing alone for a few moments and quit. As the mod reaches the 2000 download mark in 1 week (which isn't all too bad), this is obviously not enough to have full servers 24/7. So I hope people can find a way to play at more set times as hopefully the numbers increase!
I'm also in the midst of adding admin plugins to the servers, so people will be able to vote in the future for map changes and whatnot.
Please post any suggestions and feedback you have on our ModDB forums as well as bugs and crash issues. Thanks!