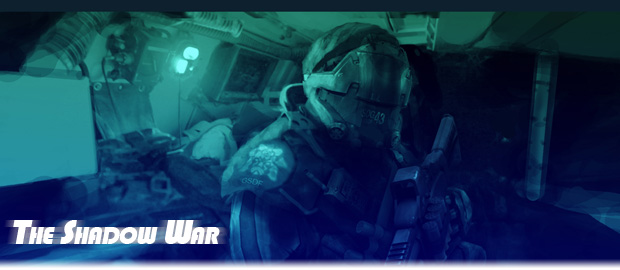 In NEOTOKYO°, a futuristic Japan has fallen on hard times:
NEOTOKYOHQ.COM wrote: NEOTOKYO° takes place about 30-40 years from now in a Japan that has drifted into social/political strife due to the inevitable stresses that come from changing times. The Japanese government is grappling with intensified external (Asia geopolitics) and internal (economic/social) problems, and there is mounting pressure from within Japan to return to the days when it exerted influence through military power and strength. A failed legislative push to alter the Japanese Constitution (allowing the Japanese military to engage in offensive actions outside of the country) leads to an attempted military coup by members of Japan's armed forces (GSDF). The coup fails, but was very close to succeeding. In an effort to suppress further coup attempts, Japan's Prime Minister forms a branch inside the Interior Ministry's National Security Forces (NSF) called GROUP SIX. They answer directly to the Prime Minister and are sworn to protect the Japanese Constitution at all costs. They immediately begin to hear rumours of a rogue element of the GSDF Special Forces (JINRAI) maneuvering for a second coup attempt. These JINRAI are Special Operations Group 43 (SOG43), fierce nationalist loyal to their love of country, and a desire to put Japan back into a position of strength and power.
This begins the war in the shadows between the NSF and JINRAI.
The so-called "Shadow War" begins, but how does either side intend to win it? As with any war, information is vital. And in an age of cybernetic fueled warfare, technology is king. In NEOTOKYO°, you'll have the choice to play as either the NSF or JINRAI forces and secure sensitive information vital to your efforts in a game mode called "Capture the Ghost". Ghosts are, or were, civilian-class AI androids to which operatives have transferred vital information. Sometimes ghosts don't make it back and that is when military components are sent out to retrieve the ghost with valuable intel sealed within. NSF wants the fail-safe shutdown codes for the JINRAI's stolen arsenal, while JINRAI forces need to secure the location of NSF headquarters. Capturing the ghost that will yield this information for either side will turn the tide in their favor.
So what tools does each side have at its disposal? Well, each side has 3 soldier classes, each trading off performance in speed, stealth and armor. In addition to this, each class has access to exclusive weapon variants and vision modes: Recons get nightvision, Assaults have motion vision and Support class uses thermal vision. To illustrate how effective the vision modes are in battle, the NEOTOKYO° team has put together some media:
In the end, how well you can use these vision modes and take advantage of their weaknesses will be the deciding factor in your success on the battlefield.
Up next, we'll talk with the man behind the soul of NEOTOKYO° - its soundtrack.