I've just done a little bit of maths and worked out It Came From Red Alert! has had 86734 downloads since Beta Release 1 was released, plus all of the ModDB downloads that are unaccounted for from before the ModDB counters were reset after the update a while back.
I had to do the adding up three times because there have been about 21000 downloads since I last checked all of the numbers which seems insane since there hasn't been a release since then.
In other news ICFRA! is in the current issue (issue #18) of Total PC Gaming as part of a double-paged spread on Red Alert mods.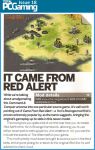 Also featured are the RA2 mods C&C Reloaded, Warhammer 40000, MRUIZ CTF, Robot Storm, C&C Renessans and Apocalypse along with maps Bahamma Mamma (Red Alert), Rivers of Uranium (Red Alert 2) and Hostile Dawn (Red Alert 3).