Hello once more Warriors!
Today i'm announcing that Version 3.1 will hang on a little until i finish pending tasks that i definetely want to be in Version 3.1 due to being abscent in 3.0 already, so first things first:
---
Powerup external visibility:
So one thing that recently came to my mind is make the powerups display to other players as well, so people knows which player is under a powerup effect or even more than one, Quad Damage as being shown here to give a glimpse, is what other people will get as information when someone is using a powerup.
However this feature is in early stages and i just got it working properly with players on foot, i still need to make it work with vehicles as well which probably will take a while to implement without breaking anything that was already done.
Animation Improvements: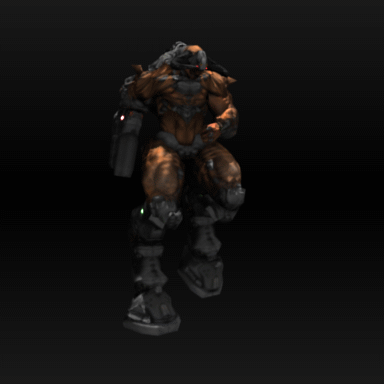 Given the long lifetime the mod has already, some content is really really old, and this mostly includes Doom 3 enemies which dates from the very first stages of the mod, all death animations were made by me and many other custom animations as well, but over the years i try to rework and improve those i feel they are aging badly.
Cyberdemon's animation set is one of them, his current one is not bad for sure, but they also gives no characteristic to him. He simply walks like a walk in the park, suddently stop to aim his Rocket Launcher at you and returns to walking again and he may also randomly jump with backflips and such, these acrobatic pieces i'll be keeping because one of the crazyness points of Quake 3 is that some characters does backflips and other acrobatic animations for the pure charm of doing it.
In his new animations he will keep with a more tactical characteristic to his walking cycle as seen in the gif, his other animations is also changed to be something more clever to make him feel a little more intelligent than some other demons.
Decorations:
Well i got no screenshots to show on this department, but as i said previously, i wanted to focus a little more on this part, and i really want Version 3.1 to have a least two or three more custom decoration replacements to help improve the experience the mod gives.
---
That's all for this month, sorry for letting you guys waiting more time than expected, but whenever this sort of thing happens, it is not because i stopped working in the mod, i'm just working on it veeery slowly due to a wide variety of reasons.
Thanks for the patience!
-Zanieon