Type: Aerial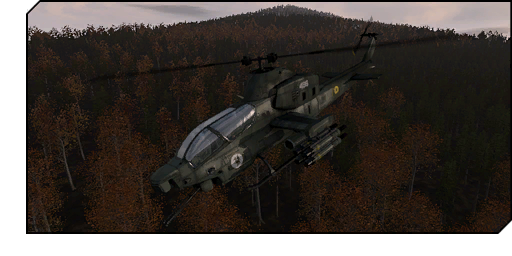 Difficulty: Moderate
Released in: v2.00
Description:
In the last two days we successfuly pushed the enemy troops (CSLA) from the northern tip of Chernarus.
Thanks to a number of recon teams in the rear of the enemy, we are always up-to-date about current enemy movements.
Today in the early morning we received a report about the transfer of artillery ammo from Elektrozavodsk to the Berezino area, where a battery of howitzers is probably hidden.
While we don't know the battery's position now, we can at least cut this ammo supply as a prevention.
This is your task for today.
Get into the assigned chopper as a pilot on the field base of the 312. Chopper Squadron and take off.
Proceed with the mission.
The recon units informed us a few minutes ago about an enemy convoy which is moving from Elektrozavodsk to the Nizhnoye-Berezino area.
The convoy consists of three OT-64 Skot armored vehicles and two Tatra T-813 Kolos trucks.
Your primary task is to stop the convoy and destroy all its vehicles.
Don't waste your ammo, because it can be used for a secondary task, or to repel any invaders.
The mission has a few random elements, so it's possible to play it several times.