Hi all, SMxReaver here coming in at the end of 2018 with a breakdown for a bit different of an update for CnC: Final War and what the future holds for the project, as well as a few things that are in the works that will not be seen until 2019. First of all, I'd like to thank all the players who have downloaded and played 1.0b, which I feel is a great second patch state for the project to exist in.
During the development of 1.0b, I fell into a pretty large depression that sapped the joy out of everything that I was doing. This included CnC: Final War and by time the latest patch had released, I had no initiative to host multiplayer games, bugfix the few issues found so far, or maintain the discord channel. This lead to several features being cut, such as a much improved documentation that accurately explains how each new unit works and tech tree layouts. This also meant the lack of map updates, despite the community producing high quality maps every day for the players to enjoy. Finally, several game modes were cut for the release. These were designed to be complimentary to the multiplayer game options, yet only the Naval game mode was implemented. However, 2018's ending and so ends the terrible depression and hatred for all things. I've become a married man and have been able to give back to everyone who helped me survive some grim, dark months. The Christmas season is in full swing, and a wonderful energy flows through me that lifts my spirit and gives me the drive I once lacked.
The current in-development project for CnC: Final War is a website that I'm going to design from the ground up, having a full breakdown of all the content and features of the project. Each faction will have their own page, dedicated to explaining each unit and it's intended role in the battlefield as well as a stat breakdown so players understand their usage to their fullest. A page breaking down some crucial differences from normal Command and Conquer gameplay, a page dedicated to the map editor that is included in the project, and a page about how the mod's core files can be accessed and utilized for players to modify as they see fit.
For now, I don't have much to show as documentation isn't a pretty ingame pic, but as posted in the Images gallery I'll share the work-in-progress European Coalition tech tree below as a general idea of what types of documentation that is coming.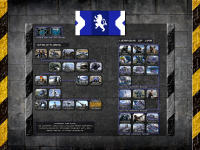 That's all for now, thanks for reading and bearing with me through this crazy adventure we call life. I'll see you all in the new year of 2019!