Tutorial originally released on Running With Scissor's Postal website. Was taken down more than 10 years ago. Mirrored here for archival purposes.
POSTAL 2 Editor and Modifications
Windows
This tutorial covers how to create and place a window in Postal 2.

It assumes you have some understanding of and experience with PostEd.
Concerns: Window, PropBreakable, Prop
Explanations:
Window: extends Actor::Prop::PropBreakable
---

Gameplay:
It can be shot out or damage with most weapons that break the DamageThreshold. Fire does not effect it. If a character moves through it fast enough (he must pass the DamageThreshold which is about 40 or so), he will bust through it but also sustain small (<10%) amount of damage. The default effect is ShatterGlass particle effect. Character damage is considered 'KickingDamage'.

In order to get the effect to match the size of your window, try to match the CollisionRadius and CollisionHeight as closely as possible to the window (even though this will be a cylinder and the window is likely a square).

Also make sure the center point of the collision is in the center of the window.

For what sorts of things do damage windows and don't and how to change that, see below under PropBreakable (window is one of these).
---

Static Mesh Creation:
In order for the effect to line up properly when the window breaks, you must build the static mesh with the following orientation. It is widest in the Y direction, tall in the Z, and thinnest in the X direction.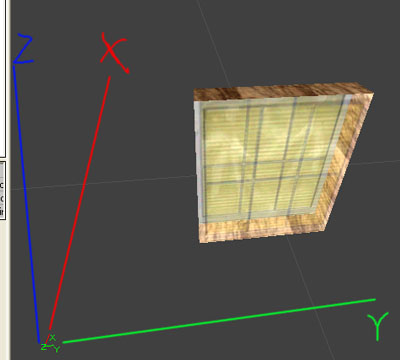 Place the pivot point in the perfect center of the static mesh.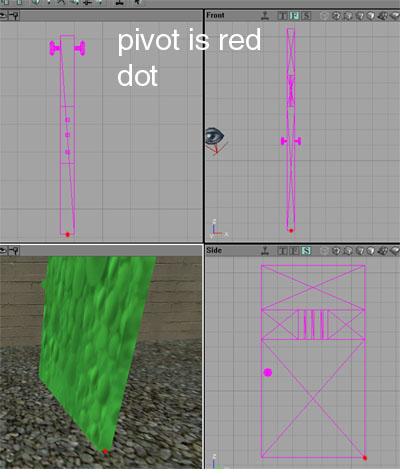 Once placed in the level, you can rotate the window to any orientation that you wish (rotating it). You just have to build it at this certain rotation for things to work. But keep in mind, the glass breaking effect will look BEST if the window is rotated to a primarily access (like it's facing the x negative direction, or it's rotated to be horizontal, so it's facing the negative z direction). Other arbitrary angles WILL work, but the glass breaking effect simply won't look as good.

Placement:
Place like any static mesh. You must set DrawType to DT_StaticMesh and select a static mesh to make it visible.
---

Damage:
To control what things hurt these props you have DamageFilter, bBlockFilter, DamageThreshold, and Health. Defaults are respectively None, false, 0, and 0. Health acts like you'd expect, when this thing is damaged and health is 0 or less, it breaks. DamageThreshold means that you're damage type has to score at least this much health loss before it will register at all (e.g. 50 for this would mean almost nothing would take any health at all from it). DamageFilter as None means everything hurts your prop. If you set this to MachineGunDamage then only machinegun bullets will hurt your prop. If it's a window it will not even allow the player to bust through it. If you then set bBlockFilter to true, it would mean your prop accepts all types of damage except MachineGunDamage. If shot with a machine gun nothing would happen then.