"Call of Duty" has returned to modern warfare.
For that commemoration, I made a video.
This video is a reproduction of "Call of Duty: Modern Warfare Trailer" using "CALL OF DOOM mod".
There is currently no next update news about "CALL OF DOOM: Black Warfare". I'm sorry.
I don't abandon development, but I'm busy with real life now.
Since development is not progressing from the state of 0.5 beta,I don't know when the next update will be available.
In any case, I think it will be the story after COD: MW (2019) was released.
When the new guns and new elements that appear in "COD: MW" are fascinating, I want to incorporate them into the update.
Let's wait and see.
---
The ranking changes soon every day, but Call of DOOM ranked 4th in the Popular Mods ranking. Thank you very much.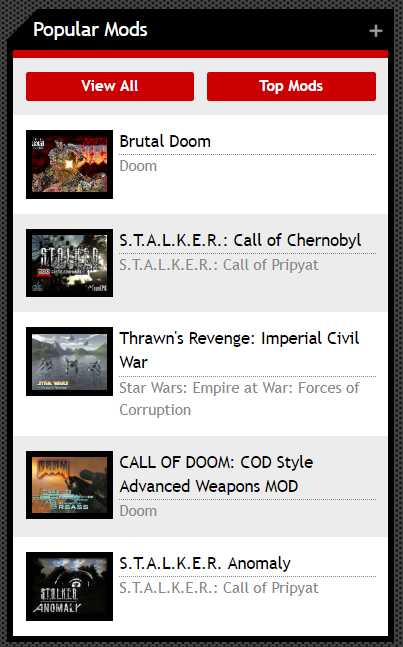 CALL OF DOOM:BLACK WARFARE 0.5 Beta
"CALL OF DOOM: BLACK WARFARE" is a NEW DOOM MOD project that I am making.
Many CALL OF DUTY style weapons can be used in DOOM.
This is the first Beta test version.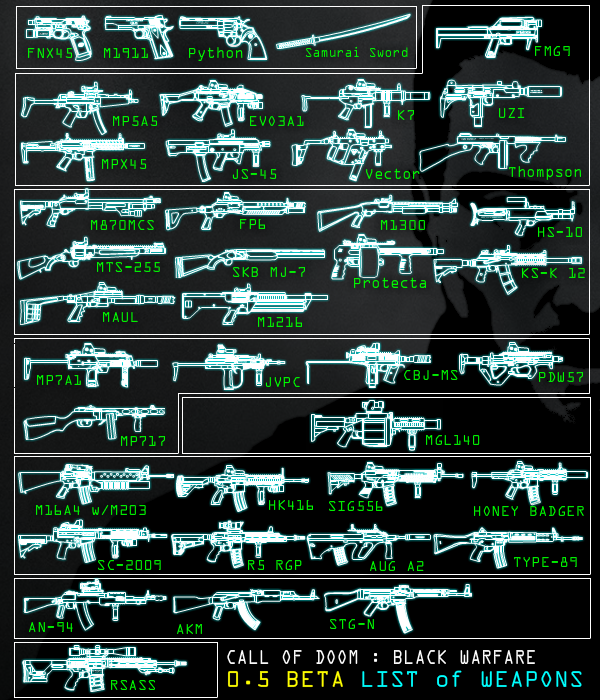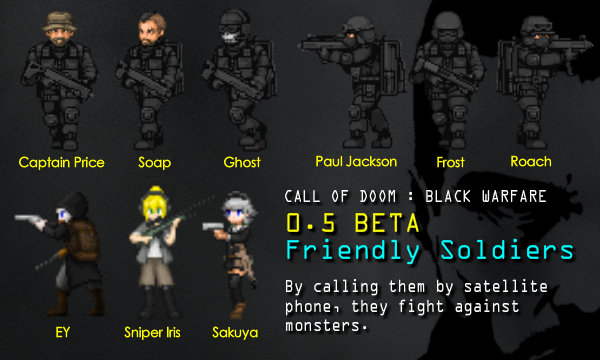 - "Vanilla Doom Version"

This is a new version excluding Brutal DOOM, you can enjoy gameplay that is not heavy.
And It can be combined with Brutal DOOM incompatible WAD.
- "Brutal DOOM Version"

It is a specification conforming to "Sergeant Mark IV 's Brutal DOOM".
You can enjoy a lot of beautiful blood and gut and blast.
- "Light weight Editions"

This version where the animation of weapons has been reduced, and the behavior is further lighter.
The file size has been reduced to about 30%.
Delete
- Switch weapons animation
- Empty Reload animation
- Recoil effect
Reduce
- Fire & Reload animation
- Explosive effect
- ADDON "Low Ammo SURVIVAL Patch"
It is a "SURVIVAL patch" to considerably reduce the amount of ammunition. Since ammunition is not always enough, you need to make good use of sniper skills and semi-automatic. Recommended for players who like to experience the thrill like "Resident Evil".
- ADDON "(Prototype) Weapon Wheel"
It is a Weapon Wheel tool that makes it easy to take weapons.
From "Gameplay Options" you can customize Weapon Wheel.
Made it based on "Weapon Wheel v1.54 by gleasspty".