That's right! Nuclear Dawn is now officially available for pre-order on Steam! Following Iceberg Interactive's announcement last week, InterWave Studios and Valve Software are making the game available with a 10% pre-order discount for both single and four packs.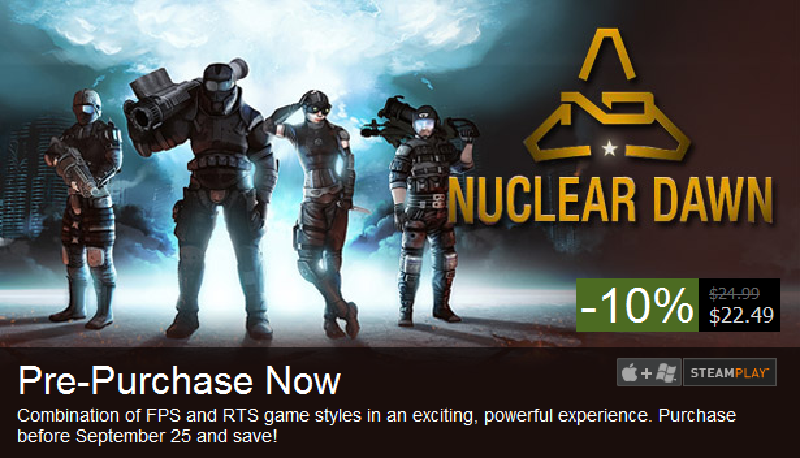 It has been a long road, fraught with delays and hardship, and we would like to thank you all for sticking with us through it all. Now that the game is nearing completion, we are proud to announce that Nuclear Dawn's full price is set at $24.99 USD, €19.99 Euros or £16.99 GBP, and other relative price points depending on your location and currency of choice. Four-packs will also be available for pre-order, and will carry a further substantial discount. Ofcourse when you buy the game, it will be for both platforms, Mac and PC.
Early adopters, as well as knowing that they kept us in warm blankets and soup until the release date, will receive a 10% discount on the full price, as well as automatically gaining access to the closed beta starting on August 25, 2011.
The game's release date is currently set for September 25, 2011, when the pre-order discount will end, and early closed beta adopters will be able to unleash their month's training head start on those who weren't wise enough to pre-order. You have been warned!
Check out the first full tutorial video below, or visit the Nuclear Dawn website for more details about the game.
Visit our forums here, and follow us on: