So a few more screens here. I've got about 1/4 an area code latticed out into sidewalk with placeholder buildings, and I've got at least the first few objective building blocks up and running.
I'm definitely in need of anyone who can contribute anything, models, textures, including voice acting and music. I'm pretty swamped with RL stuff, kids et. al., so any help can go a long way. Full disclosure: I don't have any lofty goals of riches and unseating EA or anything with this project. The main thing for me first is to have fun, make a relevant, meaningful game that I'd like to experience myself, and learn while doing it. So hey, let's steal fire from the gods, baby!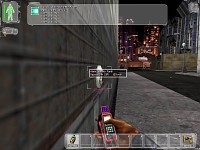 I'm just finishing up adding the "Volt-Tear", a Brazil favela-style power siphoner, for stealing electricity from the power grid. Going with the stark-realism theme, there will be no biocells or double-a batteries or peppy servile repair bots to recharge your various and sundry gadgetry. (no job and no welfare means you can't grab anything at Wal-Mart or 711, while we're at it) Your options are to either generate it yourself via wearable solar, etc. or tap juice from "the system"s electronic infrastructure (cameras, alarm units, ATMs, security consoles, etc.). The drawback to the second option is there is a high probability of setting off alarms while tampering with the very smart grid, which will not take kindly to your intrusions, resulting in a squad of mlitary drones up your ass. Also, you can get electrocuted and die horribly, so there's that.
So again, until the Singularity figures out how to let me mass-ctrl-c ctrl-v myself, I think I could use some help.