---
Development Blog#1
Command & Conquer: Renovatio has gone live!
Welcome, Comrades!
The first Development Blog has gone live and is bringing you the latest development news of the Command & Conquer: Renovatio project.
So what is it all about?
The C&C: Renovatio has been started almost a year ago with a different name and story. It was supposed to be a mod called Red alert 3: The Last War taking place some time after Red Alert 2: Yuri's Revenge to bring in the last war between the Allied and the Soviets. Comrade, the mod has changed a lot since then and it is now, when it under the new name of Command & Conquer: Renovatio!
The storyline takes place between the two most fascinating universes of Red Alert and Tiberium and it is up to the task of connecting both universes as seamlessly as possible, while still being loyal to the original ideas.
While adding many weapons from forgotten prototype concepts, C&C: Renovatio will also include new music, battlefields, sounds and visual effects and, most importantly, all the things that fit!
---
Preview renders
Refinery:
The Scavenger refinery is the main source of income for the Scavengers faction. As usual, you're getting a free bonus ore miner for instant action.
It is also showing off some of the main style specifics of this faction, such as junky and rusty outfits.
"What kind of style is THAT, anyway?!? This junk will fall apart due to moon gravity; I'm sticking with the allied," you'd say, but, comrade, don't get confused by the looks! The refinery is a fairly strong building and will not fail due to delicate flaws, as there is nothing delicate about it.
made by Oleg
Tesla tower:
Comrade, remember the lightning? Yes, the one that chooses it's enemies. Well... hopefully.
It is the tesla tower, which is the strongest defensive structure you might really consider placing in front of your base.
Right after the first war the Soviets started to develop a mechanism to control the tesla capacitors, which seemed to be impossible. Now with help of some recently captured Allied scientists great results in this area have been achieved by the Scavengers!
It is now at your disposal and is waiting for some anti-tank & anti-infantry action.
Just don't forget that you need electricity to control this thing and have to be patient while it regains voltage!
made by Chrizz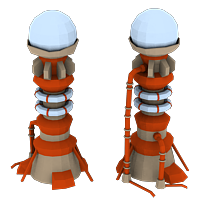 ---
Music - Yes, it's music!
Devil March (30):
Recepy: Take some junk, add a few horns and put 10 drummers combined with synth effects. Put it into Propellerheads Reason and bake it for a month. You might want to repeat this process until it gets just right. Once you feel it's done, your at version number 30.
This basically describes the preferred music style for the mod, which is somwhere between anything else that's possible. We thought it's a really good thing to step back from complete ambience abuse to a more leading music style of previous C&C titles with some addition of a more dynamic story behind it. On top of everything, junky sounds fill the environment with the stuff that just works!
The name Devil March was inspired by Hell March soundtracks (all versions by Frank Klepacki, which are amazingly brilliant!), so the word "Hell" got replaced, since the song is not a remix, it's brand new and it just isn't Hell March.
you can find Devil March :HERE
made by Edgars
---
Q&A:
Q: Comrade, still wondering, what "Renovatio" really means?
A: "Renovatio" means "reborn" in old latin, so "Command & Conquer: Renovatio" tells the rebirth of the new empire – behold, comrade, it's the birth of the Empire of Nod.
[CIA – TOP SECRET. Record date: 01/02/1994. 19:10. Unidentified speech fragment.]
"…Enough wars, enough suffering. My comrades, we are facing a huge challenge; the challenge of the Phrophecy: "The Devil shall take the soil and we shall be turned pointless. The spirit will be lost." The devil that stomped on our soil, turned us into ruins!... Enough! It is THE land, it is saint. It gives lifes; the lifes that we have; the lifes that the evil took from us.
The truth we know is the truth the evil rejects... The cause for actions of our beliefs shall be reborn from ruins! It is the rebirth that gives us peace even in these hard times. There will be time for peace! The peace that we restore, the peace with Lord, the peace opposed to evil! The peace through power!..."
Q: What are you talking about?
A: Command & Conquer.
Q: Why is there a "(30)" in soundtrack name?
A: This song has gone through 30 major & minor changes and might go through more. Thirty is where it really gets too much, so it got released as-is.
Q: "Will fall apart due to Moon gravity" o_O ?
A: Read this: Answers.yahoo.com



---
Special announcement:

Comrade, are you tired of sitting home and crying to your mama?
Join the army now!
Experienced and talented people with a deep understanding of the C&C universe are highly welcome to the recruitment barracks!
Visit Forum.cncreneclips.com
Unity, peace, brotherhood,
the Renovatio team.