---
OUTDATED NEWS, PLEASE DO NOT REGARD ANY FURTHER.
[News post amended on October 27th 2012]
It's been over 2 months since the last time I've properly worked on the mod. Additional real life issues have succeeded in delaying both its development as well as my studies. At the moment the situation is pretty much sorted out, but I still need to get back on the horse on both accounts. I still retain a lot of hope for the mod, but let's just say that recent events have certainly been highly detrimental all around. Really wish they'd have taken place after the mod was finished, eh? So it goes.
---
[ Mostly original newspost as follows (amendments noted) ]
Greetings, everyone! It's certainly been a while.
Or rather, to me it seems like several months have passed since the August news update. Turns out that getting evicted and having to find a new place of residence not only results in much less time to actually work on the mod but also leads into stress-related issues that severely reduce the will to focus on anything related to it. So it goes.
Not that real life issues have given the beta testers or voice actors much time allocated for DXN either. Sadly there doesn't seem to be a time of the year that wouldn't be busy for someone integral to the progress. Luckily the mod is not in a state of crisis, but the future release date is still as shrouded as ever. This is a good opportunity to remind you of the poll results from March 2012 - the mod will be released once all voice acting and final beta testing have been finished. I'm going to work on the mod as much as I can until January 1st 2013 after which everything made by then needs to be wrapped up, remaining voice acting recorded and the mod beta tested for the last time (hopefully ironing out the remaining major bugs in the process). I really hope that the last touches won't take long so that the mod can be released in Q1 2013, but I better not jinx its progress any further. Regretfully, it seems that some of its content still needs to be streamlined in order to have a release in a reasonable timeframe.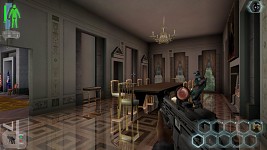 And yet, even in its current stage it feels like the computer game project I've been meaning to release ever since I tweaked around BUILD for the first time in mid-1998 is finally coming to fruition. And I'm going to do my best to end my modding "career" on such a high note. In the mean time, if you want to play something I've made that is actually meant to look visually impressive for its engine, don't forget TODOA (formerly known as The Truth of the Destruction of Apocalopolis) for Jedi Knight: Dark Forces II.
[Amended on October 27th 2012]
Enjoy the screenshot!
Good night and good luck,
FastGamerr