The demo has been released!
No sense talking about it, grab it in the downloads section!
If it's not available from the Downloads section yet, then you can grab it here!
Justin Lassen and Grimm's soundtrack

Together with the demo release I have another surprise for you guys, in the forum of 2 wonderful tracks for the game made by my good friend the very talented Justin Lassen included in this very release! He has been nominated for the Square Enix Music Online Game Music Awards.
His instrumental series, Synaesthesia, has been highly praised by everyone from CGSociety to EQ and Playboy Magazines. Likewise, his dark, symphonic masterpiece, And Now We See But Through A Glass Darkly, has seen over 100 million downloads since its release in 2003. As a remixer, Justin has worked with artists like Madonna, Garbage, The Killers, Lady Gaga, Lenny Kravitz, Robert Miles, Nine Inch Nails, Linkin Park, Evanescence, Apocalyptica and more, and has leant his production talents to high profile technology firms like iZotope, Cakewalk, Intel, Sony, Konami, Interplay and Department of Defense. I am just so extremely proud to be working with him and having him work his magic for Grimm! If you are unfamiliar with Justin's work (shame on you by the way) then go check it out here: Justinlassen.com
Interview

Planetdoom were so kind to interview me you can find an excerpt below, and the full story here: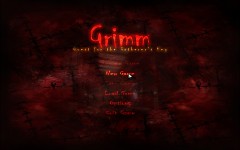 Planetdoom: How has modding Hexen: Edge of Chaos for Doom 3 helped with Grimm?
BloodRayne: The question should be, where hasn't it? I've learned many lessons in my years with the EOC team. So much practical stuff comes by when you're creating a total conversion, it's uncanny. There's a lot of 'need to knows' where Doom3 modding is concerned and having seen most of them during my time with EOC. They can be simple things like which settings create the best looking normal map, how many particles to use to avoid overdraw, best not to use deform particle in textures due to performance issues, which helpers to use in 3dsMax to make the animation more fluid. It's a large compilation of tweaks and experiences that help make the work flow smooth so I don't have to go back as often to fix things.
One important thing I've learned while I was working on EOC was the simple fact that you need to create assets that will allow you 'work production', as I call it. I've spent a lot of time with creating movers, traps and all sorts of entities I can use in the editor to avoid having to make intricate map scripts. This way I can make all traps consistent in speed, damage etc... but I also have to test maps far less. I know that they'll always go in a certain direction, because I set it that way in the editor. If one trap works, all of them will. This means I can spend hours on mapping that I usually lost on testing and implementing traps and puzzles. Drag, drop, set some values, bsp after a couple of hours of work and I'm done. Usually after that I noclip to the new areas, test it, then continue work on new areas. There are still some map scripts in there, for instance the entire first 3 minutes of the second map called 'Entrance to Ramata' plays like a train ride. This entire sequence was timed and scripted. Can you guess which movie I was inspired by?
Read more here.