Since Hammer doesn't support rotoscoping, I decided to begin blocking out the city (based on satellite images and almost a quarter gig of Flickr photos) in Blender.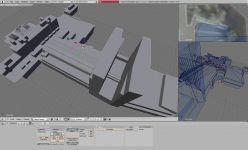 (click to enlarge)




The apartments, visible on the right of the 3D viewport, are basically complete. The shopping center, on the left, is nearing completion, as is the movie theater on the far right. From this perspective, the subway station would be on the far side of the structure.
Not bad for a day's work, if I do say so myself!

Now to figure out how to import this into Hammer...
If anyone has any suggestions, please feel free to let me know.