Picture of the Week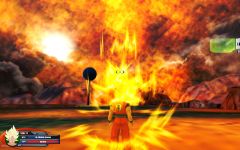 XML FX Editor Continued
So, you remember the FX Editor that I mentioned last week, right? How you can add particle effects, sounds, animations, and create your own dream transformation? Not only are you able to add all of those nifty features, but you are now able to add.. WEATHER EFFECTS! That's right, weather effects! I will be showing you an awesome video clip that Raven created showing off this weather effect! Please note that unfortunately, this was only a test, so there will be no fog, or rain in your standard ESF map, so you'll have to add these effects yourself unless a mapper decides to put these effects in. Now, I'm sure that you noticed the burning sky in the Picture of the Week. Raven added that by using the FX Editor. Since a picture doesn't show much, I'll be showing a short clip of the burning sky!

Status Update
You are now able to use stamina to precharge your own beams. Raven and LoD are continuously adding things to the FX Editor.