QUICK NOTICE: Please remember that the verification not required for browsing and posting on the forums outside the non-support sections of ESF. It's only required when you are having in-game issues / troubles with Earth's Special Forces and wish to gain some help from the community and team members. If you haven't registered on the forums yet, you are very welcome to do so.
As of today, members are required to validate their forum account via the new validation system in order to receive official support for Earth's Special Forces. The purpose of the new system is to verify legal ownership of Half-Life, allowing us to focus on helping legitimate users. The validation is easy, safe, and quick to do thanks to Steam's OpenID API.
A big thanks to Skizer (Owner of Gamers-Desire & hoster of ESForces.com) for creating the validation system. We would also like to thank the ESF team and ForcePit members for helping to test the new system.
The purpose of the new system is to verify that you own a legal version of Half-Life on Steam, allowing the forum community and the ESF team to focus on helping legitimate users. The ESF Team takes a strong stance against piracy and will not be offering support to those who engage in such activities.
First, go to: Validation.esforces.com
From there, you'll see:

It will request your forum username and password, Register one if you haven't done so (please don't enter your Steam information as that will not work). The login is needed as the validation system needs to know who to validate in the end. And even if you are already logged in on the forums, you'll have to enter your information again to make sure the forum account is yours. Remember that The username is case sensitive!
When you click on "Login", you should be forwarded to:

"Notice the green "Valve Corporation (US)".This symbol identifies the page as being encrypted, meaning your information is safe and secure."
On the page itself, you should see the following:

Make sure you read the red square so you know that the validation will not steal your steam information! You should only enter your steam username and password on steam official site sites such as Steamcommunity.com
At the right of the page, you'll see a login box where you can fill in your Steam username and password: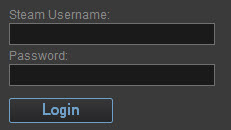 Log in your Steam information so the validation can check if you have Half-Life on your steam account. If you have a valid copy, you'll get:

And a

icon will be set on your forum profile and will be visible in your forum posts.
If the validation can't find Half-Life, you should receive the following error:


Also a

icon will be added on your forum profile as in your mini-profile in the left of your own post. You can buy Half-Life online at the Steampowered website.