So I (denrei) graduated from college recently, and for the next few months Tony and I will be working FULL TIME on Coda. I've literally moved into Tony's basement for the time being. Daily updates are being made on our project's main page. Our first major online testing begins on Friday the 30th.
We've made some solid progress lately. Tony and I were playing some Coda over the LAN, and things are really shaping up well. The game is already fun to play, and several of the game mechanics are already showing up and functioning very well. Having accomplished our goals for the first week, we've created a new set of goals which are to be completed by Friday night. We plan to schedule the first major online play testing session for Friday afternoon. By that time, the game should feature poorly tuned sword combat, a simple magic system and the resource/life system. We are looking into getting some infrastructure which will allow rapid, simple distribution as we make updates and changes.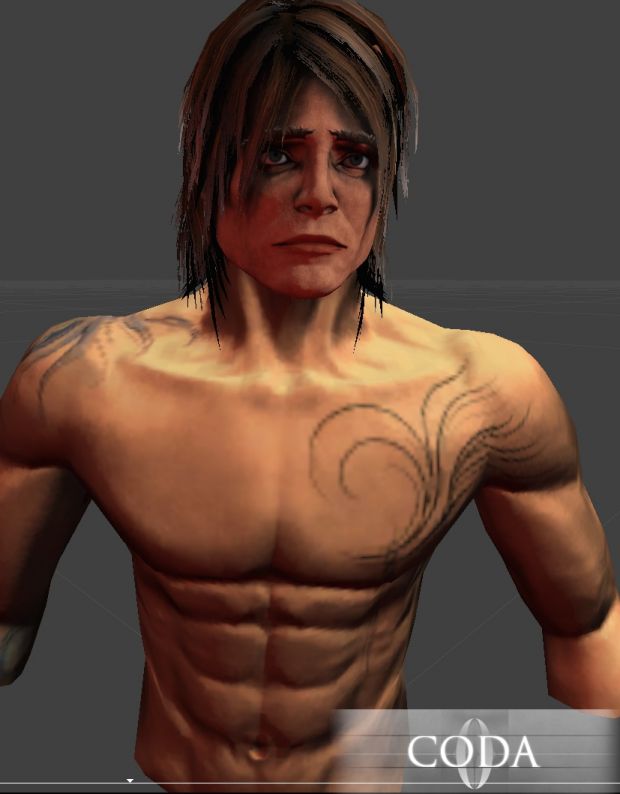 I'm at the point of configuring the in-game shaders for Marek, and I think they are starting to look pretty good. While the hair needs more work, you can see the skin is looking substantially more natural next to the images I've been putting up so far. I've only completed the face texture with all it's various map types in high resolution (and they still need some work), but you can see the difference it makes when compared to the older torso shader in these images.
Coda's combat is very tight and intimate, comparable to fighting games such as Tekken. We are creating an entirely new character model system to ensure that this level of detail we will be possible in-game… so everybody go out and buy a new graphics card before Friday. Check the gallery for more images.
Interested mappers and testers are encouraged to visit our forums to let us know!