We've released two updates for DTA in a month. However, we haven't really covered what they include before this. I'm not going to copy and paste the rather long-ish changelogs here since you can always view those at dta.ppmsite.com/changelog/latest, but instead I'll talk about some important points of the latest updates.
Firstly, there's a performance improvement that might make a very significant difference for some of you, especially if you're running Vista or Windows 7 and DTA has been working slowly for you before. Normally, the TS engine uses a back buffer in video memory from which it constantly copies data to the system memory and back. This takes a lot of time and isn't necessary on most modern systems. In the latest version of DTA, this behaviour is disabled by default thanks to a hack discovered by AlexB. For most testers this has at least doubled their FPS (frames per second), and in many cases it has changed DTA from an unplayable game into a perfectly playable game. Only a few players have reported their FPS decreasing because of this change; for these players there's an option in the Launcher to re-enable the video back buffer. On most systems the game will run much faster with the option disabled, however.
Then there's AI updates. The AI is now significantly more intelligent and less predictable than before. However, we know that a lot of players have had problems with beating AI level 1 and even AI level 0. So, while I made the AI more intelligent, I also greatly reduced the amount of cheats AI levels 0 and 1 have, and also made AI level 1 attack with a smaller amount of units (it doesn't build a large army to attack with anymore). Because of these changes, AI levels 0 and 1 are now easier than before despite being more intelligent, and should give a more balanced experience especially in Comp Stomp games. However, if you want an extreme challenge, the Level 2 AI is harder than ever before. Some of our staff members felt unchallenged against the previous Level 2 AI, which is what we mainly play against, and so we've made this "Brutal AI" harder. The mod needs to keep us entertained too, afterall.
The preview image of DTA's only Scavenger-only map, Hectic Oasis by Bittah Commander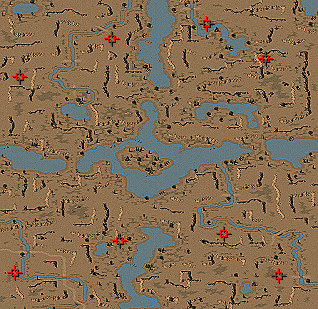 The new things don't stop there; we also have a completely new gamemode in 1.1117, known as Scavenger. Maybe you'll remember the Survivor mode from previous versions of DTA. This isn't exactly Survivor, although the idea is similar: collect crates and destroy the enemy with the assets you get from those. The difference to Survivor is that in Scavenger you'll not only get powerups, units and superweapons from crates, but you'll also build a small base. There's no tiberium on the map, but you also get money from crates to build units with. The only buildings you can build are light defences, the Barracks / Hand of Nod and the Weapons Factory / Airstrip, and you'll only be able to build the most basic vehicles. The rest you must collect from crates. The mode is balanced so that there'll be fewer units built than in normal games, and instead of large-scale battles you'll be using a smaller amount of crate-powered units. If you really miss the Survivor mode of DTA's previous versions, you can easily convert Scavenger to it by just disabling Bases in the multiplayer game setup screen.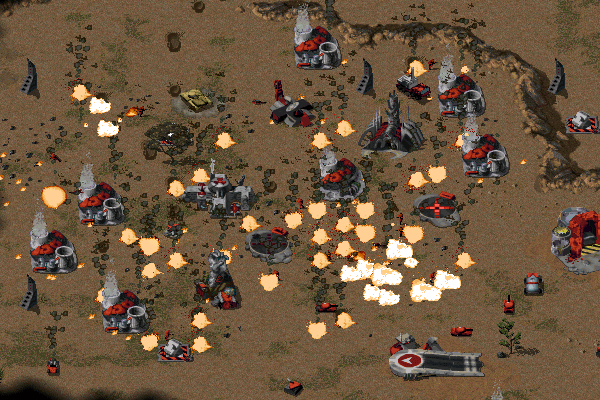 In addition to these larger modifications, there's new tactics offered by GDI's new M.A.D. Tank and the reworked Nod Microwave tank, and there's also all kinds other smaller changes. To see the entire changelog, visit dta.ppmsite.com/changelog/latest.