Update time! (Again!) Our development of StoneRage has taken a few turns, and all for the better. As some of you may know, we have abandoned the Unreal Engine and have instead turned to the CryEngine3. Though this brings more challenges, the payoff is well worth the work. More important than the engine change, however, are our new additions to the StoneRage team. We welcome Sergio, Raphael, Ross, Matthieu and Sebastian to the art team. On the more technical side of the team, we have a new animator, a coder for CE3, Bleutn, a sound designer, Mael, and our level designers Salomo and Peter. That said, the concept for our first level is now being worked into the CryEngine3, and we expect the Stone Canyon to be a popular choice for players who choose the animal characters. This level will be host to many of the different game times that you would expect, but of course, it will have a few surprises as well.
.
(Stone Canyon Map by Salomo)
As for information about our animals, yes there are more on the way. Quite a few, actually. However, the moment we announced the first six animals many people had begun to suggest others to us. The animal we've had most suggested to us is the glyptodon. This one has been on the table for a while, and in response to all of the positive feedback we thought it would be fair to our fans to include it, and let you know that because of you guys, it will be a part of StoneRage. Hope you like it.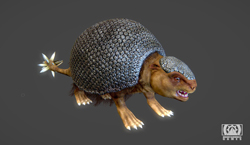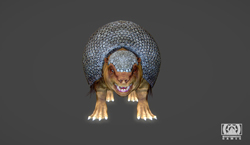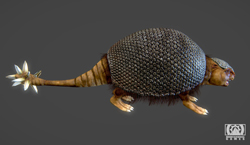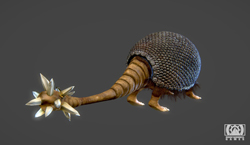 Our animation team has recently begun the work-in-progress movements for our Alpha models, and based on how things have started we're proud of where we've gotten so far, and even prouder of where we're going. As stated, these are from our Pre-Alpha, and will be redone before we release our first gameplay footage. That said, for any curious about how things are looking, here is a short demonstration of the Boar's current animations.
Be prepared for some first alpha game play videos soon !!
We're also on the hunt for skilled and passionated 3D Environment Artists who're able to model and texture these kind of concepts. Optional: Foliage Creation and CryEngine experience. (Concepts below). Also, C++ Coders who're familiar with CryEngine 3 are much welcomed to our team. Email: marco@mountainwheel.com